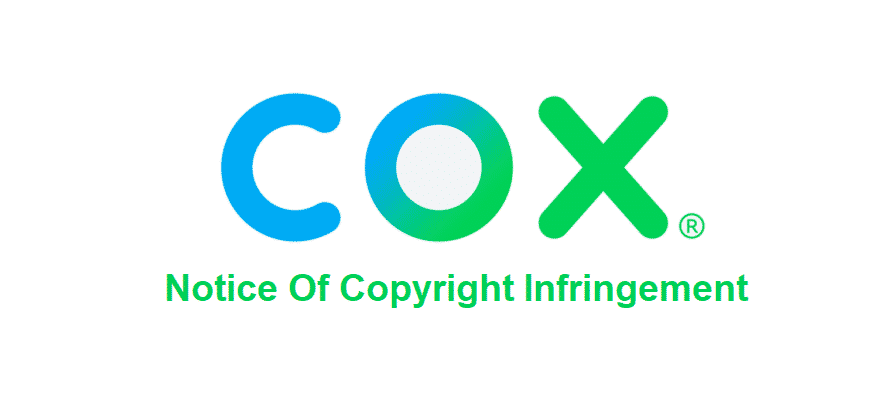 One of the largest telecommunications companies from America is known as Cox. They have been providing internet, telephone, and cable services for their users for quite some time now. The best thing about Cox is that users can easily take a look at all of their packages online.
They provide a list of all their deals on their website along with their specifications. This makes it extremely simple to choose a package for yourself and then proceed with it. The company also provides users with amazing deals at times which increases their connection speeds or decreases the cost of their subscription package.
Cox: Notice Of Copyright Infringement
While Cox is an amazing ISP, you should note that the company has some strict guidelines as well. Users have to go through the terms and conditions provided by them before they can proceed with using their services.
This contains a list of all the guidelines that need to be followed and with steps that should keep you safe. You can also go through all of these by visiting the official website of Cox.
One important one out of these is the fair use of the internet. Cox encourages their users that they follow their policies regarding copyrighted material and do not infringe anyone's data. However, if you do, then the company will receive a notification.
Which will then be processed and the user will receive a notice of copyright infringement from Cox. Considering this, if you have also received this notice then the most viable reason for it is that you have infringed someone's intellectual property.
What to Do?
After receiving the notice, users should first read it carefully. This is important because the mail can simply be a scam attempt from a hacker or fraud. Going through it carefully will help you check if it is legit or not.
Usually, copyright notices have to mention what data had been infringed along with the details about the person filing the notice. This helps you in confirming if the notice is real or not. If you notice that none of these things have been mentioned then you can simply ignore the message.
This is because the notice is just an attempt of scam and your device might get infected with a virus if you proceed with it. Although, if the infringed data files have been mentioned then you should proceed to take action. You must deal with this problem as soon as possible before Cox takes any action. Usually, if this was your first time receiving the notice then the company should give you a pass.
However, you should delete all the files from your system and then contact them. They should then revoke the notice and your connection should now work without any problem. But if you have received the notice before then the company might take some actions against you.
In this case, you should contact your lawyer and tell them about your situation. It is best that your lawyer contacts the company directly and talks to them about the problem.