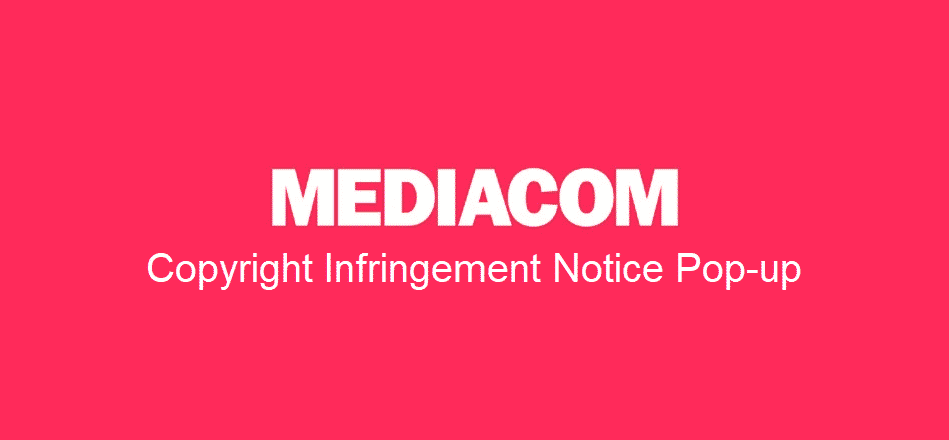 Mediacom is one of the largest cable providers in the US. On top of this, the company also provides users with several other services. While most people nowadays have been switching on to digital cables and applications. Some users still use cable providers to watch the news, sports, or even movie channels of their choice.
Mediacom has started to put in different features in their devices to keep the users satisfied with their products. Aside from all this, users might sometimes get some problems while using Mediacom. One similar problem is the 'Mediacom Copyright Infringement Notice Pop-up'.
Mediacom Copyright Infringement Notice Popup: What Does It Mean?
Before trying to deal with this message pop-up, you should first understand what this means. Copyright infringement has become really common over time. Due to this, users have started to keep their rights secured by sending infringement notices to others. Owners of any intellectual data can easily infringe their data if you are not being careful. You might have accidentally end up violating someone else's copyrighted data. If you have then this is the reason why you are receiving this infringement notice.
What Should You Do?
The first thing to do if you receive any infringement notice is to read what it says. This should help you identify what the problem is. Notices like this have to clearly identify what you have done so that these claims can later be confirmed. Additionally, you should also notice that the pop-up will contain information about the owners of the claim. If there is no proof of ownership then the popup is invalid and you do not need to take any additional action.
Aside from this, if the claims on the notice are current then you can try to contact Mediacom. There are a lot of people that have reported receiving similar notices. However, most of them claimed that they had done no such thing. This is why it is best that you contact the company and talk about this. While most people might end up getting no help from Mediacom's backend, you should still give it a shot. If the customer service ends up helping you then you can easily get rid of this notice.
If the customer service is not helping you out then you should keep in mind that you do not ignore the notice. Reply to it after deleting any files that might be copyrighted. Tell them that the files have been removed from your computer and they should then be able to fix your services. Mediacom usually gives its users up to three or sometimes even more chances when giving these notices. If the user still keeps violating copyrighted content then the company will take action.
Lastly, you should change your password and tell the customer service to change your IP address as well. This is in case your network had been hacked and someone else used it to access the copyrighted content. This should help you in preventing any problems like this from happening again.