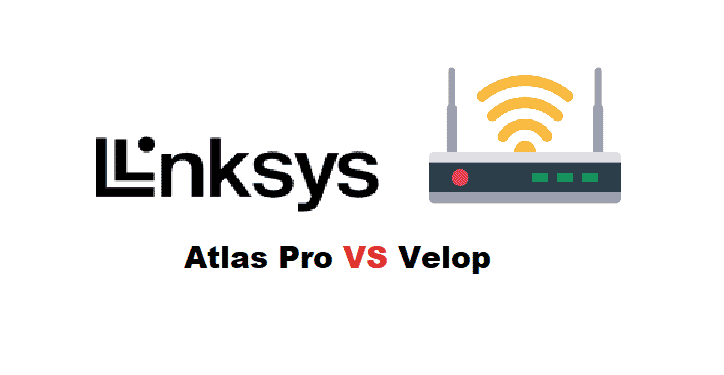 When it comes to Linksys products you can never possibly go wrong with their amazing mesh technology Wi-Fi systems and Wi-Fi extenders. Talking about the Linksys Atlas pro and the Velop AX range you can expect great internet speeds as well as powerful coverage through every corner of your home. Having said that, some users find it difficult to choose between either one of them given their advanced features and high broadband capabilities. Therefore, to help you out, this article provides a general comparison of Linksys Atlas Pro vs Linksys Velop.
What's The Difference Between Linksys Atlas Pro vs Velop?
Linksys Atlas Pro
Linksys Atlas pro provides dual-band and tri-band mesh Wi-Fi technology with internet speeds up to 5.4GHz. If you want to improve your overall Wi-Fi connectivity and extend your broadband range over long distances, the Linksys Atlas pro might be the right choice for you. Its three-piece mesh Wi-Fi system covers up to 9000 square feet of the area including the inside and outside of your home. Furthermore, its processor speed can up as high as 160MHz which means a faster data transmission rate to your connected devices. If your devices tend to disconnect from your standard router frequently, this Wi-Fi mesh system will prove to be a great addition to your home.
Besides that, Atlas Pro's Intelligent Mesh Coverage is intended to provide high gigabit speed to every corner of your home. Atlas pro-Wi-Fi 6 technology considerably improves broadband connectivity, and its ability to connect up to 30 plus devices to its system provides ample capacity. Furthermore, its system allows you to expand your network by adding additional nodes to your existing system. You can now connect multiple devices to your system while maintaining a stable and reliable connection across all devices.
Talking about the security features of the atlas pro, it has advanced parental controls to track the activity of your device over the internet. Moreover, its security protocols ensure that you have a safe network experience and prevent your network from online privacy breaches.
Linksys Velop
When it comes to Linksys Velop mesh Wi-Fi, this series, like the Atlas Pro, offers dual-band and tri-band internet connections. You can expect Wi-Fi speeds of up to 5.3GHz with your Velop Wi-Fi system, taking your home network to a whole new level. With faster speeds and greater coverage, this system will provide you with the best broadband ranges but at a higher cost than the Linksys Atlas pro. When it comes to processor speed, you can expect it to be as high as 1.4GHz, which is more than enough for a mesh Wi-Fi. In this regard, it is possible to argue that the Linksys Velop outperforms the Atlas Pro. With a network coverage of up to 2000 square miles. With a network coverage of up to 2000 square feet, Linksys Velop offers you great network connectivity at long distances.
Furthermore, like the Atlas Pro, Linksys Velop's Intelligent Mesh Technology will provide whole-home coverage to all of your devices. It provides a stable and consistent connection through all of your connected devices due to its fast processing speeds and relatively higher data transmission rates. Because of its advanced Wi-Fi 6 technology, Linksys Velop is ideal for larger homes. In terms of setup and installation, you can download the Linksys app from your mobile phone and set up your system in minutes. Therefore, if you want to find a competitive mesh Wi-Fi that will significantly increase your network coverage while providing blazing fast broadband speeds at a lower cost, you should probably look into the Linksys Velop.
Taken into consideration, Linksys Velop does offer advanced Wi-Fi protected access which is to ensure the safety and protection of your network and the connected devices. It also provides parental controls similar to the Linksys Atlas pro for a more secure experience.
The Final Verdict:
Talking about the specifications and features of the devices, both the Linksys Atlas pro and Linksys Velop deliver a personalized network experience with super high internet speeds. Even though they differ in their pricing, they stand out in their domains.