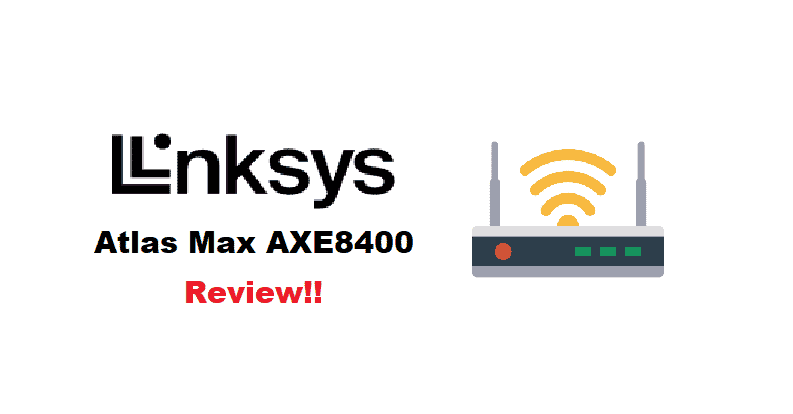 When it comes to a powerful broadband range and a blazing internet speed, Linksys Atlas Max 6E is no more than a luxury for its users. This three-piece Mesh system gives you far one the best mesh Wi-Fi experience among its competitors. Although many users are unable to purchase it due to its high cost, this Wi-Fi system is well worth the money. A system that costs an arm and a leg should not perform any less than superior mesh technology. As a result, this article will provide an overview of the Linksys Atlas Max 6E system.
Linksys Atlas Max AXE8400 Review
1. Specifications:
With a blazing speed of sustained 5GHz, this system offers an incredibly fast multi-gigabit speed through every corner of your home. With a throughput of 1.1Gbps at the 2.4GHz band, up to 2.4Gbps of data rate at the 5GHz band, and up to 4.8Gbps of data rate across the 6GHz band, you can expect superior internet speeds across all your devices. In addition to that, with its three-piece mesh system, you can enjoy a network coverage of up to 9000 square feet which is more than enough distance for a mesh technology to reach.
In terms of processor speed, the Atlas 6E features an exclusive 2.2GHz quad-core processor for faster and more efficient data transfer. This eliminates the possibility of your devices disconnecting frequently due to an unstable network. With its expanded spectrum, you can experience an ultra-fast speed and connect up to 65 plus devices on your network. These advanced specifications of Atlas 6E place it among one of the best and most reliable mesh Wi-Fi devices.
2. Design And Hardware:
Talking about its design, Atlas 6E has a large system setup of one main router and two satellites. This three-tower system stands tall and heavy on the ground, with each piece measuring 9.6 x 4.5 x 4.5 inches, unlike some other mesh systems with a relatively sleek design. You can find only one LED light on the front display that indicates the current status of your network. With these interactive LED light colors you can diagnose certain errors with your system.
In terms of hardware, this system has one 3.0 USB port, four 4Gbps LAN ports, and one 1Gbps WAN port. The reset and power buttons are located beneath the system. With its 12 internal antennas, you can expect an exceptionally powerful Wi-Fi range as well as a very strong broadband connection
3. Features And Security:
Atlas 6E mesh Wi-Fi technology offers you to expand your system by connecting additional nodes to your system. This way you can connect multiple devices in a much bigger unit as compared to any other mesh system. With its 4-channel capacity, your 6GHz band is capable to handle very large network traffic efficiently and smoothly. Moreover, speaking in terms of speed, your Atlas 6E offers a powerful mesh coverage with its Velop Intelligent technology and ensures that every inch of your home gets the best gigabit speeds for a personalized experience.
Moving forward with its advanced Qualcomm technology Atlas 6E delivers blazing-fast broadband speed and a stable connection. Moreover, its tri-band design potentially upgrades your data transmission providing a smoother flow of data.
Atlas 6E lacks advanced security features and offers limited parental controls in terms of security. It supports the WPA2 and WPA3 security protocols which are rather inadequate for a top-tier mesh system. Furthermore, it lacks malware protection, putting the Atlas 6E system at a disadvantage in terms of advanced security.
The Final Verdict:
Users have been overwhelmingly positive about the Linksys Atlas tri-band mesh Wi-Fi 6E. Considering its price, it is extremely expensive for the average client but has proven to deliver the best features, exceptionally fast Wi-Fi speeds, and coverage. Even though it lacks advanced security features, this has not hindered how well this system performs. As a result, if you can afford a Linksys Atlas Wi-Fi 6E or are willing to pay a premium for ultra-fast internet speeds, and a reliable and stable Wi-Fi connection, the Atlas tri-band mesh Wi-Fi 6 is a good investment.