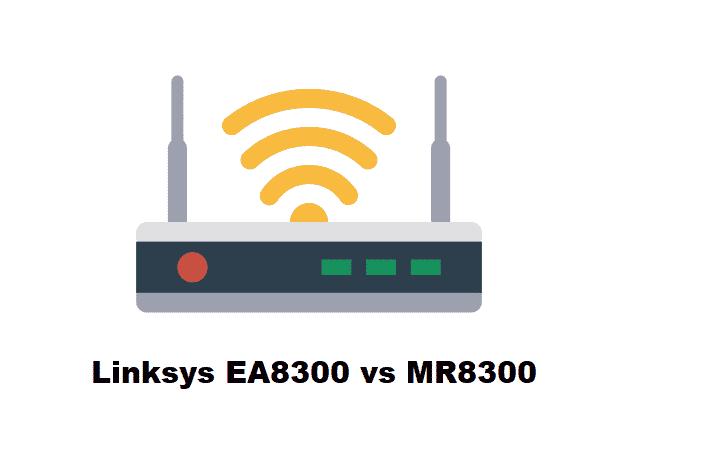 To have the perfect internet streaming experience, you have to make sure that you purchase the right tools needed for the job. In this regard, we often see users have a hard time when deciding to purchase a modem/router. That being said, the Linksys 8300 vs MR8300 is a common comparison that users make. If you are struggling with the idea of having to choose between either of the two products, then you have come to the right place! Here are all the key differences between both these options to help you make the better purchase
Linksys EA8300 vs MR8300 Comparison
1. Wi-Fi Speeds:
When comparing the Linksys EA8300 and MR8300, the feature that a user looks at firsthand is the Wi-Fi speeds of the devices. When talking about the Linksys EA8300 this device delivers up to 2.2 GHz of internet speed. With a throughput of 400Mbps in the first 2.4 GHz band, 867 Mbps in the second 5GHz band, and up to 867 Mbps in the third 5 GHz band this device offers fast data transmission as well as 4K HD video streaming.
In comparison to the EA8300 router, and MR8300 tri-band mesh router also offers a total Wi-Fi speed of 2.2GHz with 4Gbps of LAN ports and 1Gbps of WAN ports making it a fair choice in extending the range and coverage of your Wi-Fi. Both EA8300 and MR8300 offer gigabits for wired and wireless networks.
2. Setup And Installation:
Like other Linksys mesh technology routers, EA8300 and MR8300 both require easy and simple setup procedures. You can set up both devices using the Linksys router mobile apps with quite a few steps. Moreover, the installation of both the devices is rather basic i.e. you can configure the routers using simple connections.
3. Features:
When comparing the Linksys EA8300 and MR8300 routers, it should be noted that they have nearly identical features and structures. When it comes to the EA8300, this router offers tri-band technology and internet coverage of 1500 square feet. If you want your devices to automatically connect to a network with a stronger Wi-Fi signal, the EA8300 has an amazing feature of seamless roaming support. You no longer need to worry about finding a location with the strongest Wi-Fi signals because the EA8300 provides whole-home coverage.
Moving on to the MR8300 router, it is no less than the EA8300. This router possesses similar characteristics as an EA8300 mesh router, but it is 'newer'. Similar to the EA8300, MR8300 provides expanded internet coverage throughout the home. With the exclusive feature of Velop nodes, you can automatically switch between multiple networks. MR8300 offers a newer version of firmware as compared to the EA8300 which uses custom firmware.
4. Memory:
Moving on to the memory of EA8300 and me8300 routers, both the routers hold good memory allocation for retrieving data. Talking about the EA8300, this router has a total memory of 256 MB of RAM as well as flash memory. Whereas, an MR8300 router has a total of 512 MB of RAM and a whole 256 MB for storing firmware settings.
5. Additional Specifications:
Both the EA8300 and MR8300 routers have 4 flexible external antennas which can be adjusted to provide maximum coverage for your home. Like a Linksys EA8300, the MR8300 router also has a 1Gbps of WAN port and a 4Gbps LAN port. Furthermore, EA8300 and MR8300 both routers have WPA2/WPA security features with 128-bit AES link encryption to protect your networks from online breaches.
Final Verdict- Which Is Better? EA8300 or MR8300?
Since both of the routers have similar technology and technical characteristics, the only thing that sets them apart is the RAM storage of the MR8300 as compared to the EA8300. The MR8300 offers a greater RAM in comparison to the EA8300 with the same price making it a recommended option among users. Moreover, the EA8300 router has a more conventional firmware whereas the MR8300 has a newer firmware. So, if you are in the market for buying one, you should consider the MR8300 due to its new features at the same price.