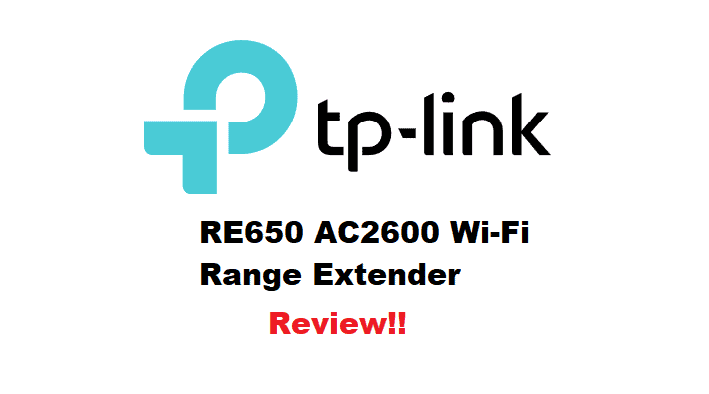 When we talk about managing the speed and range of Wi-Fi products, TP-Link is the most recommended option to extend your Wi-Fi range and provide fast-speed network coverage. With a TP-Link, you can efficiently manage your routers and reduce signal interferences. Therefore, if you are in the market for a Wi-Fi extender, this article will provide a general review of the specifications and features of the TP-Link RE650 Wi-Fi extender and why or why not you should buy it to upgrade your home network.
TP-Link RE650 AC2600 Wi-Fi Range Extender Review
Wi-Fi Range And Coverage:
When talking about the TP-Link RE650 wireless Wi-Fi speeds, this device can push speeds of 800Mbps on the 2.4GHz band and up to 1.7GHz at a 5GHz band delivering a total top-speed of 2.6Gbps. With a fast processing speed of 880MHz, you can expect smooth data delivery all across your devices. Furthermore, this device is capable of delivering a wired Wi-Fi speed of 1Gps on an Ethernet cable, these high data rates can easily support the heavy-duty online application as well as 4K streaming and the ultimate gaming experience.
Furthermore, you can expect great network coverage with the TP-LinkRE650. This device extends its Wi-Fi range to reach every corner of your home, so if you are having certain areas where your average router cannot deliver enough Wi-Fi signals then you shouldn't be worried about any Wi-Fi dead zones in the case of TP-Link RE650
Features:
When it comes to the advanced features of the RE650, this device offers a wide range of options to ensure a seamless networking experience. You may be aware that some data is lost during transmission, requiring more time to gather data and deliver it to the client, significantly lowering data rates and internet speeds. But the Intelligent Processing Engine of a TP-Link RE650 chooses the most effective path for the data to travel from the router to the Wi-Fi extender and eventually to the client. Through this feature, you can get a powerful fast-speed network throughout your home.
Moreover, its MU-MIMO (Multi-user, multiple-input, multiple-output technology) allows you to connect multiple devices at once. This means that RE650 can efficiently manage to deliver stable Wi-Fi connection throughout the devices making it a good choice for users who are looking to boost their network speed. With its advanced Beamforming feature, it converges its Wi-Fi signals by locating the connected devices to form a stronger connection.
Design And Build:
When it comes to the design of the TP-Link RE650, this system is huge. With the dimensions of 6.3 x 3 x 1.8 inches, this device is two times bigger than the typical Wi-Fi extenders. Keeping in view that this system is socket-based if you are installing a TP-Link RE650 in your home, expect a block to the nearby wall outlets due to its huge size.
In terms of hardware, the RE650 has four external antennas for establishing a stable and consistent Wi-Fi connection, a 1Gbps Ethernet port for high-speed wired connections, and four indicator LED lights for connections and power. The LED lights display the status of your connection thanks to its excellent user-friendly hardware interface. It also has a power switch and a WPS button for manually resetting your router.
Customer Reviews:
As stated in the article, the TP-Link RE650 has some advanced built-in features that assist in providing its users with a high-speed, stable connection. Furthermore, it has a good range of Wi-Fi and a simple setup and configuration process. Therefore, according to the statistics, users who purchased the TP-Link RE650 gave it a high rating for performance and network coverage. That being said, it has received positive feedback from customers and thus has a good reputation among other Wi-Fi extenders.
The Final Verdict:
Despite its powerful range and strong Wi-Fi connection, the TP-Link RE650 is overpriced for a Wi-Fi extender. Even though this device offers the most features, you may be able to find a similar Wi-Fi extender at a lower cost. However, taking the design and price out of the account, this extender is one of the most powerful extenders on the market.