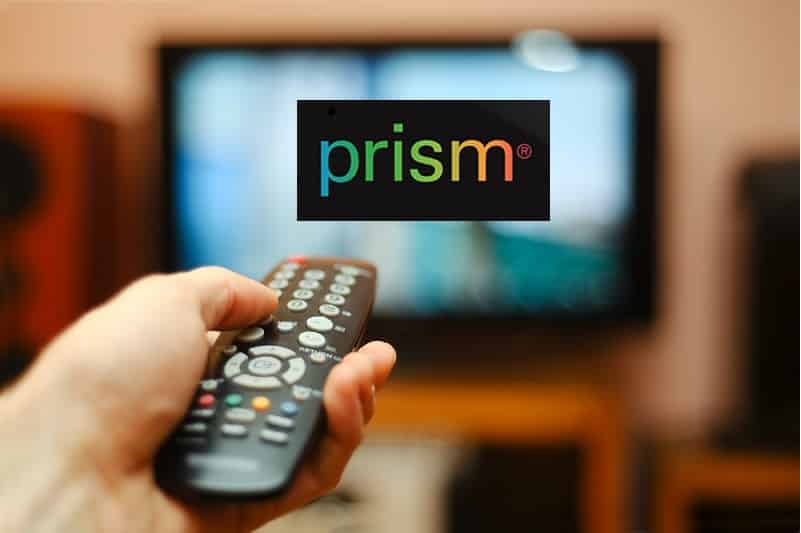 Similar to the triple play bundles offered by Verizon's FiOs and AT&T's U-Verse, CenturyLink's Internet-based Prism TV is delivered via fiber-to-the-home (FTTH), Fiber-to-the-node/curb/building (FTTX), hybrid fiber coax (HFC), VDSL2  or ADSL2 technologies. Consumers can choose from four Prism® packages — Essential, Complete, Preferred and Premium.
CenturyLink, a regional local exchange carrier, is a telco built from a bevy of predecessors including CenturyTel, Embarq, Qwest and Savvis. Operating in 39 states, it is the third largest American telecom company measured in lines served, behind only AT&T and Verizon. While CenturyLink offers long distance service, it does not have a wireless division, opting instead to resell Verizon's mobile service. According to broadbandnow.com, CenturyLink's DSL service "is available to an estimated 48.1 million people, making it the 3rd largest provider of DSL broadband in the U.S. by coverage area."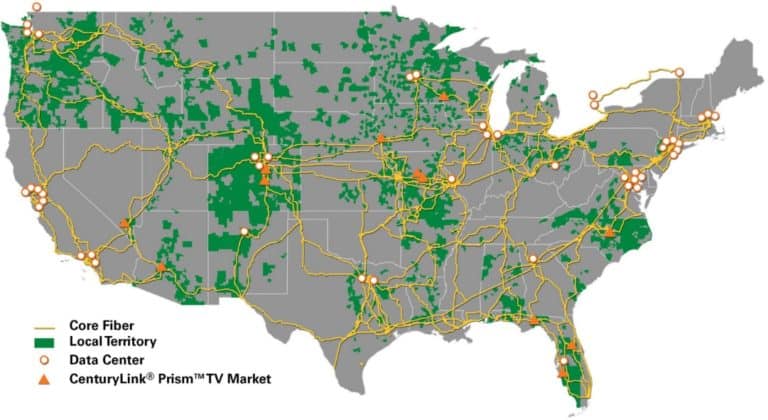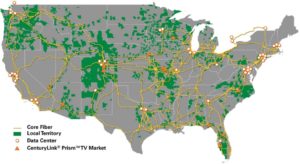 Image Source: Bounzie88 / Wikimedia
Prism TV —  Not Widely Available, Broadly Speaking
The map above depicts only those locations receiving Prism TV via FTTH (or in the case of Gulf Shores, AL, FTTX) and just because one may live in a city with Prism TV/FTTH availability doesn't necessarily mean one's neighborhood is served by fiber. Some locales, such as Cape Coral, FL, receive "only" 100 Mbps — and available to only 3.3% of residents — while 13.3% of Las Vegas residents have access to speeds of 1 Gig. And not all areas of a city have access to the fastest speed, such as Naples, FL, where 5.1% of the residents in the 34105 zip code have access to speeds of 1 Gbps while 7.8% of the residents in the 34104 zip code can only receive speeds of 100 Mbps. (Overall, only 3.9% of Naples residents are eligible to receive speeds of 1 Gig.) CenturyLink claims that it has deployed FTTH to over 1.5 million homes with 1 Gig GPON service. Sounds impressive but remember the company has over 6 million subscribers as of April 2016.
Here is a Prism TV overview from YouTube:
Like AT&T and Verizon, CenturyLink is trying to squeeze every dollar from its aging copper wire infrastructure, turning to channel bonding (CB) and vectoring to ramp up ADSL2 speeds without building out fiber to each and every subscriber. CenturyLink CEO and president Glen Post says that his company can provide 40 Mbps speeds to nearly a third of its "addressable units," which should satisfy the requirements of most subscribers. True enough (for now), but like AT&T's U-Verse, copper-based Prism TV service hinges upon distance-sensitive multiplexing technology which requires Video Ready Access Device (VRAD) aka "media converter" nodes between the subscriber and the local exchange CenturyLink telco central office. As noted in our previous article on VDSL, "service quality is far from homogeneous" given the variance in distances from the customer's premises to the VRAD node (even though package pricing remains the same regardless of distance).
How Much Bandwidth Does Prism TV Need?
According to Bill Austin of North Valley Networks, a Nevada fixed wireless ISP, Prism TV requires a  minimum speed of 15 Mbps. When using ADSL2 technology, CenturyLink bonds two channels to deliver the required bandwidth needed for Prism TV. Also, much of CenturyLink's legacy ADSL2 equipment does not "dynamically allocate" bandwidth, i.e., share bandwidth based on demand, but is instead fixed. In other words, even if the subscriber's  TV is not in use, it still has a fixed allocation of bandwidth. Thus a user's Internet connection speed is "set in stone" and cannot "borrow" from Prism TV's allocated bandwidth.
Note that 15 Mbps is just barely adequate to meet the dense data needs of HD TVs, let alone next generation UHD TV. Nowadays, thanks to the new definition of broadband which stipulates speeds of 25 Mbps, for CenturyLink to deliver Prism TV and  "broadband" Internet, a minimum bandwidth capable of carrying at least 40 Mbps is required. Austin adds, "The big limitation (of 15 Mbps) is that you can only have four active channels at one time. Depending on the line quality, only one or two (TVs) can be high-def." And unfortunately, as CEO Post notes, less than a third of CenturyLink subscribers have access to speeds of 40 Mbps or greater. Thus in most areas of the country Prism TV via ADSL2 is a tough sell compared to the faster speeds and more reliable connections available from cable providers with DOCSIS 3.0.
The Four Prism TV Packages
As mentioned at the onset, Prism TV offers four packages or tiers of service as depicted in the graphic below. Take the current (as of 1 October 2016) pricing with a grain of salt. Should one decide to choose Prism TV (and/or Internet and/or Triple Play bundles), beware of CenturyLink's wretched customer service reputation (more on that below).
Prism®
TV PLANS
Prism®
Essential
Prism®
Complete
Prism®
Preferred
Prism®
Premium
Channels
150+
200+
310+
340+
Standard Set-Top Box - HD & DVR ready
$9.99 per month
per set-top box
$9.99 per month
per set-top box
$9.99 per month
per set-top box
$9.99 per month
per set-top box
Premium Channels
Add to Package
Add to Package
Starz, SHO, Movie Channel
HBO, SHO, Starz,
Cinemax, Movie Channel
Bundle
≤ 20 Mbps Internet
≤ 20 Mbps Internet
≤ 20 Mbps Internet
≤ 20 Mbps Internet
Data Source: centurylink
Coda
Through various mergers, CenturyLink acquired established telecom businesses such as Qwest (the successor to Baby Bell U.S. West) and Embarq (a spinoff of Sprint Nextel) and thus inherited a long-standing customer base. Based on customer feedback found at websites such as consumeraffairs.com and pissedconsumer.com, CenturyLink has squandered the good reputation of its predecessors. Irate customers at consumeraffairs.com rank CenturyLink one star of five for poor quality Internet and landline service and hellish billing practices based on 911 ratings out of 2,926 reviews. At pissedconsumer.com, CenturyLink receives 1.5 stars of five for similar issues, based on 2,114 reviews.
In particular, Prism TV receives 1.3 stars of five; many of the complaints deal with "Advertised vs. Delivered" issues. One outraged customer reported that she was told 40 Mbps was available in her area but found out later that only 12 Mbps was available. So she couldn't receive Prism TV but due to a deceptive CSR she was locked into the 12 Mbps service contract for a year. Others have opted for the 40 Mbps package, then have a CenturyLink installation tech inform them that only 14 Mbsp is available. Yet they still keep being billed for 40 meg even after repeated phone calls to customer service. Stories like these abound.
The recommendation from here? If after reading the negative feedback sourced above, and the consumer is still considering ordering Prism TV service via channel bonded VDSL, by all means find how far away the VRAD node is. For best service, the distance between the customer interface and the VRAD should be within 1,500 feet (~¼ mile) and certainly no further than 2,200 feet (0.41 mile).
Full disclosure: some years ago your intrepid author worked as a Central Office Equipment (COE) tech installing and testing Adtran Digital Subscriber Line Access Mulitiplexers (DSLAMs) in various CenturyLink local exchange offices across Iowa and Nebraska. DSL works fine in a controlled environment of the telco CO. But in the field, the quality, condition and gauge of the copper wire serving the subscriber as well as the distance between subscriber premises and VRAD determine the level of signal quality the customer receives.
Save
Save
Save
Save
Save
Save
Save
Save
Save