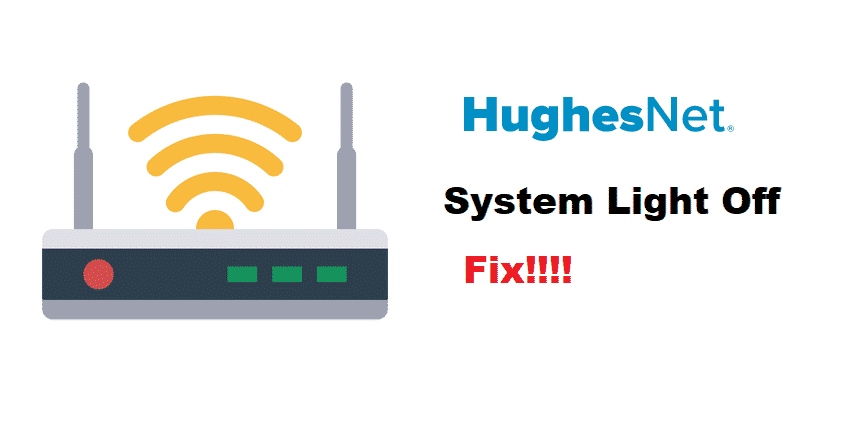 Hughesnet is a well-known brand that offers satellite internet service.  If you intend to subscribe to efficient and reliable satellite internet, the Hughesnet should be in priority consideration. However, many netizens are complaining about unusual occurrences in their device. They are asking why the Hughesnet system's light turns off.
In this space, we will deliberate the underlying reasons behind the lights' turned off in the Hughesnet router? And will enlist a few troubleshoots to resolve the issue that has hindered internet connectivity.
What Does Hughesnet System Light Off Mean?
For internet connectivity, a durable router is necessary, but what if the lights of your Hughesnet's suddenly turned off. If you are witnessing some kind of situation, it means your router has malfunctioned, resulting in an internet connectivity blockade. As we have mentioned here, what are the impacts of sudden turn off of the Hughesnet lights? Now we will discuss possible ways forward to make the device functional again.
1. Can We Reboot Hughesnet Router To Reinstate Lights?
Rebooting is the officially prescribed way to tackle many issues related to software faults. If you come up with likewise condition, you should adopt the rebooting method. First, unplug all the wires from the device and switch off. after a few minutes but not too long. Plugin cables back one by one and turn on the device. You will find that your Hughesnet is blinking lights. If you see the problem is repeatedly arising. The next will help you out.
2. Should I Fix Hughesnet lights off In The System Control Center?
If you are reading this, it means you have already applied the rebooting method, but it didn't garner any positive results. Now, you have to fix the Hughesnet light off the issue through router settings. First, open any browser on your computer or cellphone. Go to the router setting. And reboot the device through the system control.
Then, examine the system control setting, and apply changes in the state code 21.1.5. remember to make it work. Note satellite receives signal strength should result in between 50 to 100. Through this technique, you will find that all Hughesnet lights appeared, and the internet is connected at a suitable speed.
3. Do I Need To Call Hughesnet Customer Care Center?
Contacting customer care is the rarest form of troubleshooting and considered a last resort. If you have done what is prescribed above, that went in vain. Then you should contact Hughesnet Customer Care Facility. Their representative will give you guidelines for the resolution of lights off problem or will replace your device with a new one.
Conclusion
Wrapping up, Hughesnet has good standing in the market, and its products show problems once in a blue moon. While you encounter lights off the issue, religiously follow above mentioned troubleshoots. It will allow you to remain connected to the internet. We will appreciate your feedback in the comment section regarding this topic and will respond to you in the meantime.