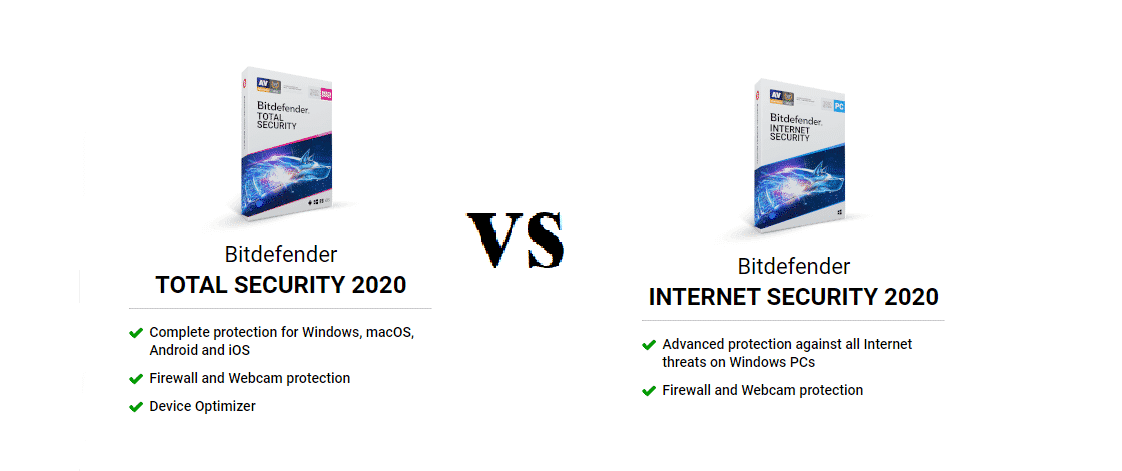 Living in the 21st century, cybersecurity is as important for this generation as physical security. All your high tech smart devices carrying sensitive information must be well secured to protect your personal data files.
For all the time that you spend on the internet, your data is at risk of being exposed to the entire world. Viruses and malware are very common forms of such potential threats to your confidentiality. To keep your devices scanned and threat-free, installing a security program seems like a good option.
One of such Cyber Security Software is offered by Bitdefender Company. However, the variants might confuse you as which one product to choose and you might have to face a battle between the Bitdefender Total Security VS Internet Security. Buying a single product to protect all your computing devices and the data stored in them, will obviously be a tough choice.
Why Only Bitdefender Security Programs?
Bitdefender offers one of the top-notch cybersecurity software. It protects your operating systems and Android devices and keeps them free from all the potential data breaching threats without compromising on the device's performance or its battery life. The latest complete version of Bitdefender Security is available for the customers.
Features Offered By Both Bitdefender Total Security VS Internet Security
Let's take a look at the two cybersecurity programs offered by Bitdefender and go through the features of Bitdefender Total Security VS Bitdefender Internet Security.
1. Comprehensive Data Security
Both the versions do offer comprehensive security for your computing devices protecting it from all types of malware and data threats including 0-day exploits, spyware, worms, rootkits, adware, and Trojans.
2. Internet Security Advisor
Bitdefender Security also provides security from unprotected internet. When usually you are out and about, you use internet services offered by different hosts at different places like in shopping malls or cafes whether as WiFi or as hotspots, but who knows if they are safe?
The Internet Security Advisor checks the network connections for any security threats that might put your data in danger and recommends the best possible action in order to protect your personal information.
3. Bitdefender Firewall
Bitdefender Firewall is a program that adds an extra layer of security to your data. It blocks all those malicious applications that ask for far too many permissions to view your data files. Without a firewall, your personal information is at risk of being exposed to hackers and data snoopers.
The new Firewall program in Bitdefender Security is specially designed to improve usability. It further allows better management of permissions and rules of all applications.
4. Threat Defense
Bitdefender Security also provides advanced Threat Defense software which is an innovative and proactive technology used to detect any potential threats to the device. It uses modern inaugural methods for the detection of various potential threats in real-time.
Advanced Threat Defense program is also able to identify any misbehaving application or software present on the device. It correlates the different type of suspicious behaviors and increases the ability to detect without having much impact on the performance.
5. Protection from Phishing
Hackers often design good and original looking websites with the sole purpose of stealing your confidential data. People easily get trapped by them because they don't know they're giving their information to the phony websites. This way, many cybercriminals steal your credit card numbers and other sensitive information.
This is simply known as phishing. But both the programs of Bitdefender are well trained to block such deceptive websites for data protection.
6. Protection against Ransom Software
Ransom software is undoubtedly the most dangerous data threat on the internet which encrypts all your data stored on the hard disk drive.
In order to decrypt this data, you are asked to pay a certain amount of ransom Bit-coins when you are booting your computer. But both the advanced Bitdefender programs use a multi-tier methodology to protect your important media and document files against such Crypto-ware attacks.
7. Advanced Rescue Mode
Certain well-designed viruses like Rootkits are impossible to get rid of once they reside in system's memory so they have to be removed before launching the Windows.
Both versions of Bitdefender are able to boot your device in the advanced Rescue mode. It clears all such viruses beforehand and then restarts Windows.
Pros and Cons Bitdefender Total Security
Listing down all the pros and cons of the two versions of Bitdefender security will help to select one option suited to your requirements.
No disturbance from notification panel.
Anti-tracker which scans websites even before accessing them.
Anti-Theft feature that allows you to track your devices and wipe or lock the data in the lost ones.
As much as 5 devices can be protected from a single program.
It is available for all computing devices.
A device optimizing feature is available.
The cons are:
Safe Files feature also blocks some of the trusted software as well.
The full device scans on android slow the device.
Pros and Cons of Bitdefender Internet Security
It has separate modes to prevent any interruptions.
A single account to control all your devices.
Bitdefender photon is present to improve speed of full scans.
Real-time threat customization is available to choose your action for device protection.
Parental Control feature to monitor the activity.
VPN protection is provided.
Potential cons are
Only available for Windows devices
No device optimization available
It can only be used for 3 devices.
Conclusion
Comparing Bitdefender Total Security VS Internet Security gives somewhat astonishing yet disappointing results because there is not much difference in the features offered by both versions.
Both the versions are identical in many aspects, only differing in minor details that are not much significant when it comes to security.
Now that you have all features as well as pros and cons listed in front of you, it is easy to choose which version best suits your security needs whether the Bitdefender Total Internet Security or Bitdefender Internet Security