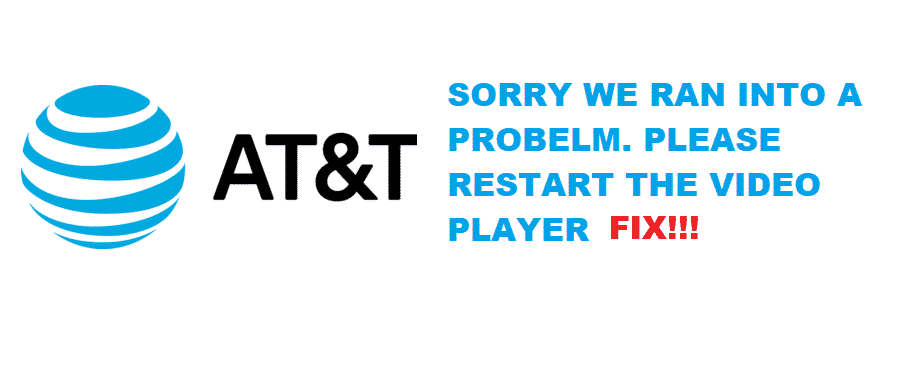 It gets very annoying when you see any error box popping up on your screen while you're watching your favorite TV show or something. But there is no such service provider that assures no error message popping up at all. There are multiple codes for different errors like the error "sorry we ran into a problem please restart the video player" also has an error code. Error codes can pop up due to various reasons. But resolving them can be a real job if you are new to it.
Some people even have a question about whether DirecTV streams on laptops and PCS or not because this error pops up on laptop and PC if you haven't cleared cache and cookies. Nobody has yet come up with an exact solution to this problem but there are various ways to come out of this error code. There can be other error codes that can pop up on your screen because of different reasons as well.
How To Fix AT&T Sorry, We Ran Into A Problem. Please Restart The Video Player
Troubleshooting Steps
When the error message comes to your screen you can fix it in the following ways.
One way of removing all the error messages and problems while streaming is to close all the applications and programs that are functional at the moment. Make sure that you also close the programs that are running in the background.
One other way of getting rid of error messages is to restart your device so that it refreshes automatically.
You can turn off so that you can sign in again and check the streaming.
If you are using it on a mobile application then you might need to install the application and re-downloaded it from the app store to use it error-free.
On the help forum of AT&T, they have recommended cleaning cache and cookies for your DirecTV streaming to work properly.
If you're using a DirecTV on the computer there are different requirements for PC and Mac so you must make sure that you have fulfilled all of these requirements. Otherwise, there will be error codes popping up again and again.
For best quality streaming we would recommend you use the highest available bandwidth on the Wi-Fi connection available. According to an online detector of how many issues DirecTV faces, there are 80% server connection issues reported by the customers of DirecTV. While 20% of the cases that are reported are about the problem of video freezing. According to the same statistics, the number of problems arises at a maximum at 5 to 6 a.m. and around 1 a.m.
Some people on online forums would recommend you to contact DirecTV on their Twitter account in case of error messages popping up on your screen so that they can fix your problem as soon as possible. Hopefully, this blog can help you enough to solve or troubleshoot this error code.