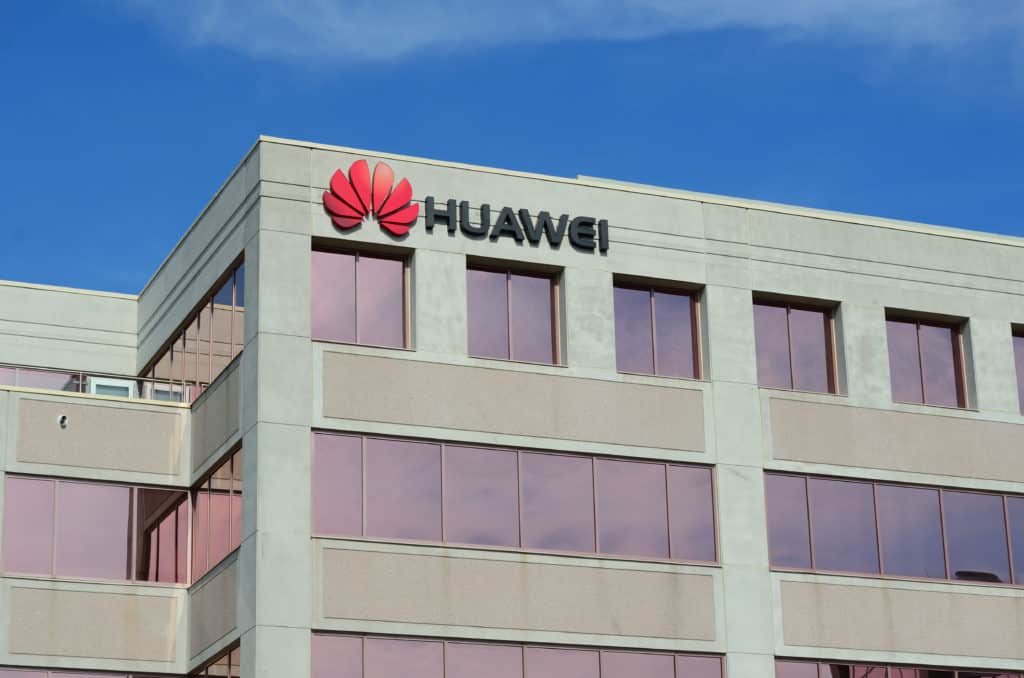 Credit: Open Grid Scheduler/Grid Engine via flickr.com
Public Domain
"5G is turning more into a geopolitical battleground between the United States and China," said (5G technology researcher) Tim Ruhlig of the Swedish Institute of International Affairs.
Today's foray takes the IAG where it has seldom if ever trod: tech realpolitik. The race is on for worldwide 5G supremacy and battle lines have been drawn. On one side is North America, Australia and New Zealand; on the other is China. Caught in the middle is the EU. How will the struggle between the two factions resolve? The IAG reads the tea leaves to predict a possible outcome for the imminent Cold War between western 5G versus China's Huawei.
5G: A Battlefront in the Ongoing U.S.-China Trade War
The 5G struggle for supremacy reflects tensions arising from the current trade imbalance between the world's two largest economies: China (the world's largest exporter) and the U.S. (the world's largest importer). As recently as 1991, China accounted for only 1% of total imports to the U.S. In 2018 the U.S trade deficit with China was $419.5 bn.
Since joining the WTO in 2002, China's export-based economy has skyrocketed, resulting in a massive transfer of wealth from developed nations to the PROC. With this infusion, China invested in technology and industrial development. It established the Belt and Road Initiative (BRI) in 2013, in 2015 the "Made in China 2025" program and in 2017 announced its plan to achieve dominance in the development and use of Artificial Intelligence (AI) by 2030.
Central to China's goal of becoming the world's dominant superpower of the 21st century is development of 5G wireless technology. The emergence of Chinese tech behemoth Huawei, now the world's largest manufacturer of telecom gear, will play a vital role in achieving 5G hegemony for the Chinese.
While Huawei claims to be a "private company," evidence indicates that Huawei received a colossal US$30 bn credit line from the China Development Bank as well as other strategic investiture inflows from quasi-Chinese government agencies.
China Analyst Matthew Shrader of the German Marshall Fund explains, "State-backed financing was crucial in Huawei's growth." By cornering China's substantial domestic market, the company could then secure business abroad by offering steep discounts over more established European competitors.
James Lewis—director of the Technology Policy Program at the Center for Strategic and International Studies (CSIS)—adds, "If you're China's government, you have two choices. Duplicate what the U.S. did and build a multibillion-dollar signals intelligence network or fund Huawei—and that's a lot cheaper."
Huawei's Remarkable Ascent
Shenzhen-based Huawei, founded by former PROC military "technologist" and engineer Ren Zhengfei in 1987, began as a telecom manufacturer serving China's domestic market. Among its first customers was the Chinese military. By the turn of the millennium, Huawei served international markets albeit tainted by a reputation for shoddy, knockoff hardware.
Today, its product quality is greatly improved from earlier years. Huawei is the world's second-largest smartphone vendor, vying against Apple and Samsung in the highly competitive Chinese market. Perhaps most significantly, Huawei is a vertically-integrated global cloud services provider to enterprises, including "more than 12,000 global channel partners, over 2,000 service partners, and beyond 400 solution partners" as of 2016.
According to Paul de Sa, partner at the strategic advisory firm Quadra Partners, "Western companies underestimate(d) how credible Huawei was. Executives laughed (at the idea) that Huawei could compete." Telecom analyst Koh Chee Koon, formerly of Huawei, Nokia, Lucent and Ericsson, adds: "When Huawei first entered Southeast Asia, it was willing to do a lot more at a competitive price."
Koh's comment is reflected by the formidable brand value Huawei has built. In Southeast Asia alone, four of its largest and most loyal customers are MNOs Maxis Communications of Malaysia, Globe Telecom of the Philippines, Thailand-based Advanced Info Service and Indonesia's Telkomsel. All chose Huawei for 2G, 3G and 4G (GSM, UMTS, HSPA+ and LTE) networking equipment.
Private and public networks in 170 countries utilize Huawei gear and the company asserts that it has contracts to rollout 5G networks in 30 countries; dozens more are poised to follow.
Huawei's market share of the global telecom equipment market is now 29%, surpassing that of Nokia (17%) and Ericsson (13%). These three companies, along with China's ZTE, supply two-thirds of the total global market for telecom gear.
Huawei Revenue in US$
| | |
| --- | --- |
| 2014 | 42.3 bn |
| 2015 | 58.8 bn |
| 2016 | 77.6 bn |
| 2017 | 89.8 bn |
| 2018 | 107.3 bn |
source: Huawei 2018 Annual Report, based on 2 April 2019 exchange rate
The Demise of North American-based Telecom Manufacturers
North America's telecom manufacturing decline can be traced to the dot-com bust of the early 2000s. In the 20th century, Western Electric (renamed Lucent and spun off from AT&T following the Bell System breakup), Canada's Nortel Networks and Motorola were among the biggest players in the industry.
European companies such as Nokia, Ericsson (thanks in part to Bluetooth) and Alcatel retained much of their market muscle during these tumultuous years. A common European wireless standard—GSM—provided R&D focus while U.S. MNOs grappled with both GSM and competing and incompatible CDMA technology. Meanwhile, U.S.-based manufacturers wilted in the face of strengthened foreign companies and the massive scale needed to compete.
Recon Analytics telecom analyst Roger Entner posits, "Lucent… (crumbled since) they didn't have a big enough wireless arm to keep them afloat when the Internet backbone (business)" collapsed" during the dot-com bust. Much the same happened to Nortel. Entner adds, "Over time, Motorola… became less competitive because other vendors had more economies of scale."
Soon thereafter, France's Alcatel acquired Lucent, Nokia bought Motorola and Ericsson took over Nortel's wireless business.
The upshot? While U.S. President Trump wants American companies to "step up" and supply 5G telecom gear, no U.S. manufacturer makes any of the technology's vital components such as radio base stations, which are entirely different from those used for 4G. For quality, timely delivery, customer service, performance and especially price, Huawei is the 5G (and 4G and 3G) vendor of choice for much of the world.
As for keeping the wolf (Huawei) outside the door of America's wireless networks, it's too late. Attorney Carri Bennet, a spokesperson for the Rural Wireless Association, recently informed U.S. House Judiciary subcommittee members that "about 25% of our members have Huawei or ZTE" components in their networks.
The Decline of American Tech Companies
As recently as a decade ago, all top-10 tech companies by revenue were U.S-based. Huawei (with 2009 revenues of US$28 bn) was then little known outside of southeast Asia and eastern Europe. MNOs like AT&T and Verizon and vendors such as Intel and Qualcomm, along with Sweden's Ericsson and Finland's Nokia, set the wireless standards for 3G and 4G.
Now, the Americans realize that the West's long-time grip on tech superiority is in dire peril of irrevocably tipping to the Chinese. The Defense Innovation Board, an arm of the Pentagon, asserts the U.S. lags behind China in developing 5G technology and in establishing 5G global standards. Board members include tech luminaries like former chief executive of the Aspen Institute Walter Isaacson and former Alphabet Chair Eric Schmidt.
In April 2019 the Board issued a report stating that "the country that owns 5G will own many innovations, set the standards for the rest of the world (and) stands to gain hundreds of billions of dollars in revenue over the next decade, with widespread job creation across the wireless technology sector." The report concludes, "That country is currently not likely to be the United States. Chinese equipment is cheaper (and) in many cases superior to western rivals."
Due to Huawei's massive R&D investment shaping 5G technology, its engineers and developers have muscled their way into the organizations establishing 5G standards. These moves are part of Huawei's long-term strategy of plowing company revenue into product and technology development.
One example of this ploy is from the early 1990s when Huawei had 500 R&D staff and only 200 production personnel—a highly skewed ratio. Another is Huawei's claim that today nearly half of its workforce, or 80,000 employees, work in R&D with an annual budget of US$15-$20 bn.
Huawei's 5G Patent Lead
Attesting to the breadth of Huawei's 5G presence, the table below shows the top ten 5G patent owners. Proprietary command of this technology will fetch hundreds of billions of dollars in royalties for patent owners in the coming decades. Note that only three (#7, #9 and #10) are U.S.-based.
Leading Patent Owners of 5G Declarations per Patent Families
Declaring Company

5G Declared Patent Families

USPTO1, EPO2 or PCT3 Filings

Granted

Huawei Technologies

2,160

1,545

608

Nokia

(with Alcatel-Lucent)

1,516

1,484

1,134

ZTE Corporation

1,424

1,014

74

LG Electronics

1,359

1,339

1,100

Samsung Electronics

1,353

1,330

1,015

Ericsson

1,058

1,046

525

Qualcomm

921

905

536

Sharp Corporation

660

635

374

Intel Corporation

618

600

62

552

332

47
Source: IPlytics, July 2019
1. USPTO – United States Patent and Trademark Office
2. EPO – European Patent Office
3. PCT – Patent Cooperation Treaty
Further examination of the IPlytics table reveals that tech bastions Fujitsu, Apple, Sony and NEC are also-rans in the Western 5G vs Huawei patent race while Cisco isn't in contention. A glimpse of the blinding obvious shows that four of the top five are either China- or Korea-based.
Here's a YouTube video produced by OURWEI, a voluntary advocacy program promoting global Huawei's market access. Curiously, the half-hour clip is called "Huawei's Public Relations Nightmare":  
The West's Case Against Huawei
Reuters reported that in early 2018 the Australia (a "Five Eyes" or FVEY Intel-sharing member; the others are the U.S., the UK, Canada and New Zealand) Signals Directorate—the country's SIGINT spy agency—conducted a war game exercise to ascertain how much damage they could inflict on an enemy state's 5G network.
Apparently, the Aussies were aghast at the results. If the Land Down Under were the target of 5G cyberattacks, all of their critical infrastructure—including utilities such as electrical grids, telecom, water supply and sewage disposal—would be in peril of debilitating sabotage.
Thereupon in August 2018, Canberra "effectively" banned Huawei gear from participating in any Australian 5G buildout. In November, New Zealand did the same. After the Aussies shared their intelligence with the Americans, Washington began accelerating sanctions against Huawei. Since the beginning of 2018, cnet.com has kept a running tally of Huawei conflicts vis-à-vis with the rest of the world.
Despite Huawei's persistent denials to the contrary, Western nations perceive a cozy relationship between the tech giant and the Chinese government. Ren adamantly and repeatedly claims his company is "privately-owned"—unlike state-owned telecom China Mobile—and he would deny any PROC attempt to use the company's software as a surveillance "Trojan Horse" or backdoor into 5G networks.
The Americans counter by pointing to a law Chinese leader Xi Jinping signed in 2015 enacting a comprehensive national security statute linking intelligence assets directly to the Chinese government. As described by the International Institute for Strategic Studies (IISS) research fellow Meia Nouwens, this act requires the obligation of
all Chinese citizens and companies (private and state-owned)… to safeguard national security. This requires them to, for example, provide timely reporting of activities that endanger national security, provide evidence and assist state security agencies and relevant military agencies in national security work.
Vietnam Bans Huawei
It's not only the U.S., Australia and New Zealand who eye Huawei and China with trepidation. Neighboring Vietnam too has banned the deployment of Huawei gear for its proposed 5G rollout.
Viettel Group, the country's largest MNO and owned by the nation's defense ministry, will use Ericsson, Nokia and Qualcomm rather than Huawei despite their higher costs.
Viettel CEO Le Dang Dung claims that the decision is based on technological grounds, not geopolitical ones. But he added, "Many other countries, including the U.S., have found evidence that showed using Huawei is not safe for the security of the national network."
The Vietnamese have long been wary of their neighbor to the north even before cyberattacks in 2016 targeted the country's two major airports in Hanoi and Ho Chi Minh City, which they blame on Chinese black hats. Too, according to a 2017 Pew opinion poll, only 10% of Vietnamese look favorably upon the Chinese.
For that matter, Japan too has largely eschewed the use of Huawei gear in its wireless networks and looks to continue the trend with 5G. India as well cited security concerns in 2009 when denying Huawei's attempt to bid on certain telecom contracts. By contrast, South Korea MNO LG Uplus relies heavily on Huawei products. And, in violation of U.S. export controls, Huawei reportedly built out North Korea's wireless network.
Europe Pulled Apart by 5G Forces
Stuck in the middle and pulled in opposite directions by the conflict between Western 5G vs Huawei are EC countries attracted to the quality of Huawei's gear and its low price-points. Torn between potential security worries and lower costs, both the UK and Germany have dithered in deciding vendors for their respective 5G network rollouts.
Another source of internal EU conflict regarding Huawei is found in what is known as the "Digital Market." In 2016, the EC released its 5G Action Plan, making the case that for the continent to be received as a major 5G consumer, it should be seen as one united league rather than 28 divergent teams. Yet, the EU chose to allow its individual governments leeway in determining bans on any vendor over national security concerns.
The Carnegie Endowment for International Peace found that irrespective of widespread trials, European MNOs will lag behind North American and Asian carriers in the deployment of 5G networks. Thus, the EU has directed that its member nation's MNOs deploy bona fide 5G networks by 2021's end.
Erik Brattberg, a fellow at the Carnegie Endowment, points out: "The problem for Europe is that it lost out on 4G developments. (While) Europe is very well positioned in terms of telecommunications, (it) was a late adopter of 4G, which had an adverse impact on both the European economy and (its) telecommunication companies… Ericsson and Nokia."
Huawei Stakes Its Claim to Europe
Of late, the Americans have exerted unprecedented pressure in their attempts to dissuade the EC from utilizing Huawei products. This is a remarkable sea change given that the U.S. has long championed supply-chain globalization. But Huawei has already made major inroads into European networks—unlike the four major American MNOs with no Huawei presence—and the Europeans, by and large, have been satisfied consumers.
One gratified customer is Swedish telecom goliath Telia. In 2009, they chose Huawei to build out their 4G network for Oslo—one of the world's most tech-astute cities. Later that year, Huawei upgraded the wireless networks of both Telia and Telenor in Norway to 4G, under budget and ahead of schedule.
For Huawei to manage these coups in the backyard of Nokia and Ericsson is unquestionably astonishing, particularly a decade ago when Huawei was still considered an upstart. It heralded the Chinese company's destiny as the world's premier networking manufacturer.
What's the Western 5G vs Huawei Outcome?
Opinions are like noses; everyone has one. Foreseeing the future is a dicey business. Yet the IAG will venture far out on the tree limb to predict that, like so many times before in the world's tech history, competing standards will emerge in various parts of the world for 5G. It happened with 2G and 3G; it can certainly occur again.
As Verizon CEO Hans Vestberg says, "We are executing our strategy with our Western European vendors. It seems that you can do that without Huawei." Indeed, as mentioned, none of the top four U.S. MNOs use Huawei gear.
Too much money stands to be made from the licensing of 5G technology for the Americans and the Europeans to cede the lion's share to China, Huawei and ZTE. Moreover, certain nations will always fear that critical infrastructure functions controlled by 5G networks could be compromised should they be supplied by untrustworthy adversaries.
It's apparent that the next Cold War will be fought on the technology battlefield. Given Asia's population mass and its relatively youthful age by comparison to North America and Europe, market forces could very well turn the technology tide in favor of the Chinese.
Coda
As Huawei is well-established in Asia and all but rooted out in North America, where the rubber will meet the road for standardized 5G technology is in Europe. The example of Lithuania, a NATO ally of the U.S., could be typical for many other European nations.
In March 2019, the Americans urged Lithuania to disavow Huawei, claiming that by using the company's 5G gear, the Baltic country could potentially expose allied forces to harm. But Lithuania balked at the suggestion, remembering how neighboring Norway benefited from Huawei's technical prowess and superior product pricing.
Like other European nations, Lithuania relies on U.S. military support but doesn't want to rile China. Thus, the Baltic state is searching for a strategy that "bans" Huawei without in fact precluding the company's 5G products.
We leave the final word on Western 5G vs Huawei to tech-savvy former Australian PM Malcolm Turnbull. In March 2019, he told a London audience:
With the benefit of hindsight it beggars belief that the countries which pioneered wireless technology – the United States, the UK, Germany, Japan and with WiFi, Australia – have got to the point where none of them are able to present to one of their own telcos a national, or a Five Eyes, champion in 5G.
Update (18 September 2019) — Estonia Set to Ban Huawei from its 5G Network
Estonia's national cybersecurity policy director Paul Rikk declared that his country's 5G network should not use Huawei equipment. "The issue is not so much the quality of Huawei hardware and software but whether these devices can be used for political purposes in the future," he said. Acknowledging pressure from NATO, of which Estonia is a member, the Baltic nation weighed "security concerns" from the U.S. and "other NATO allies" in its decision to ban Huawei.