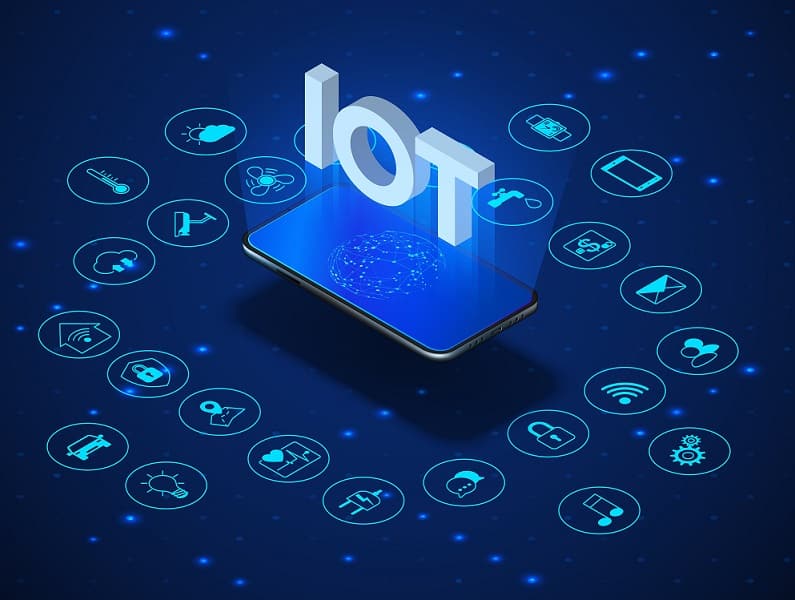 In 1967 counterculture writer Richard Brautigan published a poem called "All Watched Over by Machines of Loving Grace" which in its quirky way foresaw the coming tech revolution of the 21st century, namely the Internet of Things (IoT) and Machine to Machine (M2M) communications. In Brautigan's technological utopia, the "cybernetic meadow where mammals and computers live together in mutually programming harmony" naturally requires a network that communicates efficiently with its connected devices.
Among the cellular technologies vying for primacy in Low Power Wide Area Networks (LPWANs) to serve IoT and M2M needs is today's topic, LTE-M, consisting of a number of Mobile IoT radio technology standards or releases issued by the 3rd Generation Partnership Project (3GPP). The latest LTE-M release covering both enhanced Machine Type Communications (eMTC) and Narrow Band-Internet of Things (NB-IOT), is the most specialized M2M application of IoT communications currently available. Release 14 is already in the planning stages for 5G/IoT.
Other radio technologies (which may not be cellular) serving LPWANs include
Greenwaves OFDM
Haystack
LoRaWAN
RPMA
Symphony Link from Link Lab
ThingPark Wireless, a variant of LoRaWAN
Weightless from Weightless SIG
WAVIoT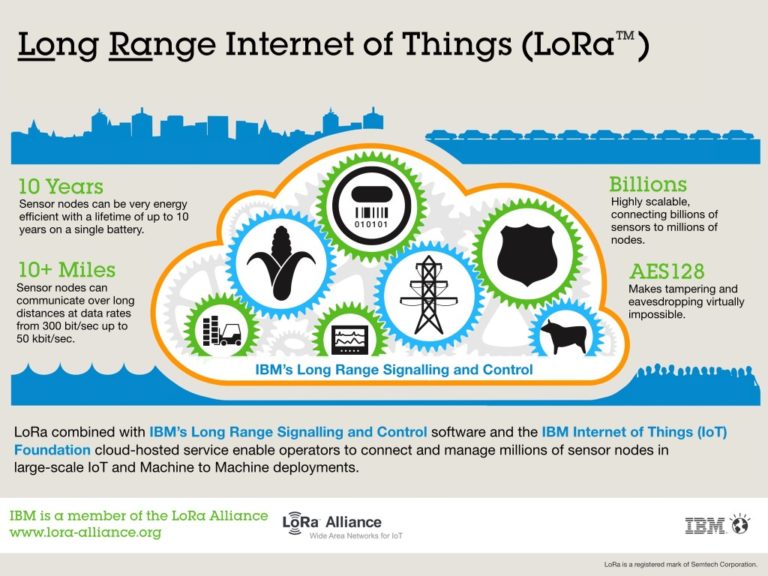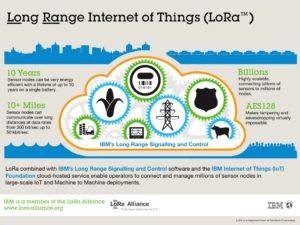 Image Source: IBM Research / Flickr
Observant readers will recall back in September we visited the topic of LTE or Long Term Evolution. LTE-M is an offshoot of legacy LTE technology, designed for cellular IoT applications interacting with vending machines, utility meters, navigation aids, security monitoring, medical metering and such. 2G cellular technology historically served these applications but with carriers phasing out spectrum allocated for 2G and estimates of up to 30 billion devices connected to the Internet by 2025, clearly a new technology is needed to accomodate IoT and M2M communications.
The "Cybernetic Ecology" of IoT and M2M
Borrowing again from Brautigan's poem, the "cybernetic ecology" must meet a number of requirements to enable devices that use IoT and M2M cellular communications. These include:
| | |
| --- | --- |
| *Long Battery Life | *Low Device Cost |
| *Low Deployment Cost | *Extended Coverage |
*Support for a Massive Number of Devices
Specifically, battery service life should last for at least 10 years, the cellular technology must have the capability of serving both expansive rural areas as well as "deep indoors" locations and, when needed, bidirectional functionality of data flow must be optimized. A historical shortcoming of LTE was power usage; the emphasis was on thoroughput rather than power economy. But even the LTE-M releases that enable speeds of 10 Mbps have virtually the same power requirements of standards that specify much lower data transfers. LTE-M is a popular option for cellular carriers because it uses licensed spectrum, meaning no out-of-network competition for bandwidth, and it can easily be upgraded from existing LTE platforms. Too, "our cybernetic ecology" will require low latency when turning devices on and off.
Comparing LTE-M and NB-IoT
Below is a table comparing four LTE-M Mobile IoT standards

LTE Cat 1
LTE Cat O
LTE Cat M1 (eMTC)
LTE Cat NB1 (NB-IoT)
3 GPP Release
Release 8
Release 12
Release 13
Release 13
Downlink Peak Rate
10 Mbps
1 Mbps
1 Mbps
250 kbps
Uplink Peak Rate
5 Mbps
1 Mbps
1 Mbps
250 kbps (multi-tone)
20 kbps (single-tone)
No. of Antennas
2
1
1
1
Duplex Mode
Full Duplex
Full or Half Duplex
Full or Half Duplex
Half Duplex
Device Rx Bandwidth
1.08 - 18 MHz
1.08 -18 MHz
1.08 MHz
180 kHz
Receiver chains
2 (MIMO)
1 (SISO)
1 (SISO)
1 (SISO)
Device Tx Power
23 dBm
23 dBm
20/23 dBm
20/23 dBm
Source: 3GPP and wikipedia.org
This video from Digi Technology explains the upcoming fork in the road for LTE and just what network requirements our "machines of loving grace" will require:
Perhaps the most important difference between NB-IoT and the other variants of LTE-M is the size of the radio spectrum allocated for device receive bandwidth, which directly affects downlink peak transmission rate. One look at the table reveals that earlier LTE-M releases use 10x or 100x the bandwidth of NB-IoT. Thus it comes as no surprise that early LTE-M releases have transmission rates 4x or 40x faster than NB-IoT. Hence, Release 1 is suitable for gaming; Release 13 serves the needs of an office building's environmental monitoring.
LTE-M has the flexibility to provide for both synchronous bidirectional communication ("full duplex," e.g., 1 Mbps up and down) and unidirectional communication ("half duplex" transmission of either 250 kbps or 20 kbps, depending upon configuration). As the image below indicates, all four variants cover a wide range of applications from high to low data rates and latency. Too, the posted signal strengths of 20/23 dBm is a quantum leap forward in power management technology compared with previous low-thoroughput requirements.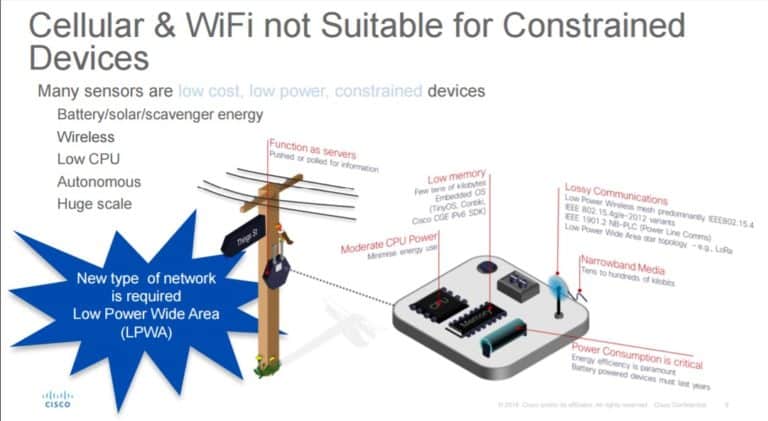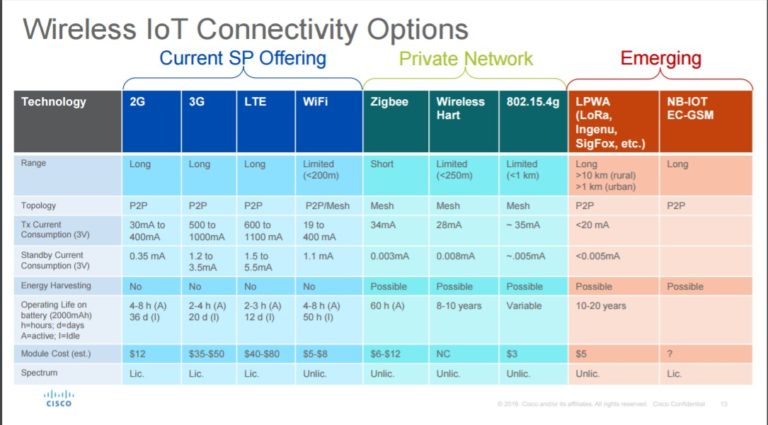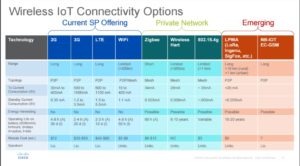 Courtesy of Cisco Systems, Inc. Unauthorized use not permitted. Accessed 13 December 2016.
Image Source: Cisco
In this context, "complexity" refers to "the number of nodes and alternative paths that exist within a computer network, as well as the variety of communication media, communications equipment, protocols, and hardware and software platforms found in the network," per Wikipedia. So LTE-M can oblige both relatively simple and complex network topologies compared to LTE networks designed for human data communications.  What's more, since LTE-M supports IPv6 addressing, it has the capability of accommodating massive amounts of IoT devices.
Coda
This "cybernetic ecology" of the IoT "where we are free of our labors and joined back to nature, returned to our mammal brothers and sisters" could also be a dystopian nightmare. Imagine "(it has to be!)" the ramifications of IoT, which require unique identifiers for everything, tagged by RFIDs, transmitting data about our every purchase as "our "machines of loving grace" inform databanks of our home heating and cooling patterns, our visits to the fridge, how often we turn our home's lights off and on and what we cook for supper. This is the flip side of M2M communications — so much data will be generated and sent over networks without being touched by human interaction. We then will indeed be "all watched over by machines of loving grace."
Save
Save