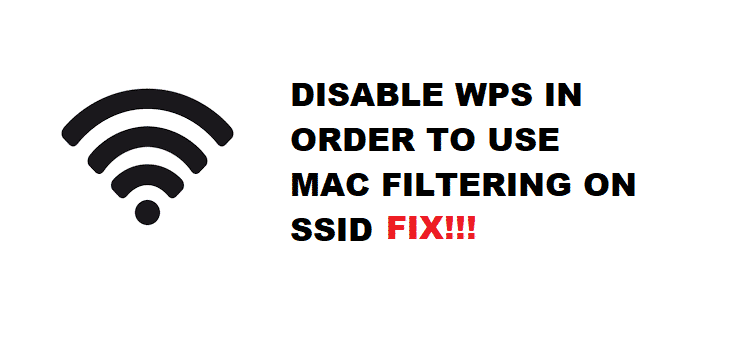 Optimizing your Wi-Fi network is not easy task if you are not tech-savvy or have a clear idea of the things involved. There are tons of terms that you need to understand in order to get the configuration right, and one little mess up can cost you to have no internet connection or security. While there are different sorts of networking settings on the router interface, they might vary based on the firmware you have installed on your particular router and what brand you are using.
If you are trying to enable the MAC filtering on your router and you get the error above, that means your WPS is enabled and MAC filtering cannot be turned on. To fix it up, here are a few things that you need to understand.
You Must Disable WPS On An SSID In Order To Use Mac Address Filtering On That SSID Fix:
1. WPS
WPS stands for Wi-Fi Protected Setup. It is a button that allows you to connect any device that has WPS compatibility on it. The drill is simple, all you need to do is keep the WPS button pressed and enable the WPS option on your device. It will be connected automatically.
2. Mac Filtering
Now, MAC filtering on the other hand only allows you to connect the devices on your router and Wi-Fi network that have their MAC Address already saved in the list. No other device will be able to connect when you have MAC filtering on. The catch here is that you cannot even connect such devices over WPS and you need to have WPA or WPA2 encryption on your network that requires a password for that SSID.
The Error
The error message will not allow you to enable the MAC Filtering on your router unless you turn the WPS off. This is a basic security step on your router that ensures that your settings don't have any conflict with each other and you have the optimal security on your router. So, there is no way you can have both MAC filtering and WPS enabled on your router.
How to Fix It?
The first thing for you to do is to decide which one you want between both. You cannot have them both on your router at the same time and there is no workaround that. So, if you decide upon keeping the WPS for better connectivity, all you need to do is leave the MAC filtering and since WPS is already enabled, you will be able to use it without any errors.
However, if you choose to go with the MAC filtering, you will need to click on Network settings and then choose encryption type. Here you will find the button to enable/disable WPS option. Disable the option, click on save settings and restart your router for the settings to be effective.
Once the router is restarted and you are able to connect with the interface, you can turn MAC filtering on and enter all the MAC addresses for your devices that you want to have connected with your Wi-Fi connection. This will solve the problem for you and you will not have to face that error again.