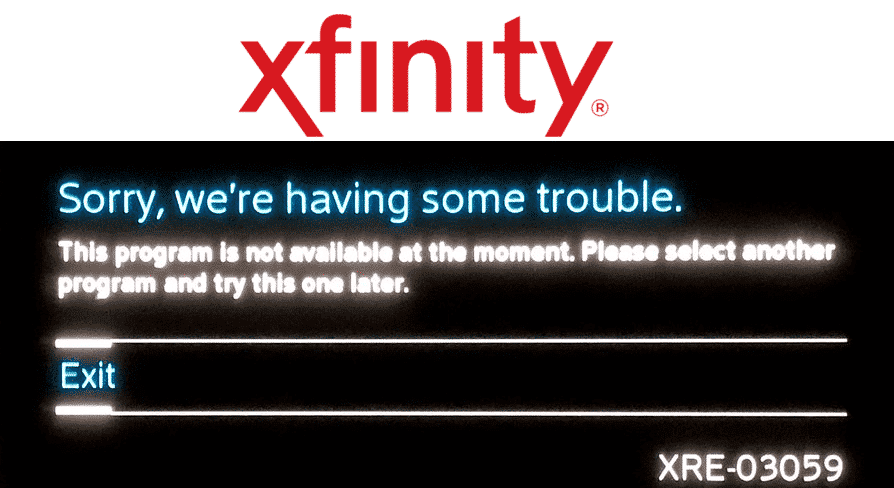 Streaming on smart devices has significantly been revolutionized ever since the digital cable services replaced the coax cable. People consider Xfinity a great internet and cable service provider, be it digital or coax. The Comcast digital cable box is the best one these days in the market. They usually have almost all the channels in their store. However, Xfinity users are complaining about the incompetent streaming services of the Comcast box. The actual issue is with the Xfinity box showing error XRE-03059. The access to specific channels on Comcast cable becomes impossible. Even after subscribing to those channels, you face such issues.
If you are one of those, who get real frustrated intermittently seeing "Sorry. This program is not available at the moment. XRE-03059" on their screens while trying to stream content on many Xfinity cable channels. This is the right place for you. It is understandable that keeping things up and going is very important, so we have put together some legitimate troubleshooting solutions to solve Xfinity error code XRE-03059. Stay with us!
Why Am I Having Xfinity Error Code XRE-03059 On Some Channels?
Suppose you are persistently facing Xfinity error XRE-03059 every time you try to stream some channels on your Comcast cable box. In that case, you should know this is an RF, radiofrequency issues of the particular channel you are trying to view.
The error code XRE-03059 usually appears when your channel has an upstream issue. However, a tech team can only handle this. If you face the same problem on many media altogether, then your coax cable is problematic. Let's learn some authentic fixes for this annoying error. Read on!
Troubleshoot Xfinity Error Code XRE-03059
Keeping your Comcast equipment up and going with correct functioning is very important. Follow these troubleshooting solutions to make sure your Comcast cable box doesn't show error code XRE-03059 again.
Refer carefully:
Check The Network Connection:
The first thing you need to check is if your network connection is working fine. See internet performance on other devices.
Make Sure The Coax Cable Is Connected OK:
Sometimes a lousy coax connection can cause such intermittent errors to come up. Make sure that your coax cable is connected to the right port.
Make Sure The Subscribed Channel Is On Your Cable Box:
Before panicking about the issue, make sure that the channel you are trying to stream is already on your cable box.
Check Your Xfinity Box:
Check your Xfinity box and their full equipment set if they are okay.
Swap Your Xfinity Box:
Sometimes swapping the older Xfinity box with a new one gives you better streaming results. Get it replaced with an original box after contacting the Comcast customer support.
Reboot Your Xfinity Box:
The best troubleshooting approach is unplugging the power cord of the Xfinity cable box and plugging it back on a user level.
If nothing seems to solve the Xfinity error code XRE-03059, then reach out to Comcast customer support immediately. They will guide you much better.