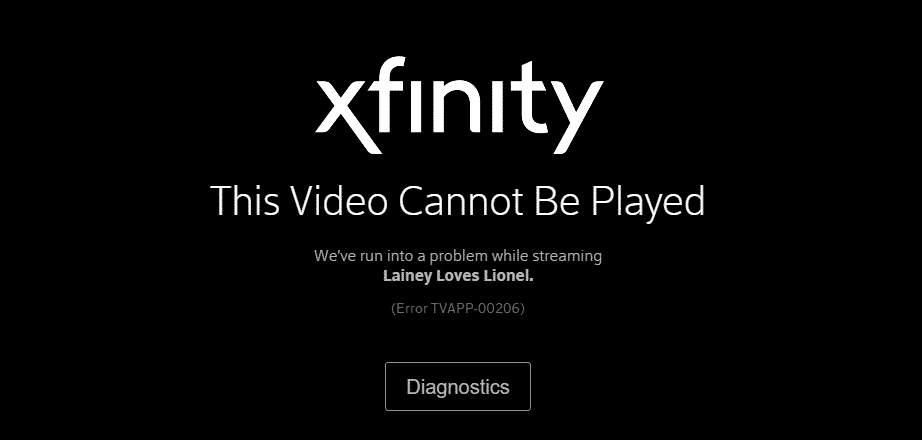 Xfinity is a popular brand under Comcast Communications Cable that is known for providing all kinds of entertainment and cable services. They are widely used by users to enjoy their TV, cable, and internet services.
Using their services, people can enjoy seemingly fast internet, and TV streaming. Without a TV box, users can watch live sports channels, local news channels, and weather by using the Xfinity Stream app. What's even better is that it is completely customizable, meaning that users are free to add more channel packs at any time of their convenience.
How To Fix Xfinity TVAPP-00206 Error?
There is no doubt that Xfinity does provide great services to its customers. However, you are bound to run into problems at some time when using the services provided by an Internet Service Provider. You could also run into trouble with your TV streaming services.
We have seen dozens of users run into an error stating "Xfinity TVAPP-00206". This error can occur due to plenty of different reasons. This is why today; we will be exploring some of the reasons why you are facing this error, and what you can do to fix it. All of the reasons are mentioned right below:
Try Changing Your Playback Settings
It isn't necessary that you are facing this error because of Comcast. We have seen plenty of cases where users have fixed the issue by simply changing their playback settings. It's supposed to be a workaround that helps fix the error code.
Basically, what you have to do is to go to your Playback settings. From there, change "Play best available" to Off. The videos may still not show in high definition, but this should definitely help you fix most if not all of your channels.
Use An Alternative Device
We suggest you get your hands on an alternative device. It can be your smartphone as well. Mostly, this error stops users from watching HD channels. This is why you should try watching the channel on HD on your phone. This may help narrow down the issue further.
If it works flawlessly on your phone, then the issue might be with your device. If it's not working, then the fault lies with the service provider. Either case, you will need to get your hands on an alternative device to properly check where the actual fault lies.
The Bottom Line
In this article, we have thoroughly explained how you can fix the Xfinity TVAPP-00206 error. Make sure you follow each and every step mentioned above. If none of the mentioned steps seem to work for you, then we recommend you contact their customer support. The support team will contact you shortly and will let you know why you are facing this issue.