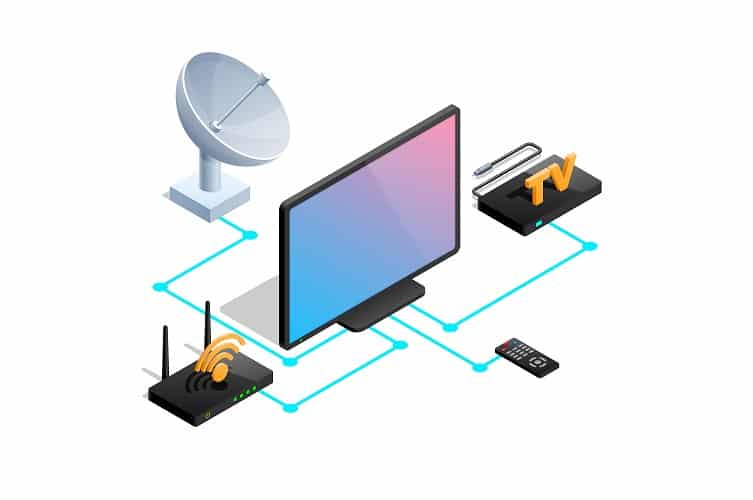 The process of installing your own satellite Internet television is not as difficult as it sounds.  With the right equipment and a few installation tips you can be up and running within a matter of hours and save a few dollars in the process.
If you feel confident installing satellite Internet and television yourself you will need to install the basic equipment such as a satellite dish, cables for television reception and Internet access, and a receiving unit.
Satellite Internet TV Installation Tips
Before installing the satellite dish it is important to determine the best location for placement.  With most satellite connections it is mandatory to have a clear view of the south with enough space to elevate the dish and angle it up to fifty degrees.
Position the Dish and the Cable: Once you have found the right location for the dish it is necessary to determine how the cable will be routed to your television.  If it all possible find the shortest distance to achieve the best reception.  Additionally, it is important to keep in mind that periodically you will lose reception during a snowstorm or through debris that comes from the surrounding trees.  For this reason try to place the dish in a location where you can access it for cleaning.
Install the Satellite Dish: When you purchase the satellite dish it will come equipped with mounting hardware for installation along with instructions for mounting and pointing the dish to get the proper reception.  Depending upon where it is necessary to locate the satellite dish, installation may require the purchase of additional hardware equipment that is not included with the satellite dish at the time of purchase.
Connect the Cable: You will use coaxial cables for connecting the satellite dish to your television receiver.  The cables will be run from the satellite dish to the receiver inside your home.  Depending upon the route of your cable there may be some added installation steps if you are running the cable through a wall or other component in the building structure.
Connect to the Receiver: Once you connect the coaxial cables to the receiver you can complete the directional adjustments for the satellite signal and perform the necessary configurations to the receiver.  Once everything is connected and configured there should be no need to make any further adjustments.
It is also important to keep in mind that if you do not feel knowledgeable enough in this area it is important to enlist the help of a professional satellite technician.  This is especially true if your connection requires added equipment such as switches and other devices associated with the connection which requires a better understanding of satellite installation.