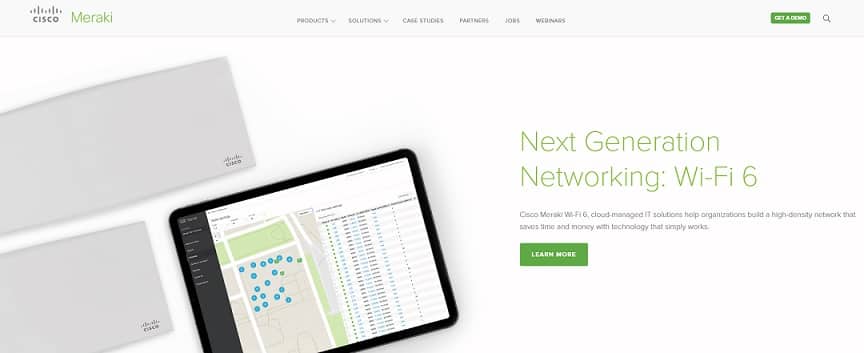 The purchase of Meraki by Cisco a few years ago provided Cisco with the tools it needs to efficiently serve small to medium-sized businesses. The technology provided by Cisco Meraki allows midmarket companies to expand without having to invest in additional IT staff.
In 2012, Cisco announced that the company would acquire Meraki for 1.2 billion. Meraki is a cloud infrastructure company and under the agreement, Cisco established a new venture known as the Cloud Networking Group. The Meraki solution was developed in 2006 by students at the Massachusetts Institute of Technology thanks to the financial backing of Google and Sequoia Capital.
The Meraki cloud solution is designed from the ground up with cloud optimization technologies that are utilized by thousands of companies to manage a large volume of devices without having to deploy additional IT staff. The acquisition of Meraki by Cisco preceded the purchase of Cloupia, a datacenter management software company, for $125 million.
The Meraki solution helped Cisco form the basis for a comprehensive cloud solution. Cisco is a well-known leader of global networking solutions and Meraki is a leader in cloud networking technologies with architecture that is built around the cloud and from the ground up. Meraki's strength is in the mid-market thanks to solutions that are easy to deploy and manage. Cisco is a global leader with massive strength in developed countries.
When combined, Cisco and Meraki have been able to provide networking solutions across many different market segments and increase its global reach. Additionally, the acquisition has provided new capabilities to accommodate on premise and in the cloud solutions with the ability to meet the needs of a large and fast growing market. The project also helps companies to meet the ever growing need for any-to-any connectivity meaning the seamless connection of any type of device to another device.
An Overview of Cisco Meraki Cloud Based Management
The main purpose of the Cisco Meraki cloud based management solution is to provide centralized control over both wireless and wired hardware minus the exorbitant costs and complexities commonly associated with controllers and management systems. The cloud based management system provides features that offer the latest technological innovations and centralized management to accommodate networks of all sizes.
Some of the features of the cloud management solution include:
Improved visibility and control for an entire network using one centralized dashboard which also includes monitoring security and wireless switching devices.
Rapid deployment of networking components using provisioning with zero touch.
The ability to manage networks across multiple sites using network tools that are built into the centralized dashboard.
The ability to manage thousands of network endpoints from one centralized location.
User friendly network management interface eliminates the need for costly training or additional IT staff.
The ability to effectively monitor networks and alerts using automated processes.
Intuitive search tools that allow network administrators to use a network tagging engine that allows for targeted setting searches according to tag name.
The ability to configure network administration tasks based on role and create change logs that can easily be audited.
The ability to perform automatic updates that are delivered from the cloud which eliminates the hassle of keeping track of all necessary updates to network infrastructure and components.
The Cisco Meraki cloud management solution is also extremely secure and highly available having met critical compliance standards such as PCI (Payment Card Industry) and HIPAA (Health Insurance Portability and Accountability Act).
When you install the Cisco Meraki solution, it basically is designed to be out of the box ready with quick and easy deployment that does not require any training. You also have immediate access to centralized control, network diagnostics delivered in real-time, customized reporting, and continuous monitoring of all networks and components.
You also have access to tools that allow you to control user access to the network, all devices communicating with the network, and all applications associated with running daily business operations. This allows you to create access policies that are customized and flexible which enhances security without the added technology complexities or high costs.
The Cisco Meraki cloud management solution also helps small to medium sized businesses save on infrastructure costs due to the extreme scalability of the solution. This allows your business to add or subtract technology at any time without the high costs of additional infrastructure or IT staff.
If your company is dispersed among different branches, Cisco Meraki cloud management can be deployed in your branch offices without having to implement IT infrastructure. Instead, the provisioning is done via the cloud with security and firmware updates delivered over the Internet. Additionally, the cloud technologies allow companies with branch offices to establish a secure Virtual Private Network (VPN) between branch offices with a simple click of a button.
Since the cloud management solution is built from the ground up with a secure and compliant architecture and a design that is tolerant to errors and faults, the solution is used in high security environments, as well as businesses that must rely on network applications that are mission critical to daily business operations.
Benefits of Cisco Meraki Cloud Management
In addition to reducing the complexities associated with managing an ever changing infrastructure that supports thousands of devices at a reduced cost, here are a few of the other benefits of using a Cisco Meraki cloud based management solution:
Wireless Access
The wireless technologies are carefully designed to provide a high performance wireless connection with connection speeds reaching as high as 900 Mbps. Additionally, the wireless connection is much more secure thanks to guest access controls and integrated wireless security. There is also no need to deploy hardware controllers since everything is centralized and managed via the cloud.
Built-In Security Appliances
All security appliances that are built into the Cisco Meraki cloud management solution are centrally managed. This helps to provide better control over security configurations, networking, and applications.
Additionally, you can easily setup a Virtual Private Network tunnel for secure branch communications, optimize the Wide Area Networks (WAN), and monitor the firewall configuration for improved control over incoming and outbound traffic.
Mobile Device Management
In the age of BYOD (Bring Your Own Device), mobile device management is critical to ongoing business operations. The Cisco Meraki solution provides effective mobile device management that allows you to easily control access restrictions and enforce security policies.
The centralized dashboard also makes it easy to manage all mobile devices connecting to the network, as well as push critical business applications to an unlimited number of devices. This is typically accomplished regardless of the device type and operating system being used.
Access Switches
The access switch feature on Cisco Meraki cloud management can be optimized for both video and voice traffic over the network. Like all other features, the access switches can be centrally monitored and managed including the configuration of different alert systems. The port models offered include 24 and 48 Gigabit Ethernet plus, all ports are supported by Power over Ethernet.
The following video will provide you with an example of what the Cisco Meraki management interface entails.
Bring Your Own Device (BYOD)
Another unique benefit of using the Cisco Meraki cloud management solution is the ability to drill down and create very specific security policies for each individual device. The platform provides built-in NAC (Network Access Control) along with tools that allow you to automatically categorize different mobile devices. This helps to create a network environment that is virtually free of hassles while helping administrators to effectively manage PC, Macs, iPads, smartphones, and more. It also provides a layer of protection against Local Area Network resources and viruses that can enter the network through unmonitored mobile device usage.
Analytics and Mobile Engagement
Cisco Meraki cloud based management solutions are equipped with intuitive tools that allow you to detect MAC (Media Access Control) addresses from devices that are not associated with the network, as well as those that are. The data is then exported to the cloud in real-time for the purpose of analysis.
Once the data is analyzed, you can view the metrics, repeat visits, user browsing time, and much more. Plus there is an integrated tool that that allows customers to connect to the wireless connection by signing onto Facebook which allows you to collect demographic data and more. If you are a retail business, this provides you with the intelligence you need to offer personalized customer service and design new marketing initiatives.
The following video provides more information on Cisco Meraki Presence Analytics.
How the Cloud Management Architecture Works
In terms of managing your company network, the architecture built into the Cisco Meraki cloud management solution provides network management tools that are feature rich. This means you no longer have to invest in costly wireless controllers that cause bottlenecks or onsite management appliances.
Each device on the Cisco Meraki cloud solution is capable of connecting to the datacenter using the Internet. The datacenter houses the cloud management platform which provides centralized control over Ethernet switches, wireless access points, security appliances, and more.
The devices securely connect to the datacenter using Secure Sockets Layer (SSL) encryption and minimal bandwidth. A patented protocol is then used to provide you with access to the centralized management dashboard that provides control and visibility in real-time.
The dashboard replaced the traditional command-line based administration and allows you complete control over all networking devices, appliances, applications, and security with the immediate availability of an in-house network management infrastructure. Management is easy regardless of where you are located on the globe.
Each Cisco Meraki device is designed with the necessary CPU resources and memory to perform critical tasks such as Quality of Service (QoS), encryption, packet processing, layered security, and more, right at the network edge. This means that none of the network traffic passes through the cloud which, in turn, improves scalability and allows you to easily add more endpoints to increase capacity without having to worry about bottleneck problems.
Additionally, since you are performing all packet processing from your business premises, end user access to critical business applications is never compromised in the event the cloud connection is disrupted for any reason. In terms of data backup, the Cisco Meraki cloud management solution is designed to distribute storage across multiple datacenters to prevent your customers from being affected in the event a server or datacenter experiences failure.
Out-of-Band Control Plane
The out-of-band-control plane built into Cisco Meraki cloud based management solution separates the network management data such as monitoring reports, configurations, statistics, etc., from the network devices including the security appliances, wireless access points, and switches. The separate management data is transferred from the network devices to the cloud using a secure Internet connection.
The user data is not transferred to the cloud and instead gets to the intended destination on the Local Area Network (LAN) or over the Wide Area Network (WAN) such as the Internet. The advantage of this type of design is to improve scalability, eliminate bottlenecks caused by controllers, easily add switching capacity, increase network availability, ensure network access continuity, maintain access to local printers on the network, continue to enforce network security policies and use Virtual Private Network tunnels, and much more.
Datacenter Standards
Cisco Meraki cloud management services have undergone rigorous certifications to reach SAS70 Type II compliance. This type of certification requires the datacenter to meet certain criteria and infrastructure requirements in order to be awarded compliance status. Then a periodic audit is conducted to ensure the datacenter remains in compliance to maintain certification.
As part of the compliance requirements, the cloud managed services are distributed across multiple datacenters which are independent of one another. This allows services used by the customer to failover in the event of a disaster and provides for more efficient disaster recovery.
Available Security Tools for Network Administrators
In addition to the security measures we have described in this article, there are a series of tools that Cisco Meraki provides to network administrators that assist with maximizing network deployment security. These tools provide increased visibility and protection for your business network and include two factor authentication and strict password policies.
Cisco Meraki provides two factor authentication which requires access to a username and password as well as a phone number. This data is required in order to log into Cisco Meraki cloud management services. Authentication utilizes two steps which include entering your username and password. Once this information is entered, a one-time password is sent via secure SMS which must be entered in order to access the cloud services.
This provides an additional layer of protection in the event an unauthorized person learns the network administrator's password. Even though they know the password, they will be unable to access the account if they do not know the phone number.
In terms of password policies, all companies that use the Cisco Meraki cloud management service must create a complex password and then change it every three months. If this policy is not followed, the system will automatically lock you out.
Additionally, passwords cannot be reused and logins can be restricted via an IP (Internet Protocol) address. Plus, the role based administration tool provides a way for you to control administrator access for different aspects of your organization, such as defining who can make configuration changes, access reports, configure user access, set security policies, and much more. This helps to reduce the possibility of accidental modifications and misconfigurations.
Once a configuration has been changed, the system will immediately forward an email message or text alert to allow you to stay up to date with changes and modifications. Additionally, your login is timed along with your location and a log that outlines the changes that were performance during the login period.
The Bottom Line
The acquisition of Meraki by Cisco is a good move for both consumers and businesses. The acquisition will allow Cisco to enhance its cloud management services in conjunction with its established line of Smart Wi-Fi routers. This will provide the company with a solid core for servicing small to medium sized businesses, as well as the consumer networking market. Using Meraki's dedication to the small to medium sized business market, Cisco will be able to continue to offer next generation products to both businesses and consumers alike.