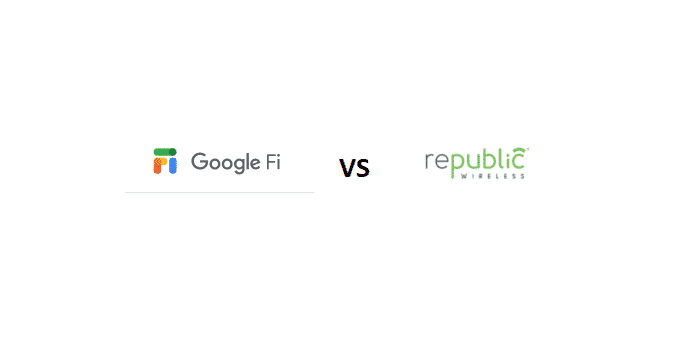 Google Fi vs Republic Wireless:
If you are tired of using common phone companies, then Google Fi and republic wireless are great options to consider. But to know which option is better, let us look at some important aspects of both:
1. Better Support Option:
If we look for better support options among them both then Google Fi is better as it supports more devices whether they are iPhone or android. The Republic Wireless supports a more limited list of android phones while Google Fi, on the other hand, works excellent for most of the android phone options.
As for iPhone, the switching network options are yet not available unfortunately but Google Fi supports iPhone which is exciting as it is a cheaper option. It also provides better connectivity options which are amazing when traveling abroad.
2. Better Security Options:
In this matter, still, Google Fi is better as it has a built-in security system that keeps your data secure when you are using WiFi. This security system is in the form of a virtual private network (VPN) that functions to protect your data, especially when using public WiFi networks. As using public networks leads to problems with safety and privacy, it is better to choose the safest option for your device. The hackers are encrypted due to the (VPN) so you don't need to worry about issues like these if you go for Google Fi.
3. Which One Is The Right Choice?
As we all know that the decisions about the right choices depend on several factors, it is better to look at all the aspects before purchasing any of them because both of them are not perfect for every user. Google Fi has a tool called Google Fi fit quiz, that will not only save your money but also help you find out if this service is made for your device or not.
This quiz is based on your current mobile needs. They ask questions about your location and usage habits and others just to make sure if the Google Fi network will work for you accordingly or not. If this quiz proves that Google Fi isn't the network made for you than the chance that republic wireless will suit you are also pretty less.
4. Committing To The Data:
If you are someone that commits to the internet service you use then and only then it is better to choose Google Fi or republic wireless. As there are no issues about coverage to make it worth it, you need to use it more than the tipping point of the data.
5. Best Connection Options:
Republic Wireless is only on T-Mobile networks, on the other hand, the Google Fi selects among the 3 networks available according to the need of the connection that works best for you at that time.
For example, if you place a call the Google Fi will check among the three networks including Sprint, US Cellular, and T-Mobile, and automatically connect you to the one that suits you the most. It also supports 5G on Sprint's network.
6. Better Call Quality And Cheaper Plan:
Both of them work great to provide you good quality call but Google Fi is a better option as compared to the republic wireless in this matter. If you are looking for a cheaper plan then the republic wireless plans start from $15/month as compared to the Google Fi that has a starting plan of $20/month for its users.
Yes, republic wireless is cheaper but the Google Fi has a "flexible plan" billing model according to which they will only charge you for the fraction of the data you use.
7. Billing:
The billing amount of the republic wireless is fixed while the billing amount of the Google Fi project can vary according to your usage.
8. Unlimited Data Plan Availability:
If you are someone that uses a lot of data or you have many users of the network you use, Google Fi network is best for you. For $70/month you will get 22 gigabytes of high-speed internet without any additional bill.
However, if you exceed this limit they give you an option to pay $10/gig without throttling your network. On the other hand for the republic wireless if you once hit your data limit they ask you to upgrade your plan. They provide you an option to upgrade or degrade your plan 2 times per month in case you need to do it. This can be a headache as you will have to pay for the plan you select no matter what your usage is.
9. Data Sharing:
Google Fi has a "group plan" that has some amazing features that make sharing your network with your friends and family more easily. Republic Wireless, on the other hand, has no family plan. If we look at the features of the group plan by Google Fi some of them are very great for families that don't use a lot of data.
One of which is the "bill splitting" feature which is very innovative and you can even pause the usage of any member at any time or stop it completely if needed. Republic Wireless doesn't have the option to pause any member usage without contacting the customer service but they do have downgrade plans that you can switch to for such cases.
10. Insurance Plan:
Google Fi has an insurance plan called "Device Protection" that can be of great use if you are someone who drops your phone very often. This insurance plan is cheaper and saves a lot of money.
11. Additional Data Only SIM Card:
Google Fi also has an additional data-only SIM card that you can add to your account for free. If the other network you want to connect it to is compatible with the SIM card then you can easily share your data with another device when needed.
Conclusion:
If we look at the overall comparison of Google Fi and republic wireless, then Google Fi is a more reliable and great option if you take safety options more seriously. It provides a better connection, has a built-in (VPN) security system for protection, is a great option for data sharing, and has an insurance plan that works for cracked screens and device malfunctions. But overall both of them are great options and the selection depends entirely on what suits you more.