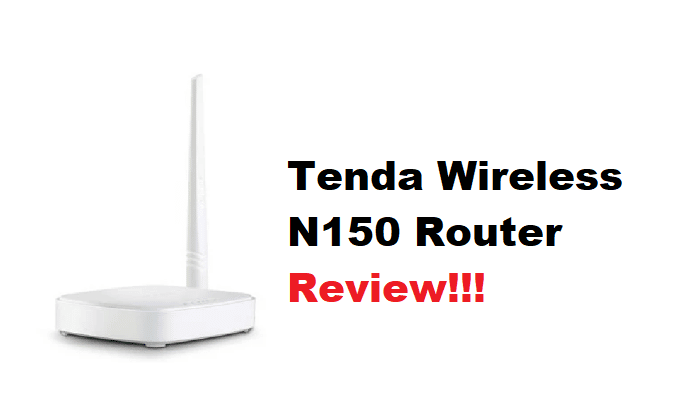 Tenda routers have been in the market for years, and customers have not had any serious issues with these devices. While there might be some minor issues here and there with the network dropping, you won't have to deal with any extensive bugs. So, keep that in mind and browse through the Tenda portfolio to find the perfect match for your device.
The Tenda Wireless N150 router might be one of the most complete units offered by this brand. It is pretty popular among gamers, and you will be able to stay close to a minimal budget when purchasing this router. So, if you're looking for a cheap router that still offers decent performance, here are some details on the Tenda Wireless N150 router.
Tenda Wireless N150 Router Review:
This device from Tenda maintains its reputation because of its budget-friendly presence. You will be able to save a lot of cash if you're not looking for exceptional results and just want to keep the budget to a minimum. However, the 150 Mbps speed doesn't seem that bad when you compare the price tag with the included features, coverage, and this amazing speed. So, you'll be getting decent value for money even if you're not planning on sticking with Tenda Wireless N150 for a long period.
The only issue that some users have pointed out is that the included LAN cable is too small, and you won't be able to get more than 1 foot of distance between the computer and the router. So, if you have a tall table, it can be a bit problematic to find a spot for your router. Other than that, you will enjoy almost 20 feet of range in direct line of sight and simple configurations.
Even if you've not configured any router up to this point, Tenda N150 Wireless has got you covered with a simple setup. You can go through the manual for complete details. Moreover, the warranty offered by Tenda stretches close to three years. So, in case of any defects, you can simply contact the dealer and forward a warranty claim to grab a fresh unit from this brand.
Aside from its affordable price tag and amazing speed, you will get a compact device that won't take up much space on your table. The performance is pretty consistent as long as you go through the initial setup correctly. So, make sure to follow through with every step mentioned in the manual and avoid using shortcuts to cut through the setup routine. Hopefully, that will be it when it comes to network-related issues.
Overall, Tenda N150 is the best device for owners concerned about spending a minimal budget. You won't have to go through hours of configurations or hire a general contractor to help with the setup. If you don't mind the short LAN cable, there is nothing stopping you from purchasing this unit. So, give this router a shot, and you won't be disappointed with the purchase. Make sure to seek further information from the consultation experts, and they will guide you further through the purchase decision.
How Does It Compare To N300?
You will get a dual antenna setup with the N300, while the N150 model will only offer a single antenna to the owners. This creates a massive difference in the coverage, with N300 being far better than the N150 option. So, if your budget is a bit flexible and you can afford to spend a few extra bucks on this device, going with the N300 unit is a better option. On top of all the coverage benefits, you will also enjoy twice as much speed from this router.
However, some owners have pointed out that the design is not that decent when compared with the N150. So, it all comes down to your requirements and there is no harm in going with N150 if you don't mind the shorter coverage. Similarly, if you're looking for better coverage and support for more devices, then the only reasonable option is to go with the N300. You can't go wrong with either one of these options, and Tenda has got you covered with some of the best routers on the market. You can seek more details from the official dealer.