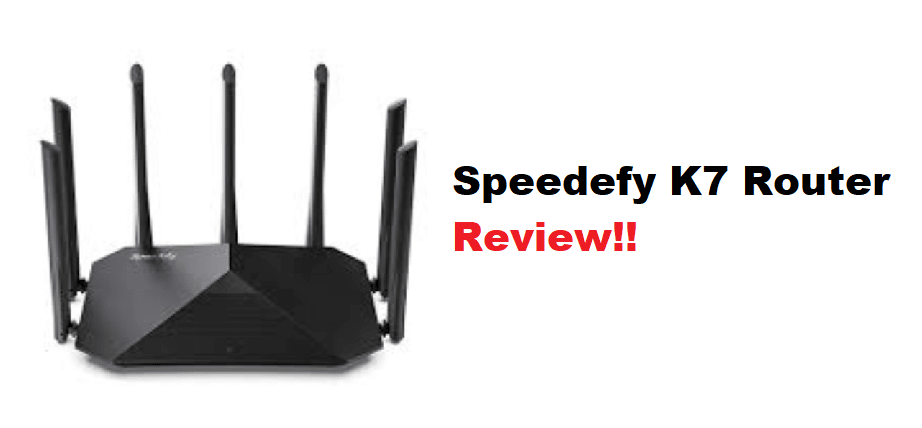 While some customers do seem skeptical about purchasing Speedefy routers, this brand brings one of the most efficient and consistent units to the owners. There is no debate that you'll get a better value from ASUS options, but the price tag offered by this brand can't be beaten. Moreover, Speedefy systems are not that hard to set up, and with the app integration, it won't take you more than a few minutes.
Recently, many customers have inquired about the K7 router model from Speedefy. This device has quickly gathered the attention of thousands of fans because of its extensive coverage and decent network speed. So, go through these details if you're planning on putting your money in this machine.
Speedefy K7 Router Review 
This model from Speedefy features a dual-band setup, and you will get over seven antennas on this device. It is primarily designed for gamers, and you will be able to enjoy a seamless gaming session without any ping spikes if this router is installed correctly in your house. As far as the design is concerned, you will get a decent presentation with a clean black finish on the main body as well as the antennas.
The best thing about this device is its budget-friendly price tag. While most users are still not sure about spending close to 80 dollars on this system, this price is far better than the majority of ASUS models that bring the same features. So, if you're primarily thinking of saving a bit of cash, going with the K7 model will serve you perfectly.
The Gigabit LAN ports are a bit limited at only three on the back of the router, and you will still get the single Gigabit WAN port to help with the connection. You'll be pretty impressed with the performance of this router when using the 5 GHz band. Even when you're not directly in front of the router, going with this model will suit you perfectly. On top of that, the setup is pretty simple as you browse through the app integration.
One of the unique features offered by this model is the ability to switch between guest networks and parental controls for better management of your home network. The app can be set up as soon as the router is powered up, and there aren't any extensive setup routines for the customers. So, if you're thinking of an upgrade and don't want to spend hundreds of dollars on an ASUS router, then going with the Speedefy K7 is the best option for you.
Overall, you can't say anything bad about the K7 model when you bring the 80-buck price tag into the conversation. There aren't many brands that can offer the same feature-rich and easy-to-use system within the same range. So, instead of finding reasons not to buy this router, try sparing some budget for this purchase. You won't be disappointed by this device, and it will become a permanent part of your entertainment setup for the next few years.
How Does It Compare To TP-Link Units?
Everyone is aware that the prices offered by TP-Link are also pretty decent. However, their prices can't still be beaten by the Speedefy K7 systems. With that said, you will enjoy better security and dealer support from the TP-Link options. This device will serve you well when you're looking for more consistency and don't really care for higher network speed or coverage. So, go with TP-Link if your work is a bit sensitive, and you can't risk minor bugs and connection interruptions when relying on the router.
On the other hand, if you're primarily in the market for gaming routers, then Speedefy K7 is the only real option. It will bring incredible speed and connectivity range to the owners. There are still some complaints on minor issues with the network dropping every now and then, but you will be able to address these issues by resetting the router or power cycling it once.
So, you don't have to worry about going through extensive troubleshooting methods to get your Speedefy router working again. It all comes down to your requirements and the budget that you're planning on spending on this network upgrade.