In recent years you, gentle reader, likely have ramped up your home internet speeds with an upgrade from your cable company aka multiple system operator (MSO). You've "cut the cord" by replacing cable programming with a media player, added a couple of 4K UHD TVs and perhaps an Amazon Echo or other wireless device. All these gadgets devour bandwidth when connected to the Internet. But even though you now have a bigger pipe from your MSO, there may be a bottleneck keeping you from taking advantage of these faster speeds: your home wireless router.


Which IEEE 802.11 Are You?
As the use of Wi-Fi has proliferated over the past 20 years, the IEEE 802.11 standard on which Wi-Fi is based has evolved. Each release increased the width of bandwidth used and hence speed; 802.11g—20 MHz/54 Mbps (2003), 802.11n—40 MHz/135-150 Mbps (2009) and now 802.11ac—80 MHz/390-433 Mbps and even 160 MHz/780-867 Mbps (2013). On the horizon for 2019 is 802.11ax with a planned top speed of 10 Gbps.
These speeds have been achieved by breakthroughs in MIMO antenna and OFDMA technologies, which improve transmission and quadrature amplification modulation (QAM) throughput. While 802.11g transmits over the 2.4 GHz spectrum only, 802.11n uses both 2.4 GHz and 5 GHz frequencies and 802.11ac utilizes the 5 GHz spectrum exclusively. We've made the point previously but it bears repeating: 2.4 GHz has a longer range but less bandwidth capacity while 5 GHz has a shorter range but faster throughput.
Remember this: older laptops, smartphones, etc. based on the 802.11n standard can't take advantage of the higher speeds provided by an MSO's premier broadband tiers. More importantly, neither can an 802.11n wireless router.
Getting Up to Speed with NetGear's Nighthawk
Now that we've set the table with Wi-Fi standards, let's serve the entrée du jour—Netgear's R7000-100PAS Wi-Fi router known as the "Nighthawk." This highly regarded product has now been on the market for a few years, garnering praise from reviewers and consumers alike for its affordability and speedy 5 GHz throughput. In fact, the Nighthawk received PC Magazine's "Editor's Choice" Award. Alas, some detractors have found the product to suffer from a lack of range; other reviewers have not.
Here is a video produced by Newegg in 2013 going in-depth on the innovative features found on the Nighthawk:
As the video mentions, the Nighthawk is an AC1900 wireless router. The significance of the number 1900 lies in the sum of the Nighthawk's dual-band radios. It supports physical link rates of 1300 Mbps (based on 802.11ac) from its 5 GHz radio and 600 Mbps (based on 802.11n) from its 2.4 GHz radio. Facilitating the router's speed is its 3×3 MIMO antennas, providing three independent channels of data flow. All told, the Nighthawk has a potential maximum throughput of 1.9 Gbps.
Using 256 QAM, throughput on the Nighthawk's 2.4 GHz band are markedly faster than legacy 64 QAM from outdated 802.11n routers. To realize faster throughput, client devices must support 256 QAM. Depending upon manufacturer, many devices can be updated from 64 QAM to 256 QAM with firmware revisions.
Connectivity
A measure of the Nighthawk's flexibility is revealed by its variety of ports as well as its versatility to function as either a router, wireless bridge or access point. It comes with five 10/100/1000 Mbps Ethernet ports (1 WAN and 4 LAN), a USB 3.0 port and a USB 2.0 port. It's also compatible with Alexa and the Amazon Echo, allowing voice interface with the device. The Nighthawk's 1 GHz Dual Core Processor ensures fast speeds as well as prioritizes bandwidth for urgent applications with low latency such as gaming or streaming music and/or video.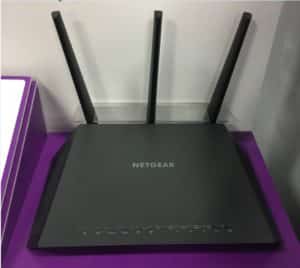 Source: Fastily / Wikimedia

The apps available for this router include the Netgear "Up" app for mobile devices, which walks the user through setup. Another nifty feature is the Kwilt app for viewing and sharing of image files stored on social media and the Nighthawk's attached USB storage. There's also the Open VPN Connect app for those who wish to access their network remotely; note that at last report the router does not support iOS 8 or Android VPN client software. Not to be overlooked is the Genie software with apps for Android, PCs, Macs and iOS devices. And users will find open source support for the Nighthawk at myopenrouter.com, a Netgear online community with active forums, guides and hardware reviews.
For cord cutters, the Nighthawk features both DLNA (think wireless HDMI) media and iTunes music servers, allowing the use of DLNA-compatible devices on the home WLAN including Roku boxes/sticks, Apple TVs, Chromecast, Amazon Fire Sticks, etc. It also includes free ReadyShare Vault backup software for use on as many as 70 client PCs for hard drive backup.
Appearances and Specs
The Nighthawk takes its name from its resemblance to the F117 Nighthawk stealth jet fighter. Its sharply angular design brings to mind the image of a Christian martyr from a medieval painting. Unlike typical Netgear models, the Nighthawk comes with detachable external antennas instead of fixed internal antennas and boasts a number of function LEDs, two of which are also buttons. One is a power switch; the other enables Wi-Fi Protected Setup (WPS) for secure connections between router and client device.
Other technical details of interest:
Hardware Platform: PC; Mac; Unix
Operating System: Windows 7, 8, 8.1, Vista, XP, 2000; Mac OS; Unix or Linux
Weight: 3.5 lbs
Product Dimensions: 13.7 (34.8) x 10.1 (25.7) x 3.1 (7.9) inches (centimeters)
Flash Memory Size: 128 GB
802.11 Security: WPA-PSK, WPA2-PSK (default) and WPA/WPA2
Data and Routing Protocols: TCP/IP, RIP-1, RIP-2, DHCP, PPPoE, PPTP, Bigpond, Dynamic DNS, UPnP and SMB
RF Channel: 6 until region selected
Coda
On 19 December 2016, Netgear issued security updates to patch "a serious vulnerability in its routers, including the Nighthawk AC 1900." In fact, the U.S. government recommends that the Nighthawk not be used until the update is applied. The vulnerability only requires knowledge of a router's IP address, a simple flaw to exploit. For details on how to apply the update, see this.