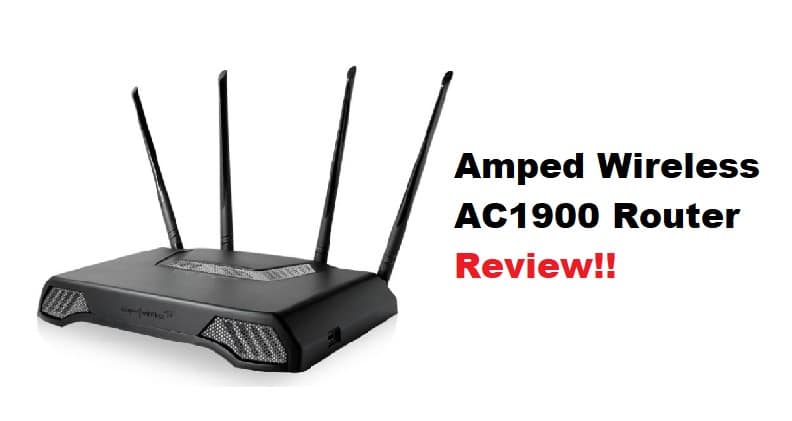 The competition for routers has grown rapidly in recent years. Even if some routers have similar features, technological advancements may classify them into levels. So, let's say the Amped wireless AC1900 router is a category 2 router, which means it's more than adequate for a basic router.
Despite stiff competition from its rivals, some sources claim that it is one of the fastest in terms of transmission rates due to its integrated features. However, if you want to learn more about what this router has to offer, we will provide you with a comprehensive Amped wireless AC1900 router review.
Amped Wireless AC1900 Router Review
Specifications:
The Titan EX AC1900 Amped Wi-Fi router is an all-around solution for fast data speeds and stable connections. This router supports dual-band connections for the 2.4GHz and 5GHz radios. With wireless standards 802.11a/b/g/n/ac support, you can enjoy high data rates across both bands. The theoretical throughput on the 2.4GHz band is 600Mbps, and the theoretical throughput on the 5GHz band is 1.3GHz.movinf forward to what makes this device powerful is its processor. The processors are referred to as the "heart" of a networking device because they determine how powerful your device can be. In this regard, the fast transmission rates between clients and the network are entirely due to its 1GHz Dual-Core processor. You can also get a lot of memory with the 128MB DDR3 memory.
But the talk does not end here, the Amped wireless AC1900 has four high gain 5dBi detachable antennas that provide an additional range to your router. It means you can add antennas to your router to meet your specific requirements. Not to mention the built-in amplifiers that come as a bonus with your router. With three 2.4GHz amplifiers and three 5GHz amplifiers, you won't have to worry about slow connections; instead, you can expect high data rates. Your titian ex AC1900 wireless Amped router provides a strong connection and consistent performance.
Hardware:
The router's design is neither bulky nor minimalist. It looks like a router sitting on a table or easily wall mounted with its four detachable antennas because once the design is complete, it does not look like a chic box lying on the table. However, with its mat black color, it appears modern enough to be seated in a prominent location. The router has one RJ-45 WAN port and four RJ45 local ports (LAN). A USB 2.0 port as well as a USB 3.0 port compatible with the 2.4GHz and 5GHz bands are available for USB storage. The router has a switching adapter which is used for powering the router. This router can be easily mounted on the desktop and the wall with its mounting ability.
Features:
Now let's look at the titan router's features. What makes this router worthwhile to purchase? Some features may be basic for you, but the level at which they are functional is what distinguishes this router from the majority of others on the market. Starting with security, the router supports WEP, WPA, WPA2, and WPS security protocols. Essentially the most recent, which all devices support. This increases the security of your router network and protects it from online attacks. You can enjoy fast data speeds through your clients' thanks to its ultra-fast and dependable connection.
Aside from that, its three transmitters and four receivers provide stable broadband connections. Not only that, but its four high-power antennas will provide you with buffer-free HD streaming as well as online gaming, optimizing your network experience.  Not only the wireless connections but you enjoy uninterrupted high Wi-Fi speeds across your wired clients as well with its 3 gigabit LAN ports.
The Final Verdict:
When discussing one of the best routers, we cannot always claim ideal performance and ground-breaking features, but the Titan EX AC1900 Amped router can meet all of your network needs. The device is reasonably priced for newcomers and has a good reputation among its competitors. By purchasing the amplified wireless AC1900 router, you can optimize your network speeds and range for a better networking experience.