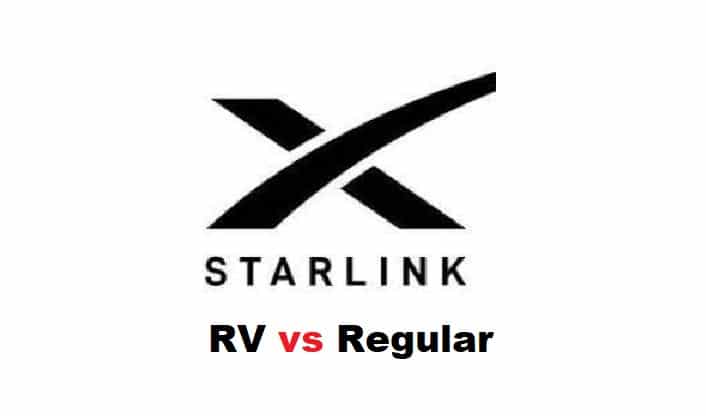 Starlink is a satellite network that offers great internet access in seemingly inaccessible areas, and it now offers a plan for recreational vehicles as well. This is an excellent step for those who are constantly on the move but require a stable and consistent connection.
Since you have inquired about the distinction between the Starlink for RVs and the regular Starlink connection, we are here to provide you with a thorough understanding of both systems and how they may impact your internet needs; thus, in this article, we will discuss a general comparison of Starlink RV vs regular internet.
Starlink RV vs Regular
Starlink for RVs:
Starlink for RVs has done a lot for people looking for internet facilities, but because they are always on the move and may visit areas where good network strength is difficult to come by, Starlink offers its great network facilities to them. Because a satellite network allows you to access the internet in remote areas, it has both advantages and disadvantages. Speaking of which, satellite networks may not provide the best networking experience, but they are capable of extending network coverage to remote areas. The RV Starlink is specifically designed to provide a stable and active internet connection while on the road. Even though the Starlink RV has the same hardware as the regular Starlink, it has some additional features that are fantastic for coverage marked areas or waitlist areas (slow connections during peak hours).
With the Starlink RV, you can enjoy great speed and minimal latency in areas that are officially covered by the satellite system, and you can also expect your Starlink network to work in areas that are not officially covered by the satellite, but you get favorable speed or a slightly higher latency than the covered areas. One limitation of the Starlink RV is that you cannot connect to the satellites while traveling; instead, you can only access the internet when you are stationary, such as in a parking lot, a rest stop, or a camping ground. You can take your Starlink dish with you wherever you go thanks to the portability feature.
Another fantastic feature of the Starlink RV is the ability to pause and resume your connection whenever and wherever you want. This feature, however, is not available with the regular Starlink service, so it is only available to RV users. However, there is some bad news for users of the Starlink RV. The service considers them second-tier, which means that you get good internet speeds but not as fast as the standard home Starlink network. Otherwise, the service is very competent.
Starlink Regular Network:
The regular Starlink network is, predictably, not as mobile as the RV network. Unless you have access to the portability feature through your standard Starlink kit. Similar to the RV Starlink, you can transport your dish to another location using the portability feature, but the regular Starlink does not allow you to pause and resume service at any time. It is a more rigid service.
One advantage of regular Starlink is that they are regarded as first-tier by the service. This means that if you have the standard Starlink kit or the residence kit, you can expect a faster and more reliable connection. However, if you are in an area where there are multiple users of the satellite network, the network connection may become unstable at times. Satellite networks are not usually thought to be as good as terrestrial networks, but the Starlink satellite appears to offer a lot of speed to its users. However, the regular Starlink is prone to congestion issues, which is a huge turn-off, but as long as it provides fair connections to difficult areas, we believe you can compromise on the secondary
The Final Verdict:
The Starlink RV is typically designed for recreational vehicles, whereas the standard Starlink is not as mobile as the RV. Regardless of the benefits, the RV may perform slightly less than the regular Starlink network. Unless you are a frequent traveler, the regular Starlink is an excellent value. However, if you need internet access on the go, the RV is a good option.