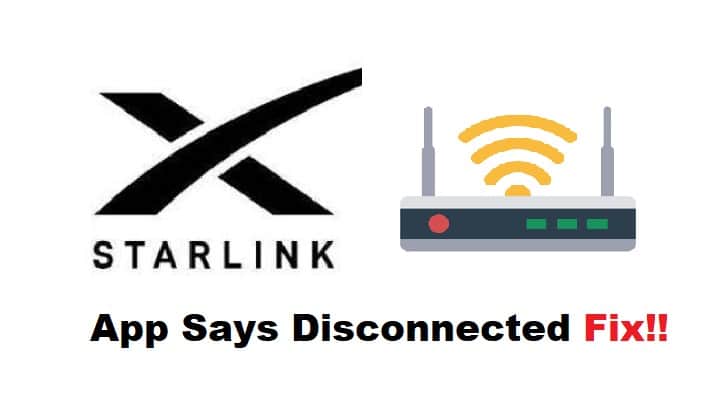 Satellite networks are typically more difficult to manage than standard networks because they communicate directly via satellites. However, Starlink's plug-and-play networking equipment has made managing and interacting with Starlink devices simple.
In this regard, the Starlink app is also an interactive interface that allows you to connect to your satellite network with ease. However, many users have reported errors, so if your Starlink app says disconnected for an extended period, here are some quick fixes to get your app connected and working again.
Starlink App Says Disconnected
Look For A Bad Cable:
The cables that connect your networking devices are the most important but most vulnerable component of your network system. However, when connecting a Starlink dish to a router, having a proper cable and a firm connection is even more important. If your Starlink app isn't connecting, it's because your router isn't detecting the Starlink satellite. It is most likely due to a weak signal or a bad cable. Examine the cable connecting to the Starlink dish to ensure a successful connection. Also, make certain that the cable is securely clipped against its port and that the connection is firm. You can try replacing the cable with another compatible cable to see if the previous one was the source of a bad connection
Remote Connect To Your App:
If you use the Starlink router, you can take advantage of a fantastic feature called remote access. Things will be simple now that you are no longer connected to your Starlink network. However, you might be disconnected from your Starlink network to access the remote connection. To gain internet access, simply connect your device to an LTE network or another Wi-Fi network. Navigate to your app's profile and select the Connecting to Starlink remotely option. Follow the on-screen instructions and wait a few minutes for your app to show your online status. You are now remotely connected to your app.
Stow The Dish
If you're not familiar with the Starlink app stow button, here's what it does. By clicking the stow button, you are locating a safe and optimal position for transporting your dish. If your app displays a disconnected status, it is not communicating with the router and dish, which seems unfortunate if you have the proper cables connected. Stow the Starlink dish for about 15-20 minutes before clicking the button on your app to unstow it. Your Starlink system will be reset
Re Login To The App:
Once all of the cables and connections are in place and everything appears to be working properly, log out of your Starlink app and re-enter your credentials. If you managed to change the SSID of your network in some way, your app may not work with the previous credentials. As a result, double-check the credentials you've entered. Alternatively, you can reinstall the app and log in again to see if the connection is restored.