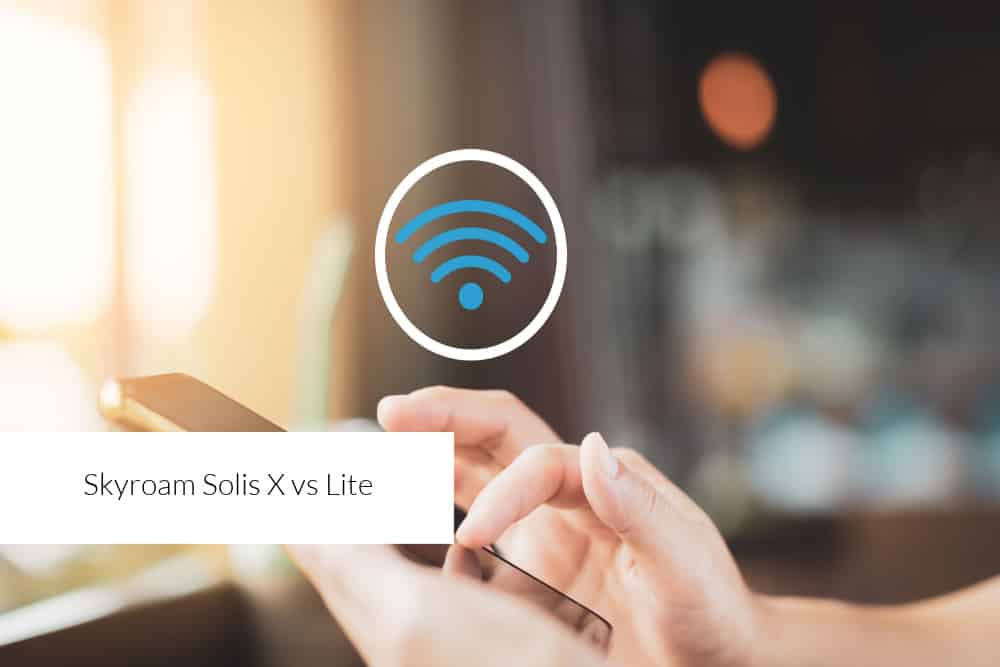 When it comes to mobile hotspots, Skyroam products are an excellent choice. In addition to wireless portable internet, these devices include additional great features for a more personalized experience. Both Solis X and Solis Lite have performed admirably in their respective fields and have garnered widespread attention from users worldwide.
That being said, we will provide a general comparison of Solis X and Solis Lite for a better understanding of the features of both devices. Therefore this article will highlight some of their main features and which one will fulfil your requirements
Skyroam Solis X vs Lite Network Comparison
Skyroam Solis X:
Speaking of the Skyroam Solis X this device delivers amazing connectivity of 4G LTE Wi-Fi and Bluetooth LE (low energy) which means you can effectively transfer data between your devices. With a 4700mAh battery, Solis X provides an uninterrupted 16-hour usage time, which is ideal for users who are constantly on the go or spend a lot of time away from home. Furthermore, Solis X provides a dependable and consistent connection to up to ten devices at the same time.
In addition to that, Solis X comes with additional features of a smart assistant, an 8MP wide-angle camera, Bluetooth connectivity, and voice features (speaker and microphone). This is however not available in the Solis Lite as it is a more basic and standard hotspot device. Talking about the design of the Skyroam Solis X this device has dimensions of 6.73 x 5.43 x 2.01 inches giving it a more sleek and minimal look. It is round-shaped with an interactive LED light display that assists to tell the current state of your device.
Furthermore, you can easily manage your devices and use the additional camera, voice, and Bluetooth features to personalize your experience with the Solis Wi-Fi app. It also provides security protocols and secure data for an enhanced user experience. The device has an easy setup process, a stable and reliable Wi-Fi connection, and improved battery life, making it an all-in-one solution to your needs.
Skyroam Solis Lite:
Solis Lite, like the Solis X skyroam, is an effective alternative to your Wi-Fi router. This portable device provides high-speed 4G LTE connectivity and a shared connection to up to 5 devices at the same time. This device has a long-lasting 4700mAh battery that provides approximately 12 to 13 hours of usage, so you won't have to worry about your device disconnecting due to a lack of power. One issue with the Solis Lite is its inability to use USB-C cables other than the one included in the package. So, if your USB charging cable fails, you'll have to spend some time looking for a suitable replacement to charge your device.
Coming to the design of the device it is quite similar to that of the Solis X with a weight of almost 155 g, this device is portable and can easily fit into a pocket. Unlike the Solis X Solis Lite does not support the additional features but has a rather basic approach as the standard hotspot devices Concerning the Solis Lite's network performance, it can efficiently support FDD-LTE and TDD-LTE, implying an effective data flow as well as an uninterrupted data connection. The Solis Lite, like the Solis X, allows you to manage your configured devices from anywhere and at any time.
Furthermore, Solis Lite includes the amazing Signal Scan feature, which automatically selects the best 4G carrier available, along with security protocols, to ensure that the network is secure from potential network threats that may harm your network or devices. With over 130 countries covered globally, you can expect fast Wi-Fi speeds and dependable connections.
The Final Verdict – Solis X Vs Solis Lite:
Solis X and Solis Lite both are great devices for mobile hotspots and both are rated highly among their users. However, even though the Solis X provides additional features to its service still hasn't managed to outperform the Solis Lite. If you are in the market to buy a fast and reliable hotspot device then Solis Lite is your way to go.