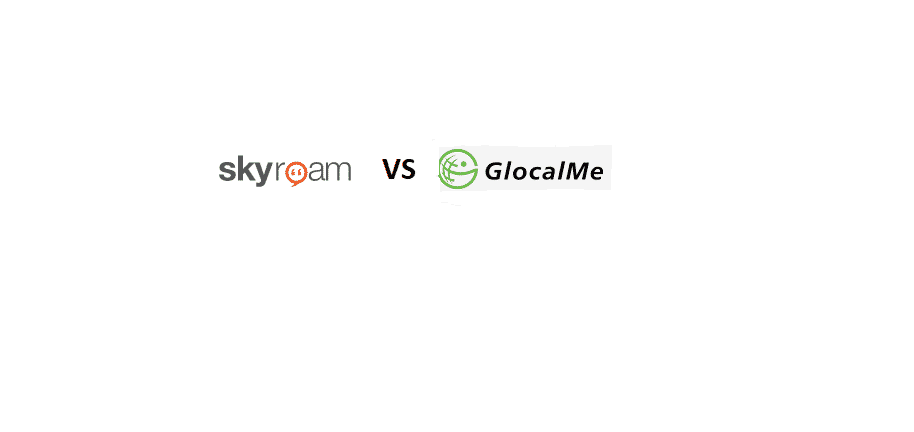 GlocalMe vs Skyroam
International travelers are always in search of getting a stable internet connection. Therefore, many data roaming devices are available in the market. The users are still unsatisfied with most of the available Wi-Fi portable devices. The problem is that most of the devices are overly expensive or the data plans are not justified.
GlocalMe and Skyroam are two major Wi-Fi devices that give you internet connection providing international coverage. There is still a question: which of these two devices is a better option? To answer, let us investigate the specifications of both devices separately.
GlocalMe
GlocalMe is a Hong Kong company and its objective is to provide internet connection through a device. GlocalMe is known for its strong internet connection. The download speed is 150 Mbps and you can expect upload speed of 50 Mbps. The internet connection is provided to more than 144 regions around the world.
Packages and plans offered by GlocalMe are also very reasonable and affordable. GlocalMe devices not only provide Wi-Fi to its users but also a stable hotspot to up to 5 users at a time. Customers can get the GlocalMe device from Amazon, AliExpress, Wi-Fi Palm, Roaming Man, Asia Connex, and more.
Plans and packages
GlocalMe offers 3 Wi-Fi devices named U2, G3, and G4 PRO. Data is not charged at a predetermined price rather the packages are made flexible. The packages are priced differently depending upon the country or region. The rates for the weekly plan start from $9.  This flexibility helps the users manage plans according to their needs. GlocalMe provides its user's data on annual, monthly, and as well as a daily basis.
Advantages of GlocalMe
1. Works on Local SIM card
There is no need to mess with your Local SIM cards. You can use your local SIM card on GlocalMe devices.
2. Switching between SIM card or Internet
It can be used for Internet services and SIM card services simultaneously. You can always switch back and forth between these two.
3. Mi-Fi and Wi-Fi Hotspot
GlocalMe provides both Mi-Fi and Wi-Fi hotspots. It supports up to 5 devices. This saves the cost of buying multiple GlocalMe devices.
4. Daily plans
In comparison to most of the competitors, GlocalMe provides cheaper daily plans and packages.
5. Wide coverage
GlocalMe provides coverage for more than 140 countries in the world. It provides a stable 4G network no matter where you are. This makes it convenient for international travelers.
6. Works as a power bank
This device has generally a good battery time. GlocalMe devices have an average battery timing of 13 to 15 hours. G4 PRO has a battery capacity of 20 working hours.  But other than that, this GlocalMe device can also be used as a power bank. It can store surplus energy and share it with other devices through USB cables.
Disadvantages of GlocalMe
1. No rent options
Most of the competitors including Skyroam give the facility to get services on rent. But GlocalMe devices and the internet cannot be availed on rent.
2. Unlimited is not really unlimited
Even if the plans are labeled as unlimited when a certain limit or threshold is reached the data speed significantly slows down.
Skyroam
Skyroam is also a Wi-Fi hotspot provider device. Just like GlocalMe it also provides service of internet around the globe. The coverage of internet service by Skyroam is more than 130 countries. It can be connected to up to 10 devices at a time including laptops, tablets, and more. Also, there is a rent out option available for Skyroam.
The users can get the device on rent instead of purchasing it. Further, there are no contracts attached to the plans offered to the users. In comparison with other competitors, Skyroam is a secure network. The Skyroam device uses encryption that makes the connection safe.
Plans and packages
Skyroam offers 3 variations of plans when it comes to providing internet data. The plans are on a daily or monthly basis. There are some flexible plans on GBs as well. The first plan is the daily plan, in this the users get unlimited data for $9.
In Pay-Per-GB GoData Subscription, users get 1 GB of fast internet by paying $3 per month. In Unlimited Global Monthly Subscription, the internet user pays $99 per month and get unlimited global internet. Users can cancel the subscription whenever they want to as there are no contracts.
The Wi-Fi hotspot devices offered by Skyroam are Skyroam Solis X and Skyroam Solis Lite. You can get Skyroam Solis X for $179.99 and Skyroam Solis Lite for $119.99. Also, if you are not ready to buy Skyroam device, you can get it on rent. Customers can get Skyroam Solis with all the features for $8.99 per day. The rent option does not only include the device but also unlimited internet.
Advantages of Skyroam
1. Greater Availability
Skyroam has a greater availability. Skyroam is available in more countries as compared to most of the competitors
2. Connect up to 10 devices
Internet data can be provided to up to 10 devices including laptops, tablets, and more at a time. However, GlocalMe can connect only up to 5 devices at a time.
3. Rent option
As mentioned earlier, the Skyroam device can be availed on rent. The customers just to have pay $8.99 per day to access the device and unlimited internet. This option also allows the customer to understand whether or not it is feasible for them to purchase Skyroam device.
4. Low cost
Comparing Skyroam to other competitors like GeeFi, Skyroam is relatively cheaper. GeeFi device costs $200 whereas Skyroam costs $149.99. GeeFi costs $10 per day whereas Skyroam costs $9 per day for unlimited internet.
Disadvantages of Skyroam
1. Cannot use a local SIM card
Unlike GlocalMe, Skyroam does not allow us to use a local SIM card.
2. Unlimited is not unlimited
As soon as the threshold is reached at 500 MB in a day, the speed of the internet connection will slow down.
GlocalMe or Skyroam? Which one to choose?
The answer depends on your needs and requirements. If your priority is to stay connected during traveling, Skyroam may be the best for you. However, if you are looking for greater reliability, you should go for GlocalMe. Further, you can consider the pros and cons explained above, to make your choice.