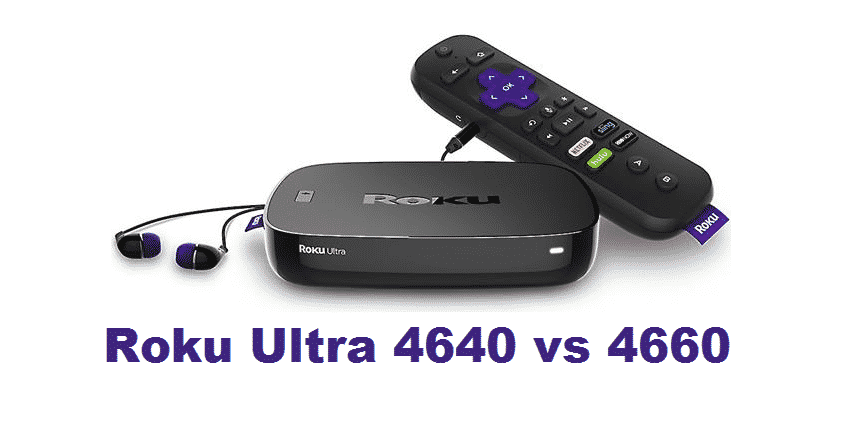 The digital world has been slowly past progressing the need for cable TV ever since smart TVs stepped in. The streaming services available on smart TVs are highly customized. Whether you use Netflix, Amazon Video Prime, or Hulu, all these streaming apps provide great TV shows on your Smart TV devices. You can enjoy streaming to your favorite TV shows as long as you have a fast and stable internet connection and decent Smart TV device such as Roku Ultra. Recently, the advent of Roku Ultra 4640 and 4660 hit a high impact on the market with their exceptional streaming services. If you are confused between buying one of them, either Roku 4640 or 4660, you have hit the right place.
People usually get tricked when choosing between two exceptionally well-functioning streaming devices that almost have similar features. Especially a company like Roku, which offers great streaming devices within affordable prices yet high-quality services, you might be wondering which streaming Roku Ultra device should I pick; Roku Ultra 4640 or 4660. In this article, we have simplified your way out to choose the best streaming device.
Here is a separate description for both the Roku Ultra 4660 and 4640, which will help you decide. Read on to know which one completely suits your streaming requirements.
Roku Ultra Smart TV Devices:
The Roku Ultra Smart TV devices are high power quad-core processor wireless TVs. All of the Roku Ultra TVs have personalized shortcut buttons. The insertion makes the connectivity of USB, micro SD cards, and Ethernet ports.
Moreover, Ultra Smart TVs have brought personal headphones for private listening services, much-improved voice remote, the feature of finding a lost remote control, and shortcut buttons. Roku Ultra streams free TV, real-time news channels, live sports, all sorts of entertainment streaming, and much more. There is no such aspect or feature that Roku Ultra has left. Roku 4640 and 4660 are two Ultra Smart TVs that share the same features and functions; however, there are bits of differences between these two devices that we will discuss further.
Roku Ultra 4660 and 4640:
Roku Ultra 4640 and 4660 are quad-core devices that offer wireless streaming services for numerous popular streaming apps such as Netflix, Hulu, Amazon Prime, etc.
The image quality of these devices is quite brilliant. The quality is bound to be 4K Ultra HD at 60fps, double or even four more times the 1080p HD resolution. Moreover, the vibrant HDR display ensures that you will experience a stunning range of colors, deeper bits of black colors, and brighter whites. Fully loaded with almost all the modern and mesmerizing features such as voice control private listening, Roku Ultra 4640 and Roku Ultra 4660 have set the benchmark of quality and perfection. However, there are still a few minor differences that you need to look at before you purchase one of them.
Comparison Between Roku Ultra 4640 and 4660. Which One Is Better?
As we discussed, 4640 and 4660 are both quad processors, which means they have the same CPU, the ARM Cortex A53 quad-core. Here is the quick breakdown of minor differences.
Processing Speed:
Since both the 4640 and 4660 have the same CPU, yet the processing speed is a little bit varying. According to customers' reviews, Roku Ultra 4660 has noticeably faster processing speed.
Storage Channel Memory:
The 4640 also has double the channel storage memory as compared to 4660, which is 1GB. While 4660 has 512 MB. If you want to download the number of TV shows' seasons offline, you should go for 4640.
Dolby Digital Encoder:
Moreover, Roku Ultra 4640 has Dolby Digital Encoder, which none of the other Roku Players has. If your AVR doesn't support DD+, then the Dolby will down-convert the audio to DD for you.
Bitstreaming DTS Master Audio:
Roku Ultra 4660 has special support for bitstreaming DTS Master Audio. Still, you would have to keep an HDMI to enable using it.
Overall, both of these Roku Ultra Smart TV devices, 4640 and 4660, will satisfy your streaming requirements. They both have great display quality. However, 4660 is cheaper and much faster than in 4640 and offers almost the same services as of 4640.