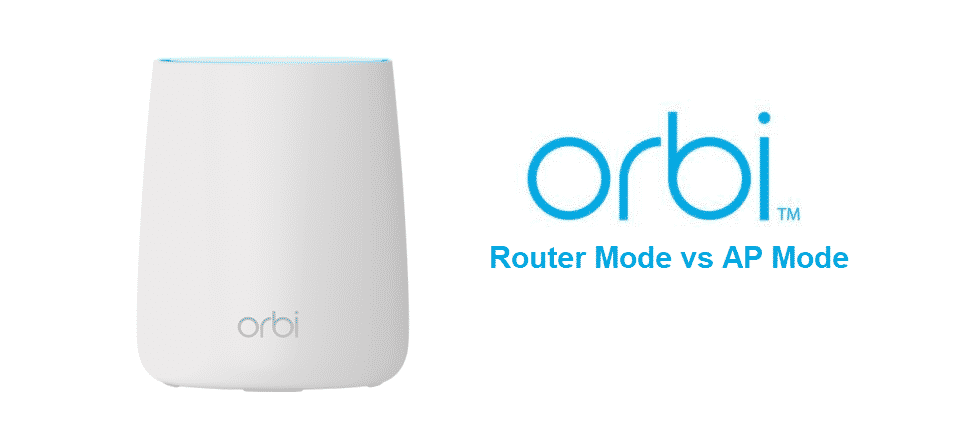 Orbi is the premium router series that is manufacturing flagship routers for the whole home Wi-Fi networking options for most of the needs. These are some of the best routers that you can get your hands on from the NETGEAR.
These are the routers that you can get and enjoy access to tons of features such as tri-band frequencies, really high internet speeds and a lot more. These Orbi routers get you the right edge of networking and aesthetics as well.
There are multiple features on these Orbi Routers such as enabling the Guest Network, Parental controls to block specific websites, remote managements and a lot more such as VPN.
Yet, you can also use some modes on these routers and use them for all the different sorts of applications that you might need to if you are looking for a more advanced way to use your router or you are the person who likes to play around with networking and stuff like that.
Router mode and AP mode or Access Point mode are the two main modes that Orbi supports and a few of the differences between the both modes are:
Orbi Router Mode vs AP Mode
Router Mode
Router mode is simply the mode where you get access to all the features that you need from a basic internet modem/Wi-Fi router. The router has all its features enabled in the router mode such as Guest network, setting up primary Wi-Fi network and SSID, choosing the security encryption and more.
You also get access to some of the value-added features on the router mode like VPN service, remote network management, MAC filtering, Parental Controls, Bandwidth limits and multiple other options like that.
So, basically, router mode is the best thing that you can have on the Orbi routers if you are looking to connect it with some network from the ISP that supports third-party routers and you can access all the premium features at the best possible speeds out there as well.
All you have to do is to make sure that you are turning the router mode on and then you can simply connect the ethernet cable from your ISP in the Orbi router and it is going to work out perfectly for you like any normal router would work for you. There are certain other features that you are going to get on the router mode such as QoS, Port Forwarding, Traffic meter, IPv6, NETGEAR armor that is one of the best router firewalls out there.
AP Mode
AP mode is the Access Point mode that allows you to use your Orbi Router as an Access Point for some other router. Setting the Orbi router in AP mode will allow you to extend the existing Wi-Fi network that you are getting on the ISP-provided hardware that you are having.
AP mode is just the perfect thing to have for you if you are using an ISP that doesn't allow you to have access to hardware from other manufacturers.
Through the AP mode, you will be able to ensure that you are not only connecting the premium hardware on your network but also ensure to have the right networking equipment for the right coverage for the Wi-Fi and processing power for all the network traffic to be managed a lot faster than you might have on your network provided equipment.
This might be the best thing to have to add on your network if you are getting the router from your ISP, and it doesn't work with any other router or networking equipment.
Yet, while disabling the router mode and enabling the AP mode on your router will be disabling some of the main features that you get on the Orbi routers otherwise. These features that you will have to compromise on are but not limited to Setup Wizard, Port Forwarding, Remote Management, IPv6, Traffic Meter, Parental Controls, NETGEAR Armor, Block Services, VPN, Internet Setup and more.
Basically, the bottom line is that your Orbi router will stop working on its own and will leave the network control to the main router that you are using, and the hardware on your Orbi router will only be used to process the data and transmit Wi-Fi signals on the network.