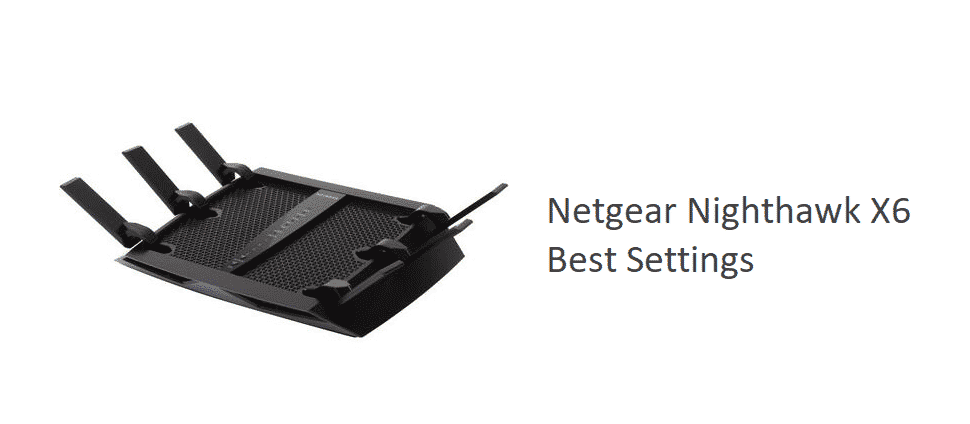 While there are no second opinions or thoughts about NetGear being the best possible router options out there, these routers are equipped with cutting-edge technology that one can find on such small routers and that would make it a perfect choice for all sorts of gamers, streamers, graphic designers, video animators, etc.
Nighthawk is one of the flagship series of NetGear and the x6 model exceeds the expectations in terms of performance, durability, network coverage and speed. Basically, it is simply a complete performance-oriented package for those who don't settle for anything less than the best.
Netgear Nighthawk X6 Best Settings
The firmware indeed is a class-apart and there are no possible aspects that have not been considered while developing this great router and its firmware. You will simply fall in love with the interface and the wide range of controls that it allows you over the router. Moving forward, you should also know that what settings are the best to make Nighthawk x6 perform at full throttle and if there is anything that you might be doing to limit those settings and performance options that could have been optimized better. The list goes on long, but a few things that you must consider while setting it up are:
Bandwidth limiter
Many of you might not know it, but Nighthawk x6 has a bandwidth limiting option to ensure that the network speed is constant and that you are getting a stable internet connection round the clock. If you want to make it work at full throttle and enjoy the right speed that you are getting, you should be disabling the feature and that will make it work for you perfectly. All you need to do is access the settings and disable the feature from advanced settings option. This might be not a good choice for those who are streaming, or downloading since the speed will be fluctuating, but you will not be having it controlled.
5GHz Frequency
Another great fact about the Nighthawk x6 is that it has a way more optimized and stabled 5GHz Wi-Fi frequency than any other routers out there. This means, that the traditional problems that you were facing on some other routers by running the 5GHz frequency like lesser coverage area and unstable connection are fixed greatly on the x6. So, you can try out the feature and it is pretty sure that you are going to enjoy it greatly over the course of time.
The only restriction or issue that you might face by using the feature is that not all of your devices might be compatible with the 5GHz Frequency, but these devices upgrade will certainly be worth it, given the truly enhanced experience that you are going to get on the router.
To set it up, you will just need to open the router admin panel and then navigate to wireless settings. Here, you can switch off the 2.4GHz Frequency and run it at 5GHz Frequency only. Once done, just save the settings and restart your router for them to be effective.