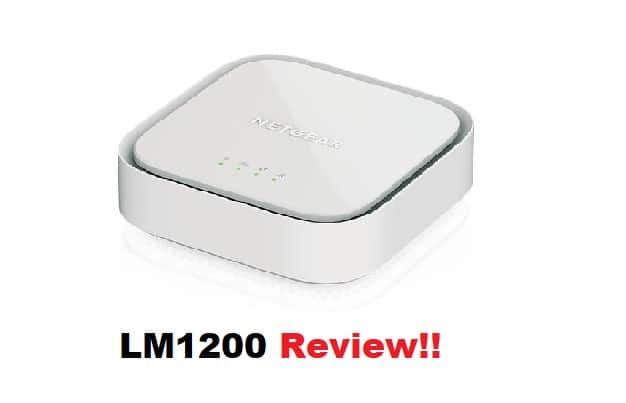 Netgear is a well-known networking company that offers a variety of dependable networking products. Whether it's wireless routers or LTE modems, their products have everything you need for a fast, reliable internet connection.
In homes and areas where DSL or fixed line broadband is unavailable, an LTE product is the best option for providing a stable network across your clients. So, if you're looking for an LTE solution to boost your internet speeds, the Netgear 4G LTE LM1200 modem is the way to go. Let us see a Netgear LM1200 review to look at what this product has to offer.
Netgear LM1200 Review
Specifications:
The Netgear LM1200 is a 4G LTE modem that provides excellent internet speed if you live in an area where DSL or fixed cable broadband connections are unavailable. These 4G LTE speeds will increase your internet speeds, and you will be able to connect to your cellular networks through an LTE network. In addition, you can extend your wired network by connecting 1x Ethernet device(s) to your Netgear LM1200 modem. The LM1200 supports the 2×2 internal or external MU-MIMO protocol, which helps you connect multiple devices to your network. The modem's capacity is greatly increased, as is the network's strength.
However, because it is nearly impossible to compensate all network carriers, the LM1200 supports three of the major carriers for LTE networks. AT&T, T-Mobile, and Verizon are examples of leading network carriers. When it comes to network speed, you can expect a great downlink speed of 150Mbps and a consistent uplink speed of 50Mbps. With a Nano SIM card, you can activate your modem and connect your cellular devices to the modem to check network availability.
Features:
It is nearly impossible to find an LTE solution that is both inexpensive and provides optimal performance. In these times of rapid technological advancement, you may have several options for an LTE modem, but the product's performance, reliability, and scalability may not always be satisfactory. In this regard, the LM1200 stands out as one of the best LTE solutions at a reasonable price. In terms of connectivity, the 4G assisted LTE modem ensures a stable and reliable connection with its clients. Furthermore, the modem's plug-and-play technology makes it simple to use for non-technical users; simply inserting the Nano SIM card allows you to easily access an LTE network across your devices
Users benefit from the flexibility provided by good networking products. Therefore, the LM1200 modem is easily paired with any secondary router. This not only extends the range of your LTE network but also speeds up the devices in your home or business. Furthermore, the device is designed to support both router and modem modes, allowing you to switch between them depending on your network requirements.
Hardware And Design:
The LM1200 has a modern and compact design that allows it to be easily seated on computer tables or shelves. This device measures 4.56 x 4.56 x 1.27 inches and will easily fit into any home or business space. In terms of hardware, there will be two TS9 ports for connecting external antennas to extend your LTE network. You can easily connect your modem to power using an external USB port. Your unit is complete with the included USB power adapter and Ethernet cable.
Customer Reviews:
The LM1200 has received overwhelming support from its users. This is one of the most reliable LTE network solutions ranked by users, with a total score of 9 out of 10. With its simple installation procedure and network performance, it remains a dependable device for your needs. Users have praised Netgear's customer service and technical support, making it an appealing option. Overall, based on its overall performance and value for money, the Netgear LM1200 has been a successful LTE solution for users.
The Final Verdict:
The Netgear LM1200 is ideal for increasing the speed and range of your home or business network. You can expect high data transfer speeds and a dependable connection with its built-in features and 4G-enabled performance. Given its low cost, it is an excellent choice for DSL or fixed line limited users.