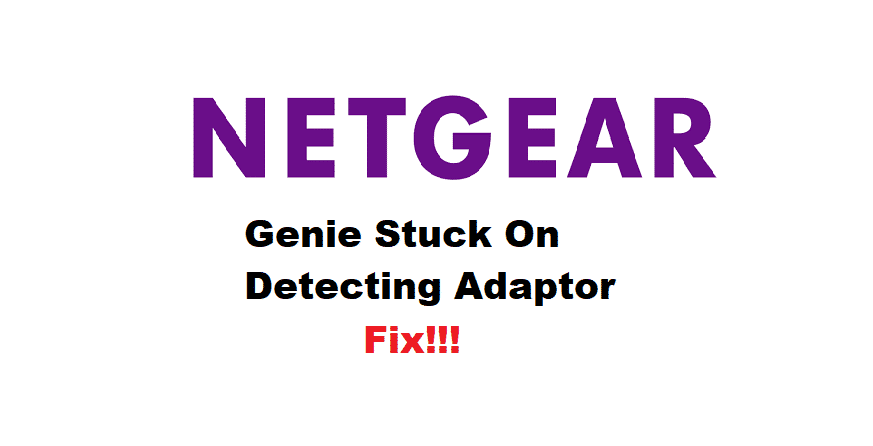 Netgear Genie is an amazing software that can be used to manage and repair your network. It can also be used to remotely control all the media in your house using a smartphone or tablet. If you need to change the basic information of your router then it is also possible by logging into the router GUI.
However, users might sometimes run into an error with this application known as 'Netgear Genie stuck on detecting adapter'. If that is the case then here are a few ways you can resolve this problem.
Netgear Genie Stuck On Detecting Adaptor
Restart Your Computer
Sometimes your computer might be running for several days. This causes it to run slow and, in some cases, even give errors. As for this, you can restart your device to fix this problem. To do so, click on the windows button, then proceed to click on power and then restart.
Update Drivers
One of the most common issues can be that your drivers are not updated. Installing the latest version of a software is essential as it fixes issues that a user might be facing due to some error. Considering this, you can simply visit Netgear's website to download the latest version of Netgear Genie. After this, uninstall the older software from your computer and install the latest version that you just downloaded. Make sure to restart your device so that the new drivers are installed without any issue.
Drivers Might Not Support OS
In some cases, the adapter drivers might not support the operating system you are using. Speaking about this, check if your OS is supported by the driver. If not, then change your OS to a version that supports the driver. You can check the internet for a list of operating systems that are supported by your adapter's drivers.
Uninstall Firewall
Many users keep an antivirus to protect their devices from getting malware or other viruses. Speaking about this, you might also have an antivirus running on your computer to keep your device protected. However, antivirus interferes with the detection process of Netgear Genie and this might be causing you to be stuck on detecting adapter.
The easiest way to fix this issue is to uninstall your antivirus. Then restart your device and run the Netgear Genie software on your computer. After it successfully detects the adapter, you can proceed to reinstall your antivirus.
Disable Windows Utility
Your computer might have the windows utility for the wireless network turned on by default. This may be the reason you are unable to detect adapters on your device.
In order to disable windows utility, click on start and then open 'run' by searching for it in the search bar. Type in 'services.msc' in the popup program and click enter. After this navigate yourself to 'WLAN Configuration' and then right-click on it. Choose stop and that will disable the Windows utility for you.
You may now use Netgear Genie to detect adapters without any issue.