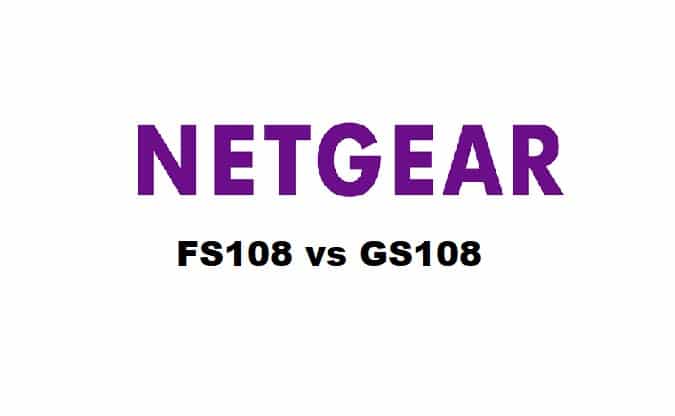 Internet switches are unconventional because many users prefer routers for networking. However, when it comes to fast speeds and managing your devices, switches are the most underrated broadband products. NETGEAR FS108 and NETGEAR GS108 are both excellent for increasing network capacity and allowing faster internet speeds over a network.
Many users have expressed their confusion about the NETGEAR FS108 and GS108 when deciding which switch to purchase. As a result, it is critical to understand what they both have to offer. Therefore, we will provide a general comparison between the two in this article.
NETGEAR FS108 vs GS108 Internet Switch Comparison
NETGEAR FS108:
The NETGEAR FS108 is an unmanaged 10/100 Ethernet switch that can support data transmission rates of up to 100 Mbps. An FS108 switch can support a minimum of 4 and a maximum of 16 clients, making it a dependable option for businesses and homes with a larger network of Ethernet devices. When it comes to internet speed, the FS108's Auto Uplink technology provides a faster connection than most NETGEAR switches, with a bandwidth of up to 1.6Gbps. Because of its ability to determine whether the link should be cross-over or straight through, it is an excellent choice for upgrading your network connections.
The FS108 switch allows you to easily connect multiple devices to its Ethernet ports, each of which can support 200Mbps of frequency bandwidth. This means that each device receives an exclusive 200Mbos bandwidth, significantly increasing the overall speed of your network. Furthermore, the FS108's automatic flow control feature allows it to efficiently forward traffic.
When it comes to the design and hardware of the FS108, you can easily set it up by plugging the devices into the Ethernet ports and connecting the switch to a power outlet. Its simple design is ideal for use in homes, classrooms, and small offices. Your FS108 adheres to the IEEE 802.3u and IEEE 802.3x communication standards, which aid in WLAN communication. The FS108, like other NETGEAR switches, provides a noise-free working environment that is ideal for sensitive environments.
NETGEAR GS108:
The GS108 supports an eight-port Ethernet connection through devices, as opposed to the FS108, which supports up to 16 connections. Although the GS108 Ethernet switch is not as advanced as the FS108 Ethernet switch, it performs admirably in terms of networking capabilities. NETGEAR GS108 can prioritize network traffic, resulting in a stable, lag-free network connection. The NETGEAR GS108, like the FS108, uses a simple plug-and-play approach, which means no software configurations are required to get them running.
The NETGEAR GS108 has a total bandwidth of 16Gbps, which is more than sufficient for an Ethernet switch, but it can support buffer sizes of up to 192KB. The communication standards that GS108 adheres to are IEEE 802.3ab, IEEE 802.3i, and IEEE 802.3 u, which means that data transmission rates between devices are faster than with the FS108.
In terms of design and hardware, the GS108 has interactive LEDs that aid in determining and diagnosing problems if they arise. Respective LEDs indicate the status of your connection with other Ethernet clients, so you know where to look if one fails. Furthermore, the IEEE 802.3az standard allows your switch to save energy on an inactive port or a port with low activity, cutting the cost of your energy bills. The NETGEAR GS108, like the FS108, has a minimal and sleek design that is ideal for compact areas such as homes, classrooms, and office rooms. Your GS108 does not use a fan, which facilitates the completion of tasks in a quiet manner ideal for noise-sensitive environments
The Final Verdict – Which Is Better the NETGEAR GS108 or FS108?
Because there isn't a significant difference in performance and specifications between NETGEAR switches, the difference is in the hardware, protocols, and chipsets. The GS108 and FS108 are both popular among users, so if you need a switch that can handle a large number of clients, the FS108 with its 16-port switch will come in handy, but at a higher price than the GS108. If you need a switch for home networking that does not require a large number of clients, you can get GS108 for a reasonable price.