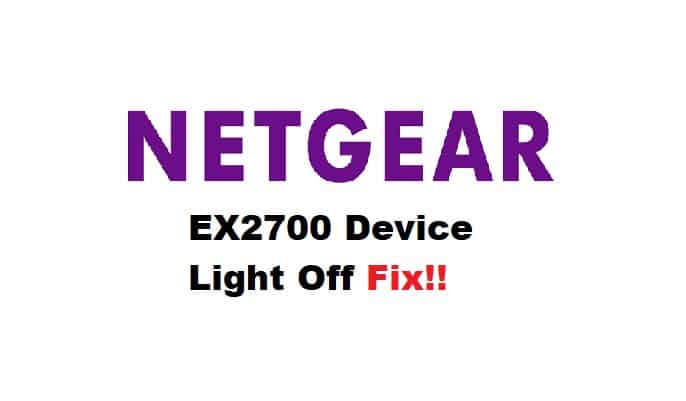 NETGEAR broadband devices have a very user-friendly interface that allows users to determine the state of their device. In that regard, the LED lights on the EX2700 extender indicate various aspects of the extender
Many users have reported that the NETGEAR EX2700 device light is off even though the extender's router, power, and WPS lights are on. A turned-off device light indicates that your extender is unable to connect to a device, which is inconvenient when all of your devices are connected but the button implies otherwise. Therefore, in this article, we'll go over some solutions to this problem.
NETGEAR EX2700 Device Light Off Fix:
Check Extender's Connection With The Router:
Your extender's primary function is to extend the range of your existing network. As the name suggests, your extender must be connected to your Wi-Fi router to function. If your EX2700 extender's device light is not lit, it means that no clients are currently connected to the device. Check the connection of your router and extender, and ensure that your cables are tight and in good working order. If necessary, disconnect the cable and reconnect your router and extender. When you connect your extender to the router, make sure the cables are securely inserted into their respective ports and that the respective LED light on your extender illuminates.
Remove The Extender Network And Reconnect:
Another workaround for the device light problem is to disconnect from the extender network and reconnect using the correct sign-in credentials. Your extender network will not work if you have changed your sign-in credentials and tried to connect your devices using the previous one. Therefore if your devices recognize the network but are unable to connect to it, forget the network and re-enter the SSID and password.
WPS Light:
If the WPS light on the extender illuminates, it indicates that a WPS connection is being established. This ensures that your extender can recognize and connect to clients. Because this limits the problem to the extender's ability to connect, place your device close to the extender. In this case, your extender network should show full signal strength. If not, there could be a problem with the network settings that need to be resolved.
Reboot Your Extender:
Some software updates for your extenders are downloaded but not installed until your extenders are rebooted. It's possible that your extender's behavior is being caused by an interrupted software installation that needs to be completed. As a result, unplug your extender from the power supply and wait 30 seconds. Reconnect the extender and check to see if the device light has returned to normal and you can connect a client to the extender network.
Factory Reset Your Extender:
Using a paper clip or a similar object, press and hold the reset button on your extender until all of its lights go out. The power LED should light amber. Wait until your extender reboots, and your extender will be restored to its factory settings.