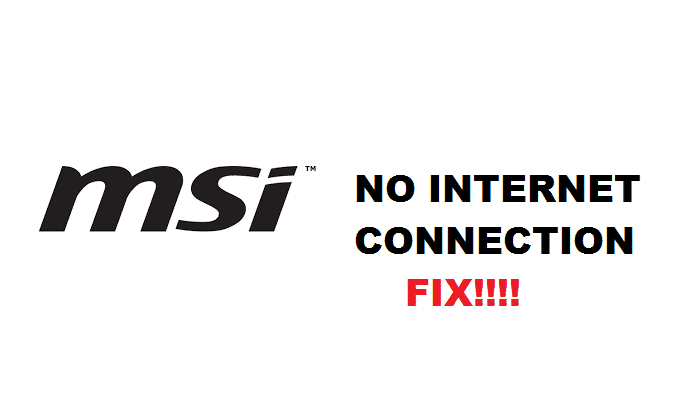 LIVE UPDATE 6 is a service application for the MSI system. This service application is responsible to scan and download the newly launched drivers, BIOS along with the just-in utility programs. Therefore, to update your device and enhance its performance, you need an adequate internet connection that does not go down when you install new updates to your phone.
Sometimes you face internet connection even after you have connected successfully to the internet. Luckily, there are quite a lot of fixes for this issue. We got you covered! In this article, we will walk you through some important troubleshooting solutions that would never make you lose internet connection while using MSI LIVE UPDATE and after the update as well.
Why Does LIVE UPDATE MSI Installation Require Internet Connection?
Most of the internet users claimed that Windows updates usually get installed without having access to the Internet. However, if you lack an active internet connection to launch the Upgrade Installer, your PC wouldn't be able it will not be able to download any updates or drivers which is why you would stay limited to everything on the installation media until your PC gets connected to the internet later.
Therefore, your PC needs an internet connection to get the drivers and utilities and its absence won't let you upgrade your PC. Mostly, after the update, such as MSI LIVE UPDATE, your internet doesn't connect. There are quite a lot of factors for that as well. However, several fixes can settle that issue. Keep on reading to know them.
What Does MSI LIVE UPDATE Do?
MSI's service provider application LIVE UPDATE scans and downloads installers, utilities, BIOS and drivers on your PC. Live Update 6 is a powerful update tool that possesses a user-friendly interface. It provides an automatic scanner and downloader for the MSI products. Using the LIVE UPDATE service keeps your system in the top-tier up-to-date environment.
With LIVE UPDATE 6 installed, you wouldn't have to search the drivers on a specific MSI web page. Your LIVE UPDATE 6 will download the appropriate drivers on its own.
However, your internet connection may go down completely saying "No Internet Connection" during or after installing the LIVE UPDATE.
How To Troubleshoot MSI Live Update No Internet Connection?
You need to carry out these step by step instructions in a sequence to help locate the MSI LIVE UPDATE No Internet Connection issue and troubleshoot it immediately.
Here they are:
Restart Your PC:
We know that a whole lot of you have already tried this solution, as it serves to be the simplest yet most effective solution when it comes to curing internet issues. Make sure you try it out. Turn off your PC for a few minutes and then turn it on to see if the internet is back.
Check Your Modem/Router:
Most of the time, the real issue lies within the improper arrangement and working of your internet router/modem rather than the devices and drivers themselves.
Make sure that you check your modem if it's indicating green lights and the WAN light is globing lit.
Check For Malicious Apps:
You would have no idea but there would be malicious applications navigated your PC during browsing, they cause the biggest internet issues. Make sure that you run your PC with anti-virus programs and uninstall suspicious apps. This solution would help you in the long run.
Run Your PC Through Built-In Troubleshooters:
If you have a fair idea that your ISP and modem are working fine, then your Wi-Fi adaptor might be the issue-maker. It is the time you run your PC with a built-in troubleshooter.
Here is how you do it:
Right-click on the network icon in the taskbar.
Select 'Troubleshoot problems'.
Locate the Windows automatically looking for network problems.
Relocate the issues.
Now, fix them.
If the located issue does not get fixed, then you can at least search them out on the internet to get the instant solution.
Reinstall The Driver:
If built-in troubleshooter and rebooting don't help, simply navigate to the MSI website and download the newly launched driver all over again. Reinstall the router again after having an adequate internet connection. Your problem should be solved right after reinstalling.
These steps are proved to be  authentic when it comes to treating MSI LIVE UPDATE No Internet Connection issues.