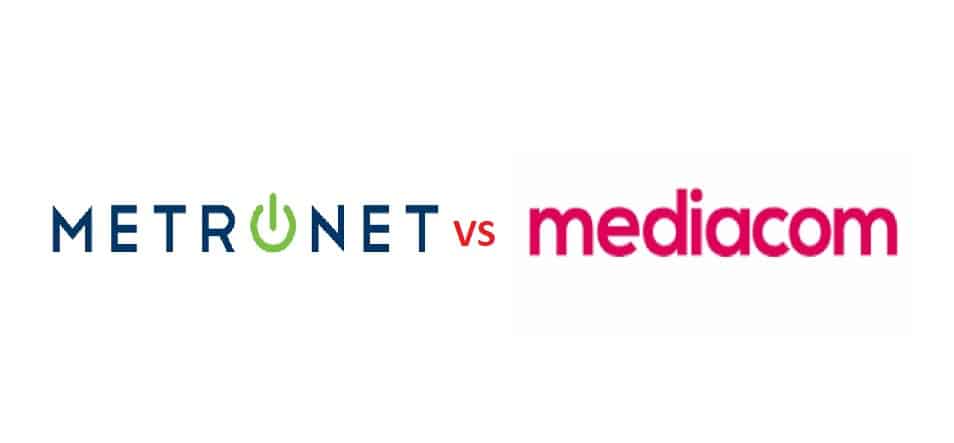 The internet has become a necessity in society because it only eases communication and work but also helps ease the shopping experiences. For this reason, it's important to subscribe to a reliable internet service or connection.
With the availability of endless internet service providers, it can be challenging to find the best one. So, to help you out, we are discussing two of the best ones, including Mediacom and MetroNet!
Mediacom vs MetroNet
The Comparison Chart
| | | |
| --- | --- | --- |
| | Mediacom | MetroNet |
| Data caps | Yes | No |
| State-based availability | 22 states | 15 states |
| Number of TV channels | 170 | 290 |
| Internet technology | Hybrid coaxial and fiber optic network | Fiber optic network |
Mediacom
Currently, this internet service is available for over seven million people and is available in twenty-two different states of the US. The company offers a hybrid coaxial and fiber network. For this reason, the users will be able to enjoy the high-end internet speed, be it download speed or upload speed.
This speed and internet technology have made it a promising choice for gaming, downloading, and streaming. They are offering gigabit download speed. Mediacom has a tight data cap, which can be challenging if you tend to consume more data. Some of their internet plans include;
Internet 100 – it has a download and upload speed of 100Mbps and provides 100GB of monthly data
Internet 300 – it offers 300Mbps download and upload speed and there is a data allowance of 2000GB for a month
1 GIG – the download speed is 1000Mbps and the upload speed is 50Mbps. The monthly internet allowance is around 6000 GB a month
In addition to these internet plans, there are some bundled plans as well, which provide access to Variety TV. With the Internet 100 and Internet 300 plan, you can get 170 TV channels available. On the other hand, the 1 GIG plan offers 170 TV channels as well as on-demand channels.
On the other hand, there are some data caps associated with the internet plans and you get penalties for exceeding the allocated data. For instance, the Internet 300 plan has a data cap of 2TB and 200Mbps has a cap of 1TB.
As far as the penalties are concerned, for every 50GB of data used, you will be charged around $10. In addition, when you set up the internet service for the first time, you will need to pay around $10 activation charges. Also, you can lease Xtream home internet equipment for $13 a month.
The users can also rent a router, such as Eero Pro 6, which is a mesh router that supports Wi-Fi 6 technology. However, their customer service team could be better!
MetroNet
The company is offering only fiber internet services, which means you will get extremely fast download and upload speeds. The internet packages offered by MetroNet have an unlimited monthly allowance, which means there are no internet slowdowns.
There are MetroNet Wi-Fi hotspots available around the country, which makes it suitable for people who are always traveling around. There is a Contract Buyout feature available, with which you can switch from your current internet service to MetroNet.
In particular, with this feature, MetroNet will pay $150 to the previous internet services as the early termination feed, promising an easier transition. They are available in fifteen states and the absence of contracts and data caps makes it a worthy choice. Some of the internet plans include;
Internet 200 – the download and upload speed is around 200Mbps and is suitable for three to four devices
Internet 500 – the download and upload speed is 500Mbps and can be used on five devices at once
1 GIG – the download and upload speed are 1Gbps and is perfect for 4K video streaming and gaming
In addition to the internet service, there is an IPTV service available that offers 290 TV channels to the users. There is a TV Everywhere feature that allows the users to access the TV channels and you can also access the on-demand channels.
There are no equipment charges associated with this brand and the cost of the wireless router is already added to the monthly charges. However, there is a wireless extender available for rent but you've to pay $10 for a month. Last but not least, there are no data caps!