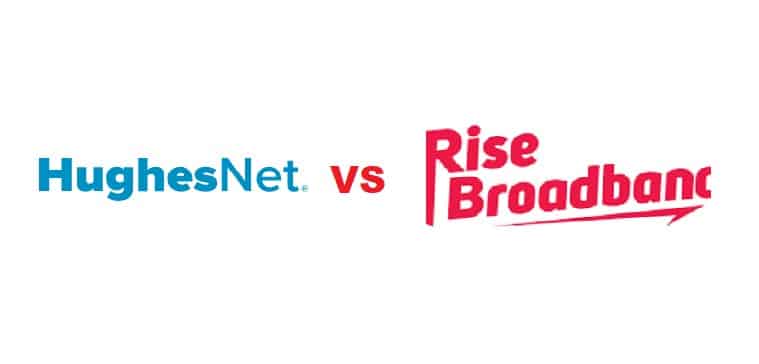 Living in the countryside translates into a slower life, and they have to worry about internet connections. This is because the usual wireless internet service providers aren't available in rural areas, but there are some broadband and satellite internet providers available in the market. So, if you want to choose a reliable internet connection, we have Rise Broadband vs. HughesNet comparison in this article!
Rise Broadband vs HughesNet:
Rise Broadband
When it comes down to reliable internet options, they are usually hard to find in rural areas of the country, and there is nothing better than a fixed wireless connection that beams signals from the towers to a home-based antenna or dish. The modem is installed to convert the signals into a wireless internet connection. Having said that, Rise Broadband is one of the best choices for internet services available for people in rural areas.
There are two home internet plans available at Rise Broadband, including a 25Mbps plan and a 50Mbps plan. Some specific locations might offer 100Mbps speed as well. Currently, only 43,000 customers are getting 100Mbps speed because of geographical constraints. In addition, the company offers fiber connection, which is available in Illinois, Maroa, and Texas. The first two plans are fixed wireless plans, while the 100Mbps, 250Mbps, and 1000Mbps plans are fiber connections and don't have any data cap.
With the 25Mbps and 50Mbps connections, there is a data cap of 250GB, but you can pay $10 to get unlimited data. Multiple customers have complained about the internet prices rising after one year of subscription – the price hike is usually $10, and the introductory prices differ with the location. It is recommended that you don't opt for fixed wireless connections for home internet, especially if fiber connections are available in the areas.
It doesn't matter which internet plan you choose; you've to pay $10 as an equipment fee, which includes the modem and antenna. On the other hand, if you want to create a wireless internet network, you must rent the router for $5 per device for a month, or you can purchase a third-party router of your own. It is recommended that you choose One Deco M4 if you have a small home or apartment. However, you will need to invest in a wireless extender if you have a bigger space. Overall, Rise Broadband offers reasonable pricing and low latency plans, which support online gaming and streaming.
HughesNet
This satellite internet connection is available in South and North America and is being used by more than 1.5 million customers – it's the top choice of users where no other internet options are available. According to HughesNet, you need a clear view of southern sky to achieve a reliable satellite internet connection. There are various internet plans available, including a video data saver that allows the users to stream more videos without consuming too much data.
There is a usage tracker to keep an eye on how much data you have consumed from the plan. There is a bonus zone between 2:00 AM and 8:00 AM, during which you have 50GB of additional internet. For this reason, this time period is perfect for downloading and/or uploading large files, system updates, and movies. HughesNet is a great choice for people living in rural areas and don't mind the slow speed at times. In addition, it's a recommended choice if you want simple plans.
The internet plans are available in over fifty states and are recommended for people who don't have access to other DSL, fiber, and cable internet plans. The download speed is around 25Mbps, and the upload speed is around 3Mbps for every internet plan. The customers have the option to choose between 15GB and 100GB plans a month. The 15GB plan is recommended for people who just want to browse websites and check their email, while the 100GB plan is suitable if you like gaming and streaming.
The internet plan price starts from $64.99 and can go over $149.99, making sure that there is something for everyone. Every internet plan comes with a 24-month contractor. As far as the internet connections are concerned, there is no need for cables and wires – there is also a Wi-Fi feature available for connecting the devices wirelessly.
The bottom line is that HughesNet is a recommended choice for people who don't have budget constraints and have a bigger home that needs more internet.