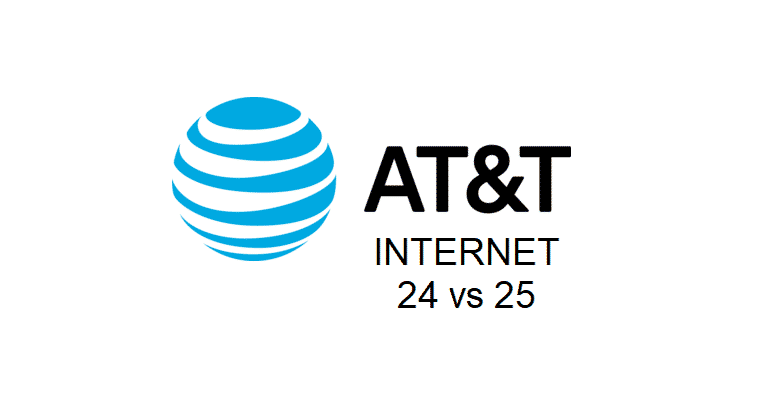 The internet has become an important part of every household and office. For this reason, multiple companies have started offering the internet, and AT&T is one of them. AT&T is famous for providing high-speed internet connection, and they have designed various plans. For this purpose, we are sharing information about AT&T internet 24 vs. 25 to help you out!
AT&T Internet 24 vs 25
AT&T Internet 25
Having ineffective access to the internet has become a huge issue for rural areas. AT&T is offering the AT&T internet 25 plan, which has been designed for the residents of rural areas. With this internet plan, the internet speed is incredibly steady, and the data cap is higher. There is a no-contract policy which means users can cancel the plan anytime they want.
The best thing about this plan is that it's available in around 21 states, along with higher affordability. This plan is surely a blessing in disguise for people in rural areas because they have limited choices, and internet plans get expensive. As far as the internet speed is concerned, AT&T internet 25 has a download speed of up to 25Mbps while the upload speed is around 5Mbps.
Truth be told, AT&T has designed this plan to deliver high-speed internet at the less-saturated places. If compared to the internet plans available in urban areas, AT&T Internet 25 plan doesn't have an impressive internet speed, but it fits the bill for rural areas. Truth be told, it's great for people in rural areas because it only has slow DSL and satellite internet.
The internet plan promises to deliver a stable connection. As far as the data allowance is concerned, the AT&T internet 25 plan has a data allowance of 1TB and 1000GB. However, the users can increase the monthly data allowance with extra fees. The users can even pay for unlimited data. Similarly, if you apply for AT&T Bundle, unlimited internet is available without extra costs.
When you subscribe to AT&T internet 25, the users will get the internet equipment with a small monthly fee. AT&T is offering the combination of router and modem with the Wi-Fi gateway device. It's best that you add the gateway because it will smoothen the internet connection. There are no annual contracts associated with this plan, so you can cancel whenever you want.
On the contrary, if you need to subscribe to AT&T TV and DirecTV, the users will need to sign the contract. With AT&T internet 25, the users will get access to HBO Max for free (the free subscription is only for thirty days). They are offering two installation options, such as self-install kit and self-installation options.
This plan is usually delivered through the AT&T IPBB network, which uses the combination of ADSL2, Ethernet, VDSL2, and G.Fast. This means that the internet connection is delivered through copper cable lines and fiber optic cables, hence better connectivity.
AT&T Internet 24
This internet plan by AT&T is designed to deliver the download speed up to 24Mbps while the upload speed is around 1.5Mbps. To be honest, the internet speed is pretty limited, but it's great for people who cannot get any other wireless connection offer. AT&T's internet 24 plan is designed to deliver 1TB of internet data on a monthly basis.
The differentiating factor is that this plan offers email services. When users subscribe to this plan, they can access the national Wi-Fi hotspot network of AT&T. As far as the email service is concerned, the users can use up to ten email account with unlimited storage. Also, it offers POP access, email forwarding, and SPAM guard features.
It is integrated with virus and spyware protection which offers promising protection from spyware, viruses, and adware. There is a professionally designed firewall protection that promises the highest standards of protection on the devices. AT&T internet 24 plan is integrated with a pop-up catcher that helps reduce the pop-up ads.
With the availability of the Wi-Fi gateway, the users can connect the wireless devices with stable connectivity. It has a monthly allowance of up to 1TB, which makes it suitable for people who need more internet. The plan is integrated with the AT&T internet security suite, which delivers high-end security for different devices. All in all, the plan has a 30-days money-back guarantee, so you try the plan before signing up for long-term!