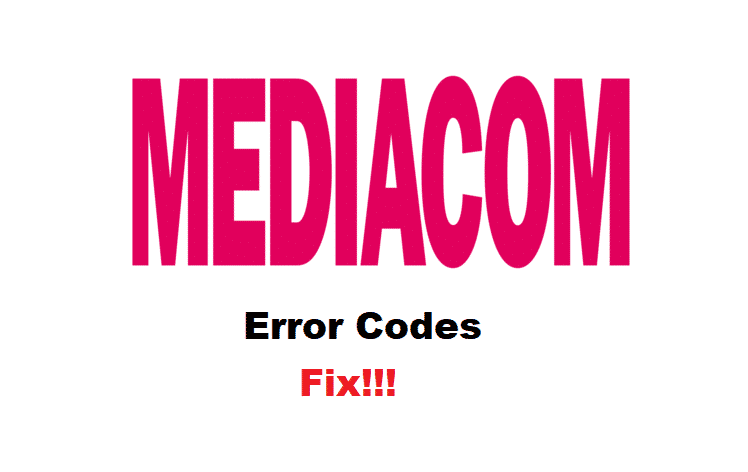 Watching television in your free time is one of the best methods to stay relaxed. You can either watch movies or some documentary that you are interested in. Considering this, when it comes to having access to these services, the user can choose between multiple options. Some of these require you to have a cable service while others work through network signals.
Medicom is among the leading companies which provide people with cable television. Their devices have amazing features out of which one of the best ones is the error code system. This allows the devices from Mediacom to show an error code depending on the problem. These make it easier to identify the issue without going through much trouble.  We will be using this article to tell you about some common error codes along with ways to fix them.
How to Fix Mediacom Error Code?
1. V52 Error Code
When trying to tune into a channel or sometimes when the user wants to access the live channel services. You might sometimes notice that the error code V52 appears, which indicates that there is something wrong with your signals. Multiple things can affect the signals for your device which is why you must look into them carefully.
The first thing to check is your cable connections. Usually, coaxial cables are used to establish connections with modem boxes. These will sometimes require the user to twist them before the cable is tightly installed. Considering this, confirm that the coaxial wire in your modem box has not come loose. The next thing that you should do is to check all of your other devices as well. Additionally, check the other channels on your TV and see if those are working fine.
If only a specific channel is giving you trouble then the problem should be from the backend. These issues are resolved within a few days at a maximum which is why you do not have to worry about them. However, if none of your channels are working then there might be a serious issue. Contact Mediacom for this and tell them about your problems in detail. Make sure that you do not leave out any information to ensure your error gets fixed as soon as possible.
2. V315 Error Code
The V315 error code means that the device you are trying to use is having trouble trying to play your desired files. This playback issue is usually found when your DVR feature is unable to locate the video you want to play. This can either be a problem from the backend or your network connection.  The first thing that you should check is if your internet is working fine. Use your mobile phone to confirm this.
People can even run a speed test on their device which will show them the exact speeds they are getting currently. You can even download these applications on your mobile phone for free. If you notice that there was an error with your internet then reboot the router or modem. Alternatively, you can try moving your devices closer to each other if the problem is with signal strength instead. On the other hand, if your internet is working fine then there might be an issue with your cable modem or DVR service. Try logging back into your account to see if that fixes the problem.
3. C421 Error Code
When using the TiVo devices from Mediacom, the user might sometimes notice that the error C421 appears when trying to access the DVR feature. This indicates that the service is currently down due to some reason. You will still be able to use all of your other features from the other devices however, the DVR will not work. There are mainly two things that can cause this problem.
One of these is that your device was recently rebooted or has been switched off. Powering it up and waiting for a few minutes should fix the problem. Alternatively, the second thing can be that your device is not updated to its latest version. Mediacom releases numerous updates over the year to keep their devices in the best possible condition. The user must keep their device updated at all times, whether you set your modem to automatically update or manually install the files on it from time to time.