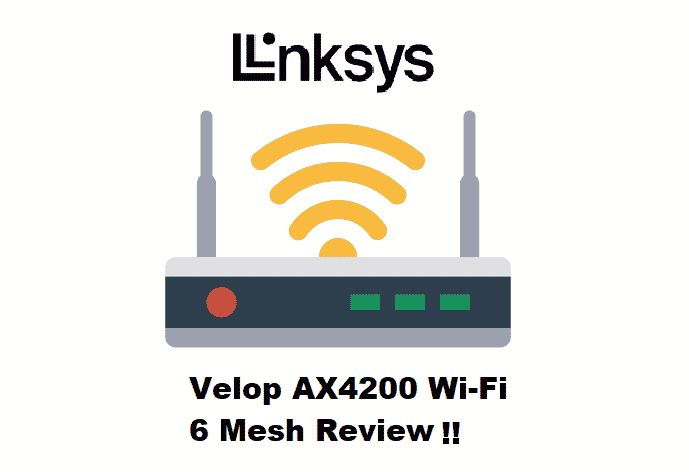 A significant amount of data is frequently lost while traveling from the internet to the user. Unreliable network services are commonly to blame for data loss. Linksys Velop AX4200 users can benefit from intelligent mesh technology, which allows data to select the best route from the internet to the client and vice versa. The increasing competition among technical devices has made it difficult to select the best network services. As a result, this article will provide an in-depth review of the Linksys Velop AX4200 Wi-Fi 6 mesh system, as well as why and why not to buy it.
Linksys Velop AX4200 Wi-Fi 6 Mesh System Review
1. Specifications:
A Velop AX4200 offers a Wi-Fi range up to 90 feet with a blazing speed of 1.4 GHz quad-core processor, and a super-fast 4.2Gbps of Wi-Fi speed. Moreover, AX4200 gives a total throughput of 600Mbps on the 2.4 GHz band, a data rate of 1200 Mbps on the first 5GHz band, and up to 2400 Mbps of data rate on the second 5GHz band. These fast speeds ensure that your network is fully covered in every room of your house. The router's ability to connect more than 120 devices on the network has elevated it to the next level of networking equipment.
An AX4200 has a 512MB flash memory with 512MB RAM. It uses the latest security technologies which include OFDMA (Orthogonal frequency division multiple access) and 1024 QAM data transmissions. Not only this but you can also set up and enable parental controls, view IP address information, set the bandwidth priority, and other additional features through the router
2. Intelligent Mesh Technology:
You may have noticed an abrupt signal change in your home that distorts your overall internet experience while streaming or playing a video game. After installing the AX4200 in your home, you will have top-tier internet coverage both inside and outside your home. Having said that, AX4200 intelligent mesh technology also allows you to add additional Linksys products to your network to increase internet bandwidth and range. Furthermore, the Linksys app's intuitive parental controls allow you to track your activity across multiple devices. WPA 2 and WPA3 add extra security features to protect your privacy from online attacks.
3. Setup And Configure:
In comparison to other Wi-Fi 6 mesh technology routers, the AX4200 is simple to set up and install in your home. You can set up your AX4200 in a few simple steps using the Linksys router mobile app. You can also use the mobile app to control and manage your Linksys network, including viewing, prioritizing, and adding new devices. As a result, if you are considering purchasing one, you do not need to be concerned about the complexities of setting up your system
4. Design:
Expanding the aspects of the AX4200 router, you can find built-in antennas in the router which direct the flow of data through every corner of your home. With the dimensions of 4.5 x, 4.5 x 9.6" and an attractive design this device comprises of 3Gbps LAN port and a 1Gbps WAN port. Furthermore, you can always find some indicator LED lights on the Linksys products. The user-friendly interface of the LED light displays allows the user to diagnose a problem, or determine the status of the router.
5. User Review :
Even though the AX4200 lack some technical feature, still it has managed to maintain its ranking among its customers. AX4200 has gathered overwhelmingly positive responses from the users. Many users who have installed the AX4200 to upgrade the network strength in their homes are satisfied with the overall performance of the router.
Conclusion:
To sum up the whole discussion, it is fair to say that AX4200 is a quite good competitor for other mesh technology routers. Though it may lack certain features, it is a top-tier package at an affordable price. As a consequence, if you intend to purchase a mesh technology router to improve your home's network game, the Linksys Velop AX4200 Wi-Fi 6 mesh system is a viable option for meeting your network requirements.