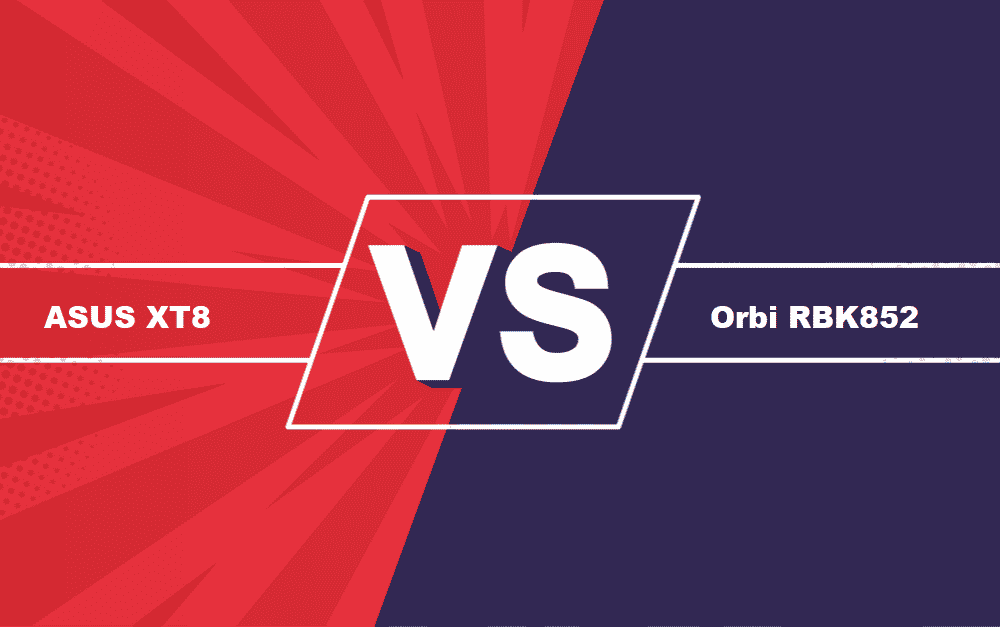 The ASUS ZenWi-Fi AX XT8 has managed to retain its ranking as one of the best routers at an affordable price. ASUS XT8 mesh system provides powerful network speeds and coverage with advanced security tools. When speaking of an Orbi RBK852, this router also performs well in its domain by delivering super-fast internet speeds with additional controls but might not be suitable for users who have a budget. If you are looking for a better option to consider between an ASUS XT8 and Orbi RBK852, this article will provide you with a general comparison of the two systems.
ASUS XT8 vs Orbi RBK852 Router Comparison
1. Wi-Fi And Range:
When considering the network speed of both the systems, it is fair to say that both ASUS XT8 and Orbi RBK852 have an excellent standing in the networking arena. With a throughput of 835 Mbps for close range and 780 Mbps for far range, Orbi RBK852 has a Wi-Fi speed up to 6Gbps with a range of over 100 plus devices. It is placed at the top chart of mesh routers. Apart from a sustained speed of 6Gbps, it also provides a powerful signal range of up 5000 square feet.
Coming towards the ASUS XT8 Wi-Fi range, this tri-band-mesh Wi-Fi 6 system has a speed of 6600Mbps which is more than sufficient for a mesh router to deliver. Its blazing internet speeds and fast transmission on multiple devices have made it one of the best choices for mesh routers. An ASUS XT8 will provide a network coverage of up to 5500 square feet with an efficient range in more than 6 rooms.
2. Features And Structure:
When speaking of advanced features and security controls, both the ASUS XT8 and Orbi RBK852 prove to be excellent choices. An ASUS XT8 provides AI Protection with advanced security controls so you can track any activity that is happening on your network through your mobile app and ensure your privacy on multiple devices. The ASUS XT8 router possesses a blazing speed of 1.5 GHz quad-core processor with a flash memory of 256 MB and 512 MB RAM.
When it comes to Wi-Fi 6, the Orbi RBK852 system includes WPA3 encryption and OFDMA data transmissions. Additionally, it offers basic parental controls and the feature of NETGEAR Armor feature, which guards your network against viruses and breaches of online privacy. You can experience an exclusive 2.2 GHz quad-core processor with 1 GB of flash memory and 512 MB RM
3. Setup And Installation:
It is important to note that both systems have made it simple to install and configure the systems in your home. The Orbi RBK852 is simple to configure and manage with the Orbi app. Similarly, the ASUS XT8 allows you to configure the system using the ASUS router app. These systems take minutes to set up and allow you to enjoy the fastest Wi-Fi speeds available.
4. Pricing:
Although both systems have fast data transmission speeds, extended ranges, and advanced features, the Orbi RBK852 system is slightly more expensive than the ASUS XT8 system. This is because the Orbi RBK852 has a faster processing speed, a longer Wi-Fi range, and several technical features that outperform any other mesh technology system.
Which One Should You Choose?
It is clear from the preceding discussion which system comes out on top over the other. It should be noted, however, that both systems are all-rounders in their respective domains. Apart from some technical differences, the only thing that distinguishes the two is the price difference. Even though it might be fair to say that some critics tend to rate a premium product better than an average product.
ASUS XT8 is a remarkable device to satisfy your network needs, but it should be mentioned that Orbi RBK852 offers some superfast network processing speeds with extended features but may be costly for some domestic users. Therefore if budget is not your primary concern then you should think of choosing Orbi RBK852 over the ASUS XT8 system.