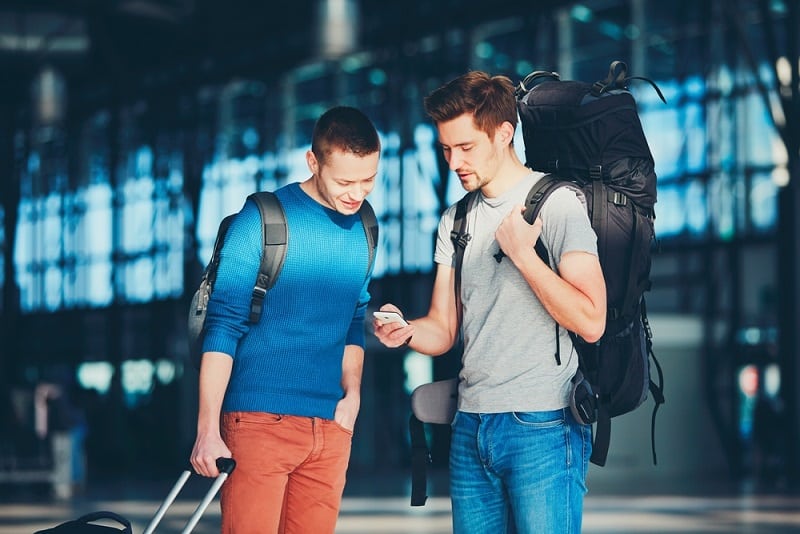 Travel routers aka pocket routers aka mobile routers are a specialized type of broadband router specifically meant to connect with mobile devices. These handy gizmos are designed for the business traveler's convenience with features such as:
Battery Operation. Many travel routers have battery life lasting for several hours before needing recharging from an electrical outlet.
Pocket Sized. Readily available in sizes small enough to fit into a shirt/coat pocket or purse, they measure but a few inches (>10 cm) in height and width and thus are easily carried to and from hotel rooms, airports and field operations.
Tethering. For those places where Ethernet or wireless hotspots are unavailable, many travel routers can be "tethered" to a 3G or 4G cell phone. Note that top shelf travel routers have cellular modems built-in to the router; hence these models do not need tethering capability.
Wi-Fi client support capability. Top shelf routers can serve as an adjunct to hotspots by sharing the wireless connection with other clients using an built-in access point. How this can congest shared connections is a topic for another day.
Best Travel Routers Reviews
As one might imagine, the following list is far from exhaustive; you'll find many travel router brands and models available. And applications for your specific needs may vary from other users. Some may want to connect their Roku or Apple TV to stream flicks from their laptop whilst in their hotel room or for down time in the field. Some can't travel without their Playstation or XBox while others may need to do little more than check emails. Or you may need only two ports whereas someone else will need four. Or you may need your travel router to establish a Wi-Fi hotspot. Whatever the capabilities of any given travel router, make sure it does what you need it to do.
In no particular order, compare the following products:
Features:Wireless Travel Router; SD Card, USB Card Reader; Portable Hard Drive Companion; DLNA-enabled NAS Sharing; Media Streamer. 6000 mAh External Battery Pack. Wireless Speed: 300 Mbps. Wireless Type. 802.11b/g/n. Weight: 5.4 oz. Dimensions: (LxWxH) 3.82 x 2.13 x 1.06 inches. Voltage: 5v
Here is a YouTube video from Awkward Hamster demonstrating the RAVPower FileHub RP-WDO3 portable router:
Acclaimed as the best wireless travel router on the market by wiki.ezvid.com and ranked among Amazon.com's best sellers in computer routers, the RAVPower is truly a versatile product. It can stream media from the SD or USB drives to as many as five mobile devices simultaneously. It has military-grade Software Development Resource Architecture (SDRA) memory with 32 MB capacity, 2.4 GHz Wi-Fi with 300 Mbps speed and a WAN Ethernet port with 100 Mbps. Can be used with Windows XP/2003/Vista/7/8, Linux, Unix, Mac, Android SmartPhone and tablets and iOS iPad and iPhone. Below is the Amazon product summary:
Storage Backup: transfer files between SD cards, USB drives, hard disk and your devices (phone/tablet/computer) to free much more space up for your devices.
Portable Wireless Travel Router: easy to carry and set up. Instantly convert a wired network to wireless network. Internal dual band antennas allow for better network performance. Also bridge and extend WiFi, share internet securely with others.
Sharing & Streaming Media: seamlessly share with your families, friends and stream your videos, photos, and music on your connected smartphones, tablets, TVs, media players, Chromecast, Roku, and other DLNA devices via App Filehub Plus.
SD Card USB Reader: wirelessly recognize USB flash drive, hard disk, SDHC, SDXC cards with your devices (phone/tablet/computer) via App; even more support with a USB hub.
Upgraded Chip & External Battery Packs: New MTK7620N core built-in chip, better performance in hardware & software. Built-in 6000mAh power bank (5V/1A) enables you to (re)charge…without worries about low power.
As of the beginning of August 2016, the RAVPower garnered 4.3 of 5 stars in Amazon.com customer reviews. While 70% of Amazon.com customers gave it five stars, there are some caveat emptors. If you are an Apple iOS user, you may have issues with the RAVPower. For one, it does not work with Mac formatted hard drives. Two, due to the "limitations" of the iOS system, users can ONLY access the Photos folder on the iPad/iPhone. Filehub cannot sync with media files stored in iTunes to USB storage devices because of digital rights management (DRM). However, reportedly by utilizing different apps such as File Browser, Remote Files, FileExplorer and Nplayer, iOS users can move their files without using the "official" RAVPower app
Features: Router; Repeater (Wi-Fi range extender); Access Point; Bridge; Client (for Smart TVs or video game consoles). Wireless Speed: 300 Mbps. Wireless Type: IEEE 802.11n/g/b. Weight: 2.2 oz. Dimensions: (LxWxH) 2.9 x 2.9 x 0.9 inches.
From NH Tech, this YouTube vid reviews the Satechi Mini Wireless ST-WN523N2:
By reading customer reviews of this product, it's apparent that it's used at home as a repeater to extend Wi-Fi as much as it's used on the road. However, as a mobile router it lacks battery capability — no big deal if you're in your hotel room but another story should you be working in the field. It has a Wi-Fi speed of 300 Mbps with a reported wireless range averaging between 20 and 30 feet. Below is the amazon.com product description:
Improve and extend internet access; easily connect and use your network with better range and using a variety of devices
Compatible with IEEE 802.11n/g/b devices and standards. Enjoy up to 300Mbps high-speed wireless with WLAN 802.11n
Easy WPS security encryption at the push of a button
Maximum WLAN security with WPA2, WPA, and WEP (128/64)
Travel-sized design with QoS functionality to ensure high-quality VoIP and multimedia streaming
As of August 2016, this Satechi mobile router received a #759 Best Sellers Rank among Amazon's routers and a 3.4 out of 5 stars rating based on 142 customer reviews. Readers may wish to take note of the following excerpt from a review submitted by a verified Amazon purchaser:
In a … very common scenario within the US, your hotel has wireless Internet. Now you need to take that wireless signal and bridge it to a second wireless network set up by the router. This mini router is not capable of doing that, despite it being a relatively common feature in travel routers from several years ago. The product specs do not make this limitation clear. There are bridging and repeater modes, but each have limitations that prevent it from supporting the use case I described.
See here for step-by-step instructions to set up the Satechi Mini Wireless Router.
Features: Router; Access Point; 10400 mAh Power Bank/Mobile Charger; Bridge. Wireless Speed 150 Mbps. Wireless Type: IEEE 802.11n/g/b. WPA/WPA2 Encryption. Weight: 8.8 oz. Dimensions: (LxWxH) 1.65 x1.65 x 3.7 inches. Voltage: 5v
From Gauging Gadgets, this YouTube vid gives an overview of the HooToo Wireless Travel Router
A versatile gadget, the Hoo Too serves as a wireless router (when connected with a modem or to a DSL), a wireless access point and can power various devices such as multiple external hard drives. It can also be used to transfer files between storage devices using a USB hub. Note, however, it does not function as a hotspot. Below is the Amazon.com product summary:
ENDLESS MEDIA STREAMING: Seamlessly stream your videos, photos, and music to your connected TVs, media players, smartphones, tablets, TV sticks and other DLNA devices. Also can share your precious photos and videos with family and friends using the TripMate Plus mobile or desktop app.
TRAVEL ROUTER: Instantly convert a wired network to wireless. Also can bridge an existing wireless network, creating your own secure Wi-Fi network.
FREE UP SPACE: Backup your photos and videos from your iPhone, Android phones, iPad or other mobile devices to attached USB flash drive, hard disk. Free up space on your phones.
BRAND NEW CHIP: New MTK7620 core enables you to plug multiple USB hard drives or flash drives with a USB hub to the TripMate Titan. Transfer photos, videos, and music within your USB storage devices and mobile devices.
10400mAh POWER BANK: Built-in 10400mAh power bank (5V/2.1A) enables you charge most smartphones 3 times.
As of August 2016, the Hoo Too Trip Mate received a #11 Best Sellers Rank among Amazon's routers and a 4.4 out of 5 stars rating based on 688 customer reviews. 72% gave it 5 stars. Yet the product does have drawbacks, particularly for iOS users since there is no iPhone OS app and it cannot bridge iPhone hotspots nor stream media purchased from iTunes because of DRM. It cannot be used as a proxy server nor can it be used with an IP camera File Transfer Protocol (FTP) path. The ethernet port can only be used as a WAN input port
Features: Router; Access Point; Client; Bridge. Wireless Speed 300 Mbps. Wireless Type: IEEE 802.11a/n/g/b. 2.4 GHz radio frequency. Weight: 7 oz. Dimensions: (LxWxH) 2.2 x 2.2 x 0.7 inches.
Tech Fly reviews the TP-LINK TL-WR802N Wireless N300 Travel Router in this YouTube vid:
Pocket or  "nano-" sized, this TP-Link Travel Router establishes a private Wi-Fi hotspot wherever one can connect to the Internet. Powered by either 120-220 AC or a USB port, the TL-WR802N is compatible with 2.4 GHz devices, including Chromecast. Works with the following operating platforms: Microsoft Windows 98SE, NT, 2000, XP, Vista or Windows 8.1/8/7, MACOS, NetWare, UNIX or Linux. Below is the Amazon Product description:
Pocket-sized Wireless N router travels effortlessly
Quickly create a secure Wi-Fi hotspot to share with family and friends
300Mbps Wi-Fi speed on 2.4GHz band for lag-free video streaming and online gaming
Micro-USB port for powering via an external adapter or USB port
Supports Router, AP, Client, Repeater and WISP operation modes
Pre-Encryption function sets initial SSID and password protection
Industry-leading 2-year warranty and unlimited 24/7 technical support
As of August 2016, the TP-Link TL-WR802N received a #62 Best Sellers Rank among Amazon's routers and a 3.8 out of 5 stars rating based on 726 customer reviews. Certain restrictions apply to this otherwise handy device. Those in the know say it can only use a 2 TB or smaller USB drive that has not been reformatted. This means Windows XP or earlier PC-formatted drives. Mac and Linux are not supported and neither is the modern New Technology File System (NTFS). It also does not have battery capability.
XINGAN Mini Wireless Router/Repeater
Features: Router; Repeater (Wi-Fi range extender); Access Point; Client; Bridge. Wireless Speed: N speed up to 300 Mbps. Wireless Type: IEEE 802.11/g/b/n. 2.4 GHz radio frequency. Supports WEP, WPA/WPA2, WPA-PSK/WPA2-PSK encryptions. Supports WMM and WMM-APSD and 64/128/152-bit WEP, complies with 128 bit WPA (TKIP/AES), supports MIC, IV Expansion, Shared Key Authentication. Weight: 1.6 oz. Dimensions: (LxWxH) 3.1 x 2.2 x 1.8 inches.
Debuting earlier this year, the XINGAN mini wireless router/repeater also serves as an access point, bridge and client. Although travel sized and designed for mobility, the device lacks battery power, which for many makes it ill-suited for their specific applications. According to the manufacturer, the XINGAN works best with SmartPhones and tablets. It has a Windows 8-style user interface that supports free web software updates. See the Amazon product features:
Ethernet port allows the Extender to function as a wireless adapter to connect wired devices like Blu-ray players, gaming consoles, DVR and Internet TVs. At the same time, the device can share the wireless network as well.
Plug and Play (WPS): users can easily extend wireless coverage at a push of the WPS button on their router followed by the Range
Universal IEEE 802.11 compatibility and compatible with the latest Windows 8 operating system
QoS function assures the quality of VoIP and multimedia streaming
As of August 2016, the XINGAN Mini Wireless Router/Repeater received a #112 Best Sellers Rank among Amazon's routers and a 4.2 out of 5 stars rating based on 23 customer reviews. 70% give it five stars. Since it is a relatively new product, feedback to this date is limited. As is the case with many Asian-manufactured products, installation documentation tends to be enigmatic. Most users apparently use the product as a repeater but peruse this review from a verified Amazon purchaser:
Very clever little thing which goes to work with me every night! I work 12 hour night shifts, although we have Wi-Fi we are not given the password so my tablet and phone are useless, or should I say WERE useless. Not anymore thanks to this little fella, it just plugs into the Ethernet and by-passes the password, awesome! It basically creates its own Wi-Fi hotspot with its own password.
No reports yet on its suitability as a wireless bridge.
Coda
Remember, if your travel router does not have a built-in modem, you'll need an external modem to connect to the Internet. This is a crucial point that may often be overlooked given the multi-functionality found in many of these devices. Also keep in mind that there are many of these "Best of" lists rating travel routers floating around the Internet. Use what you've found here as a jumping-off point. As mentioned previously, there's a lot of brands and models from which to choose. At last count, Amazon listed over 50 manufacturers of travel routers. So if you're considering a travel router, do your homework and find the product that best suits your needs.