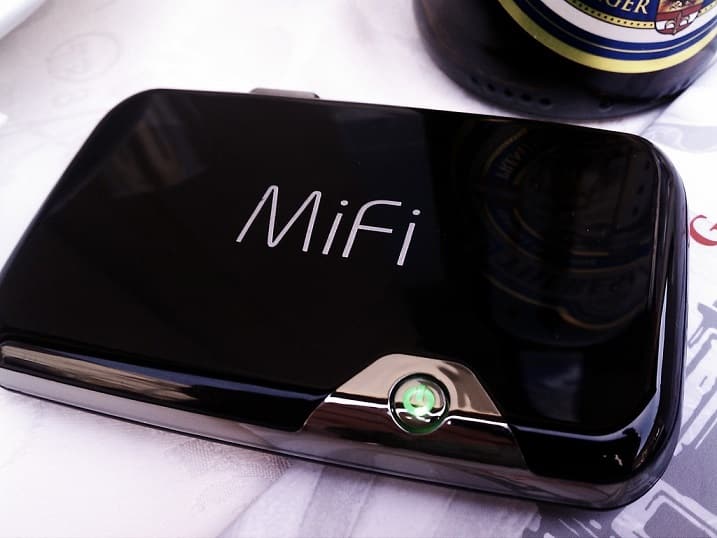 If you have used wireless Internet for any length of time you should be familiar with the term WiFi.  WiFi relates to wireless connectivity to the Internet and also refers to a hotspot or access point where you establish Internet connectivity in a public venue.  The term MiFi refers to the same type of connection to the Internet except that it is achieved using a mobile hotspot.
The primary difference between WiFi and MiFi is WiFi provides an Internet access point that is associated with a local wireless network where a MiFi wireless access point is mobile and can be carried with you wherever you go.  MiFi provides a mobile broadband connection anywhere you are located and allows multiple users to connect to the access point.
How MiFi Works
A MiFi wireless access point is a device that provides a mobile hotspot for Internet connectivity.  The device is very thin and portable and can actually be carried in your pocket or your purse. When you need an Internet connection you can simply take it out and setup a hotspot.  You can also allow more than one user to connect to the mobile access point.
MiFi typically works with 3G networks which are provided by cell phone carriers and can be setup within range of any 3G signal.  Since 3G is relatively fast you can also use VoIP applications to make telephone calls using a MiFi hotspot.
MiFi vs. Conventional 3G
When you connect 3G using a MiFi mobile hotspot device, you still get the speed of 3G at a cheaper cost if you are connecting more than one device to the access point at the same time.  This is because you are being charged only once for the Internet connection however, multiple devices can use the connection as opposed to the cost of separate connections.
Connecting a MiFi Device
Although a MiFi device is portable and you can set it up anywhere, you are provided with a lot of options when it comes to powering the device.  MiFi hotspot devices are typically powered by a battery that is rechargeable.  Other options include an A/C adapter for a conventional wall outlet or a USB cable that plugs into your portable PC.
Once your device is powered you can use the included USB cable which came with your MiFi device to save on the battery.  You use the USB cable to connect one end into the MiFi device and the other end into the USB port on your PC.  If you are doing this for the first time the MiFi device will automatically power up and launch the installer.  This will install the necessary drivers for using the MiFi device and any accompanying software.
The first time you launch the software manager it typically has a wizard that will walk you through the remainder of the setup process.  To activate the mobile broadband service on the MiFi device you simply choose the mobile connection from the Options menu and then click on Connect.
Keep in mind that these are basic instructions to provide you with an idea of how to setup and connect a MiFi device. Depending upon where you obtain the device and the carrier that you choose the setup may vary slightly.  Regardless, the setup of any MiFi device is a fairly easy process to follow.
MiFi Prepaid Mobile Hotspot
When you setup a MiFi hotspot connecting to the Internet is very similar to your 3G phone because you pay a specified fee to your mobile phone carrier for the amount of data usage.  Most of the MiFi devices which create hotspots are setup this way with the exception of MiFi prepaid mobile hotspots.
MiFi prepaid mobile hotspots can be very convenient and save you money since you only pay for what you use.  The MiFi device is equipped with a prepaid card that can start at a cost as little as $10 and then increase from there depending upon how much data you need to use.  Also, there is no need to install software like the conventional method we described earlier and you can add data space to the prepaid card any time you wish.  MiFi prepaid mobile hotspots also are capable of connecting up to five different devices.
MiFi Connection Specs
The standard connection for MiFi hotspots is 802.11 b and g however this will most likely be changing very soon with the inception of 4G technologies.  When you connect a MiFi hotspot the typical range for network coverage is about 30 feet providing there are no obstructions.
Most MiFi devices offer security which is built into the device and allow you to access the Internet over an encrypted connection.  Also, the typical download speeds can range anywhere from 600Kbps (kilobytes per second) to as high a 1Mbps (megabits per second) or more.  The upload speeds typically range anywhere from 500Kbps and can range up to 800Kbps.
In terms of power, the battery located inside a MiFi device has a life of up to 3.5 hours with a standby time of about 35 hours.  The battery is rechargeable and charging can take up to three hours using the AC cord and about six hours when you use the USB port on your PC.
MiFi Costs
The costs of using a MiFi hotspot can vary according to the carrier that provides the connection.  With the exception of a prepaid MiFi hotspot, the costs of using a MiFi device for Internet access can vary according to the provider you are using. Connectivity can range anywhere from $60 to $120 depending upon the type of plan you have.  You can also choose to pay for 24-hour use which typically runs around $20.  The price you pay for any connection that is longer than one day will vary according to how much data transfer you require.  Some plans will also charge you a certain amount for each MB of data transfer if you go over the agreed upon amount.
Hopefully this information will provide you with the fundamentals you need to know before deciding whether or not MiFi suits your connectivity needs.  If you research the topic further on the Internet you will find more specific information on pricing and availability for your area.