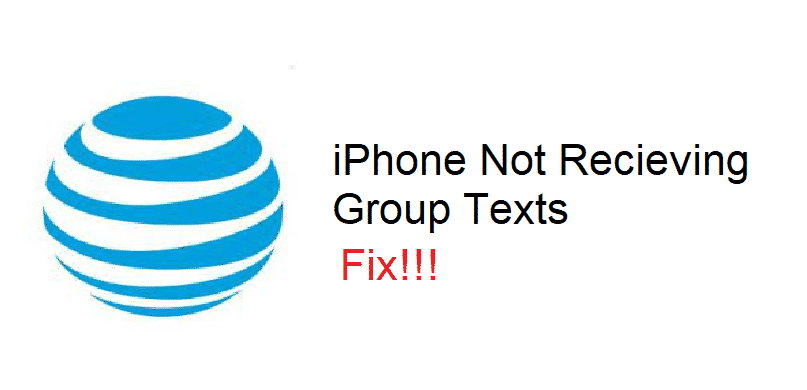 People all around the world have started to use smartphones. This is because of the numerous features that these devices come with. While these previously only allowed you to make calls and send texts.
People can now almost do everything that they can on computer systems on their mobile phones as well. You can use them both for entertainment as well as to speed up your workflow. Though, when it comes to choosing one of these devices, there are many companies that you can go for.
One of the most popular ones that almost everyone knows about is Apple. They have come up with their iPhone lineups that receive a new model every year. While these are amazing to use, there are some problems that people can get.
Recently, some users have been complaining that their iPhone is not receiving group texts while using AT&T. We will be using this article to provide you with some common steps that should help in fixing this.
How to Fix iPhone Not Receiving Group Texts AT&T?
Resetting Your Mobile
If you are not receiving group texts on your iPhone when using AT&T then there is a high chance that your mobile is running into issues. The best way to fix any errors with it can be to reset your mobile. Keep in mind that there are two types of resets that you can do on your mobile. One of these is a factory reset that will completely wipe its settings.
On the other hand, a simple reset will just refresh the memory of your device removing most errors that were causing issues on it along with the temporary storage. You can start by first opening the settings tab on your mobile phone.
Clicking on messages from here and then the MMS/SMS tab. Disable the feature and then go back to your settings. Now open the General then Reset tab, finally click on Reset Network Settings and then enter your device's pin code to continue with the reset.
Once this is done, you can enable your MMS/SMS tab again. The next part can be a little tricky so make sure that you do it properly. First, tap your Volume Up Button and then the Volume Down Button. Now hold your Side Button until the Apple logo appears on your screen. This will reset the network as well as confirm that the procedure was done correctly. Your problems should be gone once your network starts up again.
Restart Your Device
Restarting your device also allows it to remove most cache files from its system. This should also fix the problem that you were getting and is also much easier to do than the reset. However, keep in mind that it is also required that you reboot your device after following the steps mentioned above.
Considering this, you can try restarting your iPhone after you have tried the simple network reset. Make sure that you close down all the applications on your mobile before switching them off.
Additionally, you should select the switch-off button instead of the restart. This is because it is better that you keep your mobile off for a few minutes. You can then start it back up and wait for the network to connect. Once this is done, you should start receiving all the group texts you had missed previously on your mobile. Furthermore, the problem should also be gone and the new messages should now appear on time.
Signal Issues
Sometimes the user not receiving group texts on their iPhone can be a problem with signals instead of it being with their device. This is quite common and you should note that certain things can cause the network signals to run into problems. Either you might be in a basement where it can be hard to catch these signals.
Alternatively, you might be in a busy area, simply getting out from here should fix your problem. However, if the place where you live has a weak network signal then you can get a network booster instead. Installing this device will ensure that you receive optimal signals at your home which will your issue and will as ensure that you do not get this problem again.