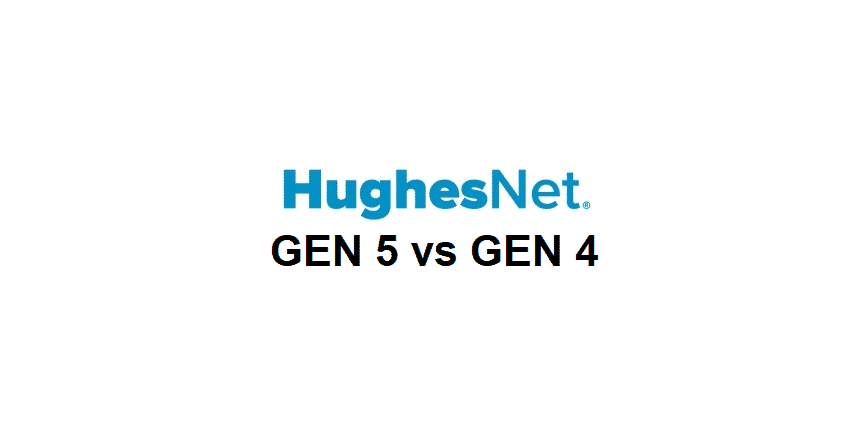 Having an internet connection at your home has become essential nowadays. This is because while the service can be used to enjoy watching movies and playing games. Many users also do their work on their connections.
The internet makes it easier to share files between users and only takes a few seconds. Though, this depends on the speed of your connection. Talking about this, most people who want a connection usually go for wired setups.
Though, HughesNet has come up with a satellite connection that you can use instead. The connection has several generations that you can choose between. This determines what the speed and features of your network will be. However, people might get confused about two of the most popular models which are Gen 5 and Gen 4 from HughesNet. Considering this, we will be using this article to provide you with a comparison between these two.
HughesNet Gen 5 vs Gen 4
HughesNet Gen 4
HughesNet Gen 4 was a direct upgrade to their previous generation 3. The overall stability of the connection was improved allowing users to have a completely stable network. Additionally, the speed for both downloads and uploads has been improved with this version. You have the option to select between three different packages which will determine what your connections specifications are.
The lowest speed out of all these is 10 Mbps on download and 1 Mbps on upload. On the other hand, the highest speeds are 15 Mbps on download and 2 Mbps on upload. While these are quite stable and have a much larger coverage than most internet services. There are also tons of downsides to using this network. One of these is how low the speeds are for the price you are paying.
Furthermore, there is a cap on your network usability. The user is only allowed up to a total of 40 GB data limit. Considering this, people who enjoy watching movies or downloading stuff will most likely notice that the limit is too low. On the other hand, if you do not do any of this stuff and only use your connection to share information and similar stuff then the setup should be best for you.
HughesNet Gen 5
If you like HughesNet Gen 4 then you will most likely enjoy using this version as well. The main reason for this is that the service is a direct upgrade to its previous model. While the internet speed has been increased to 25 Mbps now. The previous connection options that were available are still there. The only difference is that the prices for the connection have been adjusted by lowering them slightly.
Considering this, if you are interested in using a higher internet speed then you can upgrade your plan to the new 25 Mbps download and 3 Mbps upload speed. When it comes to installing the satellites for HughesNet Gen 5 in your home. You have the option to use the previous modem and satellite that you got with your connection. However, if you are using this for the first time then you will be provided with the devices when you purchase your package.
Keep in mind that these devices will have a separate price. You can check the details about this along with the different packages available from HughesNet's official website. Additionally, one thing that you should also take a look at is the 2-year service agreement from the company.
This is the same as before and no changes have been made. The only problem that you will have is if you want to cancel the plan before this time. The user will have to pay an extra 400$ for cancellation. However, this lowers by 15$ every month.
Keeping this in mind, it is recommended that you properly check all the other satellite services around your area before selecting HughesNet. This is because there is no way to check the service and you will have to use it for 2-years after the subscription.
Though, one good thing is that HughesNet provides some of the better options when compared to other satellite internet ISPs. Finally, it is up to your usage to decide if the connection will suit you or not. There are tons of other options available that you can try as well which is why it is better to do proper research.