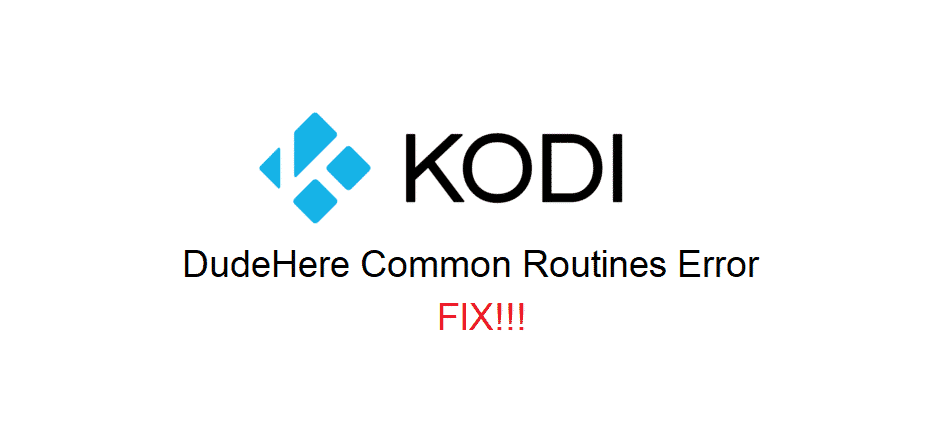 Kodi is an open-source platform, so there are tons of third-party applications, extension and add-ons available for the Kodi. One such thing is Dudehere that is a plugin pack allowing you some extra features that you can use on your Kodi.
However, this is highly advanced stuff and not recommended for those who don't know much about the coding. Since the plugin pack is third-party, there can be security breaches and lot of other stuff on it that you will need to be careful about.
If you are getting "Dudehere Common Routines Error" while trying to load up the Kodi. Here are a few things that you will need to do.
DudeHere Common Routines Error
1) Get Rid of Dudehere Repo
First things first, and it is not recommended to install the blocked repos. Dudehere is one such repo that is known to cause certain problems with the Kodi functionality and hence it is banned on the official Kodi forum. That is why, you will have to ensure that you don't have it on your Kodi in order to make it work out perfectly.
To get that done, you will need to access the files for Kodi and delete everything there that is meant to be linked with the Dudehere repo. This way, you will be able to ensure that there are no such coding or files with your Kodi that can cause you to have the problem and your Kodi will start out to work again as before.
If deleting the files is not working for you in the first place, you might need to restart your Kodi once and then your device as well. This way, you can ensure that there are no remaining files or coding left that can cause you to face the error message on your Kodi interface.
2) Get the Official Kodi
This will work out for you if you are using the official version of Kodi and you have installed the Dudehere repo later. However, there are chances that you have downloaded the Kodi from some third-party source and that can cause you some serious trouble like this.
In order to get that problem fixed, you will have to ensure that you are uninstalling the Kodi properly from your device and then restarting your device once. After that, you will also need to delete all the files and registry information that you might have for the unofficial version of Kodi.
Once you get that done, all the corrupted code will be gone from your device for good. Now, you are free to download the official version of Kodi from the website and install it on your device.
This will not only be fixing the error message you were facing earlier and make your Kodi work flawlessly, but will also be the best thing to have for security reasons.
It is always recommended to use the Kodi official versions only to ensure safety and stability to the optimal levels. Otherwise, you can face all sorts of issues including getting that error message.