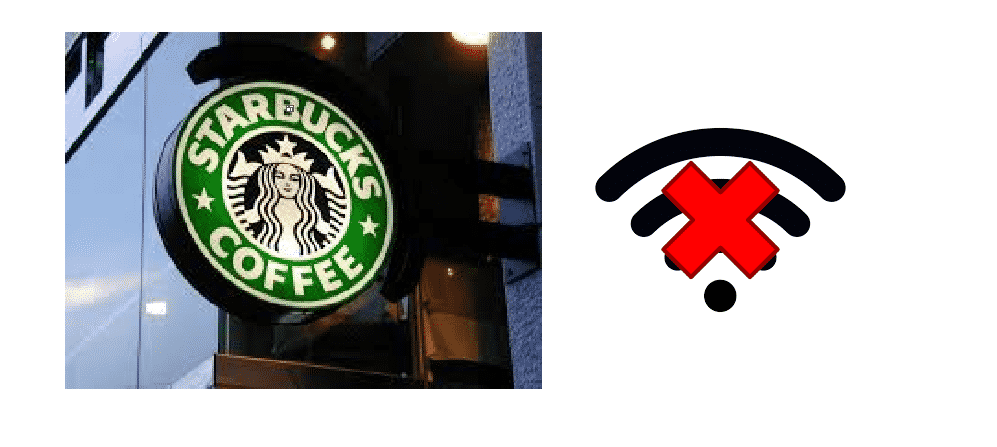 Starbuck serves as a great solitary stop for every one. Especially for the people who love coffee, Starbucks is just like a paradise to them. With everything great about coffee, it also offers its customers free Wi-Fi services that boost the business as well as the mood of people. What's better than enjoying your top quality beverage at your favorite place while you scroll down your inbox, answering to all the necessary emails demanding your attention.
However, sometimes you come across a situation that is rather absurd, where you can't connect to Starbucks Wi-Fi. Unfortunately, it ruins your great coffee experience as well as your mood and you gotta leave the place if the work is urgent and there's no working Wi-Fi.
Why You Can't Connect to Starbucks WiFi?
To access Starbuck's internet, you're required to log in or sign up (if you're using it for the first time) with a username ID and password. It also has a Terms and Conditions menu which is required to be read by the users and one has to accept these terms and conditions for enjoying Internet access at Starbucks.
But sometimes, when you are trying to access the internet services using Starbucks Wi-Fi, the login page of Starbucks Wi-Fi won't show up on your mobile screen. No login page simply means no way to login to Starbucks Wi-Fi and ultimately, no internet connection.
Reasons For No Wi-Fi Access
Starbucks WiFi only works if you log in to their Wi-Fi after accepting their terms and conditions. So the issue could be with your acceptance to those. Plus it could be your device or your DNS settings. Moreover, if you're using a VPN, it might be causing issues so turn it off.
Troubleshooting Starbucks Login Issue
Here's what you can do to fix your internet connection if you can't connect to Starbucks Wi-Fi.
Change your DNS servers
The DNS servers play a major role in establishing a Wi-Fi connection to access internet services on your device. Usually, you don't get to select the DNS server as your device picks it up for you from the WiFi router by default. That DNS server is used when you try to connect to Starbucks Wi-Fi. But if you've already changed the default settings on your device, you might face problems so changing your DNS settings back again might help solve the issue.
Clear Your Browser's Data
If adjusting your DNS settings doesn't solve the problem, it is probably because the internet browser that you are using has some stored cache data. This compels your browser to use the old DNS info to access internet websites and this is why you can't load your Starbucks Wi-Fi login page.
You can clear your browser's cache data to get rid of the old DNS settings stored into the device to avoid facing the same login page issue with Starbucks Wi-Fi.
Use An Incognito Tab
You can also try opening an incognito tab if your browser has this feature. The incognito mode never stores any type of data so whenever you load a webpage in an incognito tab, it always opens the site a new.
Also, you should try loading a non-HTTPS website. A non HTTPS site is considered as an insecure website and your browser will not use the old saved data to open it.
Restart The Setup
The last but not the least step is to restart the whole set up. This includes your internet device, your computing device as well as renewing the connection. When nothing works, you can always switch the devices off and on to see if this might solve the problem. Fortunately, in many cases, this actually works.
So the first thing should be your Wi-Fi. Turn your device's Wi-Fi feature off. Leave it for a few minutes and then turn it on. Or you can go all in and after switching off the Wi-Fi, you should also switch off your smartphone or laptop whatever you're using to connect to Starbucks Wi-Fi connection. If you must, try asking the Starbucks' staff if they can restart the internet router of the coffee shop, just to make sure that the router's working properly.