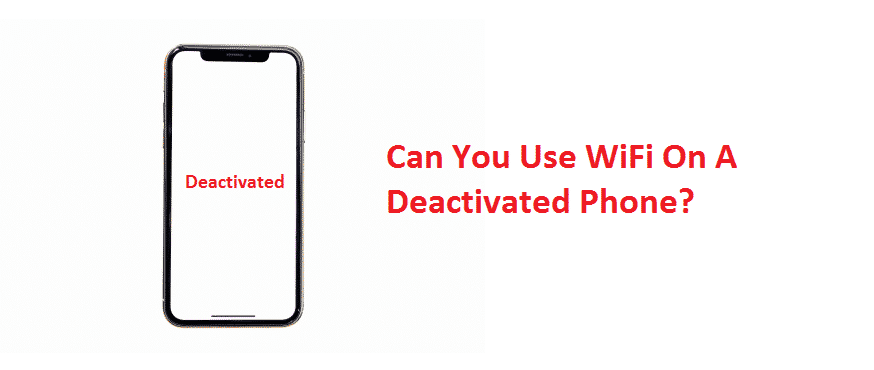 Using Wi-Fi on a deactivated phone is the main concern for most of the people who have a deactivated phone, or are looking to get one. The main reason for most to get a deactivated phone is that they are fairly cheaper than a phone that is activated and you can have access to all the features like cameras, gaming, storage, and that kind of stuff. So, to know if you can use Wi-Fi on a deactivated phone, and how does it work for you, you need to understand the basics about a deactivated phone
What does a deactivated phone mean?
A deactivated phone is most of the time a phone that was purchased from a carrier and they have deactivated it due to any reason. The reasons could be you shifting to some other brand, the phone was lost or stolen, not paying the bill for their services, and more. So, when a phone is deactivated by the carrier, you are unable to use any of the SIMs on it. It is locked and no matter where in the world you are, or what carrier you might be using, the SIM feature would not work on that phone.
That means this phone is just a multimedia player for you that you can use to have fun with a camera, games or any other applications if it is a smartphone. Yet, for most people who have come across such a phone, it is a hassle to keep connecting to those social media or connectivity applications and they are looking to have a solution around it. It is not recommended to go with a phone that is deactivated, as it kills the whole purpose of having a phone, communication. But if you still do, here are a few things that you should know about.
Is it possible to activate a deactivated phone?
If you are looking to have a phone activated that was deactivated by the carrier, the only possible way for you is to contact the carrier. You might have to pay in full if you had a contract with them, or the phone was purchased from them and they deactivated it because you couldn't afford to pay for it. If you have found the phone, it would be returned to the original owner and that is the best thing to be done. However, there is no other way to activate a deactivated phone and enable SIM on it again.
Can you use WiFi on a deactivated phone?
Yes, you can. When a phone is deactivated, the SIM feature is disabled only so the phone is not able to get any reception whatsoever. That is why you are unable to use any SIM from any carrier in it. However, the Wi-Fi feature on a phone cannot be deactivated if it was there in the first place. So, you can connect your phone to any Wi-Fi network, and use social media applications, communicate through emails, or even you can download and upload over the internet.
Technically there should be no issues for you using the internet over a phone that was deactivated from the carrier. However, if you face issues with the connectivity, the phone might have developed some hardware or software error as well that is linked with the Wi-Fi and that can cause you to have the problem. But in any case, deactivation has nothing to do with the Wi-Fi and you will be able to use Wi-Fi on a deactivated phone any day.
A Smart Trick
If you are using a phone that is deactivated and you don't have a Wi-Fi connection all the time, connecting to the internet can be a lot of hassle for you. Well, in such cases you can keep another phone around you and use a Wi-Fi hotspot to connect.
But the best part about such phones is, even if your Wi-Fi is not working for some reason, you also have the option to connect your phone to the internet via Bluetooth tethering. The speed might be a little bit slow, but it would get the job done for you and help you get out of a tight corner fairly quickly.