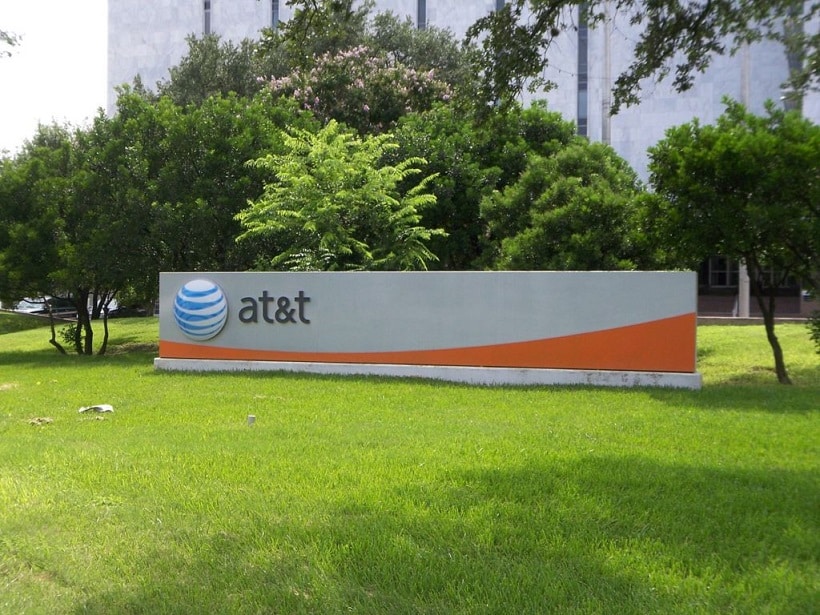 Attribution: Brownings at English Wikipedia [CC BY-SA 3.0]
For whatever reason, you—a faithful IAG reader in the United States—are considering changing your wireless carrier. Or perhaps you're "window shopping," surveying the market to see what's available. You know AT&T as a legacy telco from the 19th-century that today provides (virtually) nationwide cellular coverage. Before deciding which MNO or MVNO (geeky tech acronyms for cellular providers) is right for you, first read the IAG 2019 AT&T Wireless Review.
AT&T Wireless Review
AT&T and MVNOs
To begin, AT&T—formerly Cingular Wireless—is a Mobile Network Operator (MNO) that owns its cellular network, unlike Mobile Virtual Network Operators (MVNOs) such as Straight Talk, Boost or Metro PCS, which piggyback off the "Big 4" MNO networks. (The other three "big" American MNOs are Verizon, Sprint and T-Mobile, plus U.S. Cellular.)
If you figure some MVNOs resell AT&T's wireless spectrum, you're right. In fact, the largest MVNO on AT&T's network is Cricket, a wholly-owned AT&T subsidiary. Below is a list of MVNOs hosted by AT&T's wireless network only. Note many MVNOs lease and resell network coverage from multiple MNOs.
| | |
| --- | --- |
| MVNO | Zilla Talk |
| AirVoice Wireless | Earth Tones |
| Black Wireless | Feelsafe Wireless |
| Cricket Wireless | Jolt Mobile |
| FreeUp Mobile | Life Wireless |
| Good2Go Mobile | NetBuddy |
| h2o Wireless | OTR Mobile |
| Cellular Abroad (Nat'l Geographic Society) | PureTalk USA |
| easyGO | RuraLTE (ISP |
AT&T's Wireless Technologies
A few years back, we would be obliged to discuss in depth the vagaries between Code Division Multiple Access (CDMA) and Global System for Mobile Communication (GSM). With the advent of LTE, these two wireless technologies are now becoming increasingly obsolete.
As long MNOs reserve spectrum for 3G cell phones, the difference between CDMA and GSM will remain relevant—but this relevance will soon end. AT&T reallocated its 2G spectrum at the end of 2016 and plans to do the same with 3G at the end of 2022.
Should you still use a 3G cellphone and wish to access AT&T's wireless network, your phone must be GSM-compatible. But for most users with up-to-date 4G phones—no matter the MNO/MVNO—your device uses Long Term Evolution (LTE) technology.
AT&T's Wireless Plans
Ma Bell (yes, your intrepid blogger remembers the Bell System) divides its consumer wireless service plans into three broad categories:
Unlimited Plans

Mobile Share Plus Plans

Prepaid Plans
"Unlimited" Plans
Beyond the existential dilemma of choosing between AT&T's "Unlimited &More" and "Unlimited &More Premium," one must peruse the plans' fine print to receive the lowest price. Devious marketers that they are, AT&T posts in bold print the package's cost before adding the terms a customer must follow.
So, if one expects to pay $40 per line per month for "Unlimited &More" or $48 per line per month for "Unlimited &More Premium," one must enroll in both AutoPay and paperless billing. AT&T offers multi-line discounts for both plans; $160 per month for four lines for "&More" and $190 per month for four lines for "Premium." And AT&T allows the addition of up 10 people on the same family plan.
AT&T customers will experience more existential angst when they realize their "Unlimited" data will either be "temporarily" throttled (Premium) after 22 GB per line per month or "temporarily" deprioritized (&More) "when the network is busy." In other words, don't expect anything close to SLA levels of service with these plans. Also, look carefully at the bottom of this page: "Video may be ltd. (limited) to SD (standard definition)." You have been warned.
Mobile Share Plus Plans
For budget-conscious users who would rather save money on their wireless plan than stream videos, AT&T offers two "Mobile Share Plus" plans. The 9 GB plan runs $35 per line per month; the 3 GB plan costs $30 per line per month. Don't forget that one must have autopay and paperless billing to receive the advertised plan price.
Once the customer passes the data thresholds on these plans, AT&T reduces speeds "to a max of 128 Kbps." (Just like the halcyon days of dialup.) Ma Bell trumpets these plans as "a great value for those who mainly talk, text and surf the web." Actually, it's more like claiming that a meal feeds a family of four if three aren't very hungry.
For what it's worth, these plans offer Rollover Data®, which rolls over any unused (Ha!) data to be used the following month. That's like expecting leftovers from the aforementioned meal to feed a family of four. Sadly, the rollover data only lasts for one billing cycle but then even leftovers eventually go bad.
These "value" plans allow talk, text and data to Mexico (but not Canada, unlike the "&More" plans) and provide SD (480p) streaming for a maximum of 1.5 Mbps.
Prepaid Plans
To explain AT&T's prepaid plans, we cite the table below:
AutoPay and (Regular) Price

$30 ($35 )

Plan

$40 ($50)

Plan

$50 ($65)

Plan

$70 ($85)

Plan

Data

1 GB1

8 GB1

"Unlimited"2

"Unlimited"3

Unused Data Rollover

Yes

Yes

No

No

Mobile Hotspot

Yes

Yes

No

10 GB4

"Unlimited" Talk/Text to/in Canada & Mexico

pay-per-use

Yes

Yes

Yes

Unlimited Text to 100+ countries

Yes

Yes

Yes

Yes

Multi-line

Discount

Yes

Yes

Yes

Yes
Of course, with AT&T one can expect a plethora of terms and conditions and their prepaid plans are no exception. AT&T explains the footnotes above as follows:
1 After high-speed data allowance is used, data speeds are slowed to a max of 128Kbps for the rest of the term.
2 $65: For all data usage, AT&T may temporarily slow data speeds during times of network congestion. Video streaming limited to a max of 1.5Mbps at Standard Definition quality (about 480p). See att.com/broadbandinfo for details on AT&T network management policies. Mobile hotspot use prohibited.
3 $85: After 22GB of data usage on a line in one monthly term, for the remainder of the term AT&T may temporarily slow data speeds during times of network congestion. See att.com/broadbandinfo for details on AT&T network management policies.
4 After 10GB, hotspot speed limited to max of 128Kbps. For use in U.S. only.
AT&T also offers a "$2 Daily" plan with unlimited nationwide talk and text and a "25¢ per Minute plan" good for all nationwide calls.
From August 2018, reviews.org posted this YouTube video on "5 Things To Know About AT&T Wireless": https://www.youtube.com/watch?v=U16G4DUI_8E
Wireless Devices
One can use any number of devices on AT&T's wireless network. All sorts of models from various manufacturers including Samsung Galaxy, Apple iPhone and even Google Pixel can access AT&T wireless network, including wearables.
You can bring your own device (BYOD) or AT&T will be more than happy to sell you one through an installment agreement. But—no surprise to anyone who's observed AT&T through the years—the "Death Star" hits customers with "an equipment charge" fee should one BYOD to AT&T's network.
However, there are limitations. 3G phones must be UMTS (GMS) and operate on either the 850 or 1900 MHz bands. LTE devices are required to use either AWS, 700, 850 or 1900 MHz bands.
For a complete list of devices compatible with AT&T's wireless network, see this.
Coverage and Speeds
AT&T claims its wireless network covers 120 countries. But can you use AT&T's wireless network where you work and live?
While copyright and DMCA laws preclude inserting an AT&T-sourced map on our site, take it from us that Ma Bell's wireless network covers pretty much all of the contiguous U.S. with the exceptions of:
portions along the border between New Mexico and Arizona

the Grand Canyon area of Arizona

central Nevada (think Area 51)

NW Nevada

the Death Valley area of California

parts of central Idaho

swaths of central Montana

portions of the Big Bend area of Texas
That said, customers will still find "dead spots" in AT&T's nationwide coverage or areas with weak signal reception. Again, we at the IAG are here to help; refer to our article on AT&T's Microcell® (actually a femtocell).
Recently, our friends at tomsguide.com measured both LTE download and upload speeds from AT&T and seven other MNOs/MVNOs in eight cities. They found that on average, AT&T has down speeds of 37.1 Mbps and up speeds of 12.9 Mbps. App downloads averaged 35 seconds.
In case you think an AT&T-hosted MVNO might post comparable results, think again. The survey found that Cricket Wireless bombed at 6.5 Mbps down and 5.8 Mbps up– the worst of all carriers surveyed.
AT&T's Customer Service
Should you need to contact Ma Bell regarding your wireless account, you can contact them via phone or live chat. Or, if you're a creature of social media, you can try either their Twitter or their Facebook accounts.
AT&T also has a community forum for wireless customers here. Join in the conversation but remember you'll be interacting with "an AT&T employee, and the postings on th(e) site are (the employee's) and don't necessarily represent AT&T's position, strategies or opinion."
Coda
The prevailing wisdom is that AT&T Wireless speeds and signal strength are much better in urban and suburban areas by comparison to what users receive in flyover country, where Verizon rules.
An alternative to AT&T's mobile broadband in the hinterland is their fixed wireless service. While speeds and data caps vary, it's certainly an option to consider when one's options for Internet access are either dialup (GASP!) or satellite ISPs.
Checking AT&T fixed wireless Internet availability at his family's farm in rural east Texas, your intrepid blogger found that AT&T offers "at least" 10 Mbps with a 215 GB per month data cap for $50 plus taxes with a 12-month agreement. Data overage costs are $10 for 50 GB. Ma Bell even includes a WiFi gateway with their offer. See here for more details.