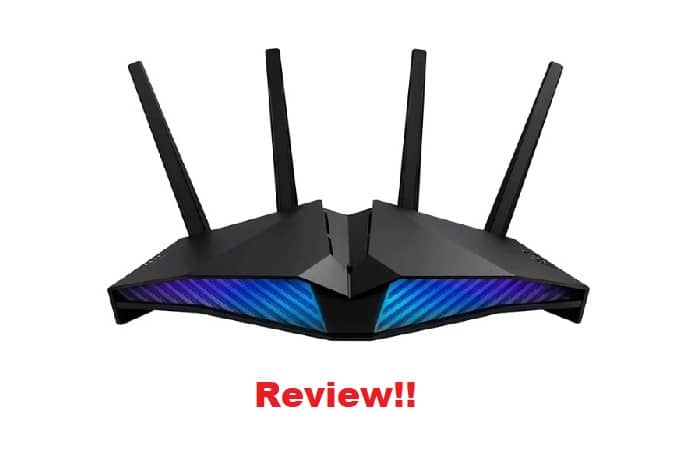 With powerful routers and well-equipped secondary devices, ASUS is a household name in the networking industry. One of the recently discussed routers is the ASUS AX5400 dual-band mesh Wi-Fi 6. Because the router's specialty is its anti-lag gaming ability, users have been curious about its powerful features, so we've compiled a general ASUS AX5400 dual-band mesh Wi-Fi 6 gaming router review.
It is incorrect to claim that a gaming router is only used for gaming. Even with ASUS anti-gaming routers, you can expect great gaming capabilities, so let's take a look at this one.
ASUS AX5400 Dual Band Mesh Wi-Fi 6 Gaming Router Review
Specifications:
When we say that the ASUS AX5400 is a great router for heavy internet use, we are referring to its specifications. This router has a total data rate of 5.3Gbps across both the 2.4 and 5 GHz bands. Only on the 5GHz band do you get an incredible data rate of 4.8GHz. As incredible as it sounds, these speeds are consistent and stable across your devices, allowing you to experience anti-lag gaming capabilities with the fastest speeds.
With AiMesh support, the ASUS AX5400 offers good value for money. Even though this router provides adequate coverage, you can still expand your network via Mesh expansion. Let us say that the term "gaming" is more of a metaphor for the router's advanced and robust integrated features. Having said that, with a 1.5GHz tri-core CPU, you can imagine how powerful this router can be. With its powerful processor and port forwarding features, this router is one of the toughest on the market. Furthermore, with a Wi-Fi standard, support for 802.11 a/b/g/n/ac/ax is expanded across radio bands, ensuring stable connections.
Features:
Let us begin with the powerful features that this gaming router provides you. OFDMA (Orthogonal Frequency Division Multiple Access), BSS Coloring, and MIMO Wi-Fi are all included. To elaborate, the ASUS AX5400 has a high capacity for multitasking. That is, handle and serve multiple clients at the same time. This takes your network's performance to a whole new level.
Moreover, with 512MB of RAM and 256MB of flash memory, you have a slight advantage in terms of router capacity. In terms of network security, you get AiProtection, which can effectively block threats and viruses from reaching your network. Having a strong and secure network is therefore advantageous for users who engage in increased internet activities such as gaming, HD streaming, or downloading.
More features include seamless roaming and intelligent band switching, ensuring that you never lag on your network. This ensures that your network has consistent coverage and runs smoothly. The router installation and setup procedures are straightforward. You can also easily set up and manage your network with its intelligent gaming mobile app and interactive theme. Furthermore, because 'gaming' features are important here, you get a gaming controller in the mobile app that gives you management controls like prioritization, media streaming, and file transferring, and so on.
Hardware And Design:
For some users, the hardware of the ASUS AX5400 router is not a particularly appealing feature, but in a gaming environment, it provides quite aesthetic vibes. The router and 6 external antennas give the router a robotic transformer-like appearance, but its mat black color works well in a gaming environment. The router's dimensions are 280mm x 180mm and 60mm, respectively, so pushing it back on the table will be an ineffective attempt to hide it.
On the back panel, there is 1 USB port and 4 gigabit LAN ports. Technically, there are three LAN ports because one is reserved for gaming. You will have a WAN port as well as standard WPS, Reset, and power buttons. An 8 LED light panel is visible on the front.
The Final Verdict:
The ASUS AX5400 is one of the most powerful gaming routers available on the market. Its exceptional ability to manage your network on multiple clients at the same time, as well as its powerful processor, is a significant benefit to you. Furthermore, you can play multiplayer games on a lag-free and stable network.