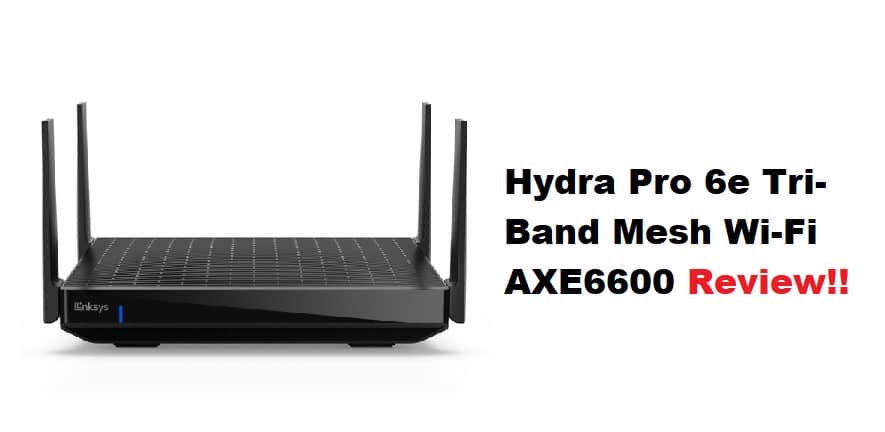 Linksys is a household name in the networking industry. Their mainstream routers and modems, as well as quality networking devices, have made it simple to achieve maximum network performance at a low cost. The Linksys hydra pro 6e tri-band mesh Wi-Fi axe6600 router is a competitive router that offers speed boosts and improved performance. In comparison to competing routers, this router provides excellent value for its money as well. However, because customers have expressed interest in its specifications, we will provide a comprehensive Linksys hydra pro 6e tri-band mesh Wi-Fi axe6600 router review in this article.
Linksys Hydra Pro 6e Tri-Band Mesh Wi-Fi AXE6600 Router Review
Specifications:
The integrated features of a router greatly influence the quality of performance and the strength of network signals. These features improve the stability and strength of your network, and the latest Wi-Fi 6E technology makes it simple for you to achieve peak performance. Great data transfer rates on the 2.4, 5, and 6GHz bands are possible with tri-band mesh technology on the Linksys hydra pro AXE6600. With a total throughput of 600Mbps on the 2.4GHz band, a fantastic 1.2GHz on the 5GHZ band, and an incredible 4.8GHz on the 6GHZ radio, this router can deliver gigabit speeds to your network. However, the router provides solid performance on the 6GHz band, but the 2.4GHz band supported throughput may be less capable than that of its competitors.
Moving forward, the router supports WPA2 and WPA3 security protocols, which will provide you with adequate network security, but its lack of malware protection may aggravate a concern. With IPv6 compatibility and a 1.8 GHz quad-core processor, you can expect fast internet and a wide range. The Linksys hydra pro will provide a great 512MB of RAM and an equal 512MB of flash memory, which is not an incredible capacity when compared to its competitors, but at this price, the router is more than sufficient for a normal user. Furthermore, it employs 802.11ax and 1024 QAM technology, which maximizes the router's throughput as well as its stability.
Features:
When it comes to its integrated feature the Linksys hydra pro is no compromise. With its MU0MIMO technology and beamforming technology, which directs your Wi-Fi signals to the clients for strong wireless communication, you can expect simultaneous data streaming. Furthermore, because it incorporates Wi-Fi 6 mesh technology, it allows you to add mesh nodes to your Wi-Fi system to increase the range and performance of your router.
One of the features that is extremely beneficial is its ease of management and control. Your network can be managed via its web console. Hydra Pro AXE6600 also includes a Device Prioritization feature, which allows you to choose which device to connect to which band for custom prioritization. Furthermore, not only does the router provide parental controls, but you can also specify a specific client for parental controls. The controls, however, are basic and could be improved, such as age-based filters, but having basic controls is preferable to having no controls at all.
Hardware And Design:
The hydra pro-AXE6600 has a compact design that can be easily seated on shelves, tables, or even mounted on the wall, measuring 11.0 x 6.7 x 2.4 inches. The design is sleek, and the all-black color scheme blends well in any setting. The router has four adjustable antennas, allowing you to easily test different locations for maximum signal strength. Because the router's case has vents, the device can easily maintain its temperature. However, it lacks cooling fans, which isn't a big deal in our case. The router, which has one USB port and four LAN ports, can support up to 55 wireless and multiple wired clients. In addition to its interactive hardware LED light display, the router's back panel includes a reset button, a power switch, and a WPS button.
The Final Verdict:
The Linksys hydra pro 6e tri-band mesh Wi-Fi axe6600 router is an all-in-one router with high speeds and data transfer rates but a limited range. However, because of its mesh technology, you cannot complain about the range because it is always extendable. The router provides excellent performance on a low budget, making it an excellent choice for home networking.